If you want to know How to Cook a Spatchcocked Turkey, look no further! It's got tender, juicy meat, crispy skin, and absolutely foolproof! Want meat that falls off the bone? You've found it!
Ah the legendary juicy spatchcock turkey. It's the superstar of the Thanksgiving table for sure!
It's a head turning turkey with its perfect golden-brown skin and absolutely mouthwateringly juicy meat.
If you've never tried this method, you're in for a treat!
It produces even cooking every time. Which means you get both juicy white meat and succulent dark meat. Mmmm.
The crispy skin covers a greater surface area. And let's be honest, who doesn't love crispy skin?
Spatchcocking reduces the cooking time. Which means more time for enjoying with family and less time babysitting the oven. Score!
It's a showstopper! Bringing a spatchcocked turkey to the table is a conversation starter for sure!
By laying flat, the turkey cooks more evenly, ensuring that every bite is seriously Thanksgiving perfection.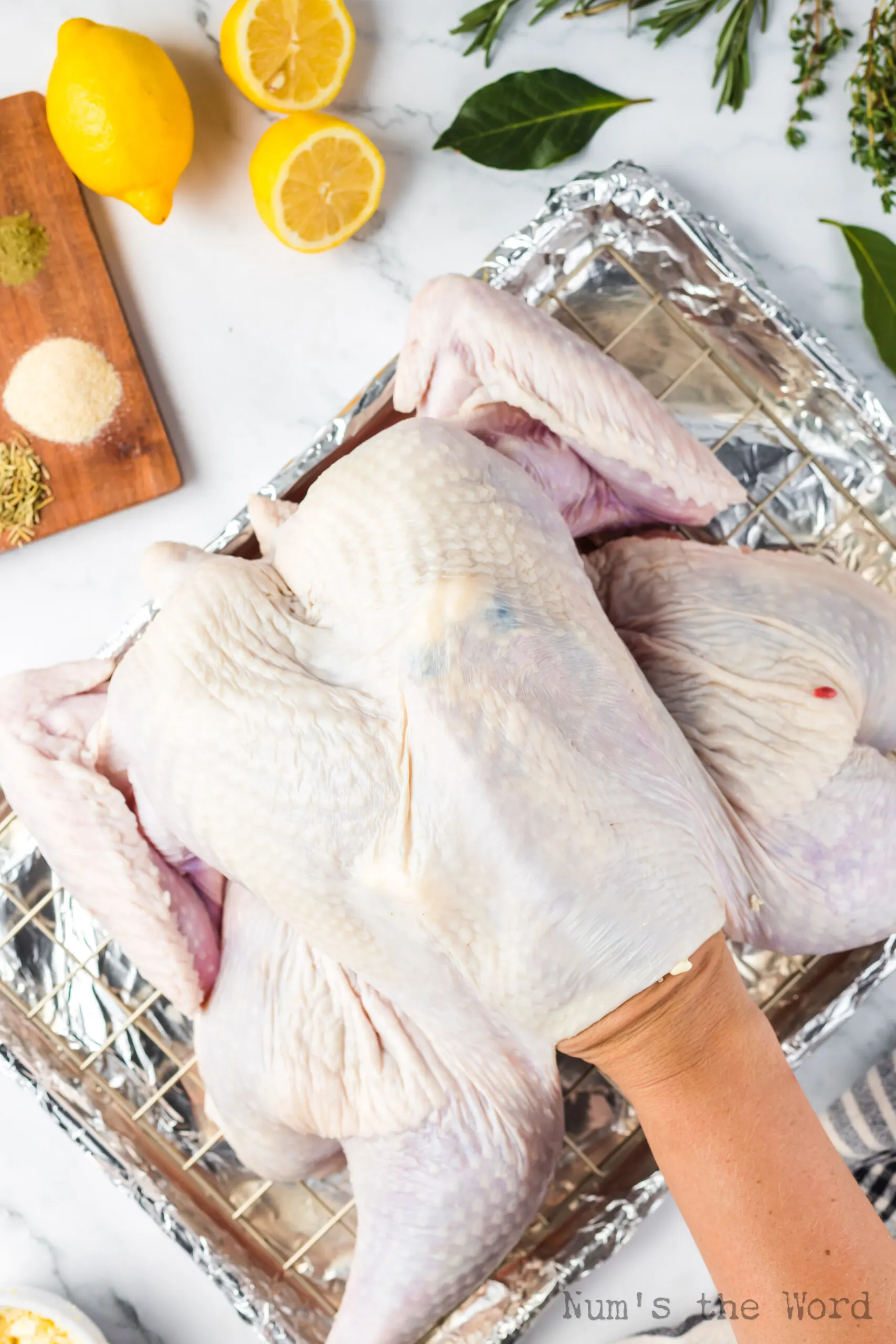 Why Should I Spatchcock a Turkey?
Why should you spatchcock a turkey? So many reasons!
Spatchcocking, or the art of butterflying the turkey by removing the backbone, is a game-changer.
It means more of the surface area is exposed to the heat. So more of the skin gets crispy! Yay!
That also means it cooks more evenly. You know when the breast meat and dark meat cook at different rates?
That's when you end up with dry breast meat! Ugh! But luckily, with this method, you won't have this problem.
Plus, your delicious turkey will be ready in a fraction of the time compared to the regular turkey roasting method. Wins all around!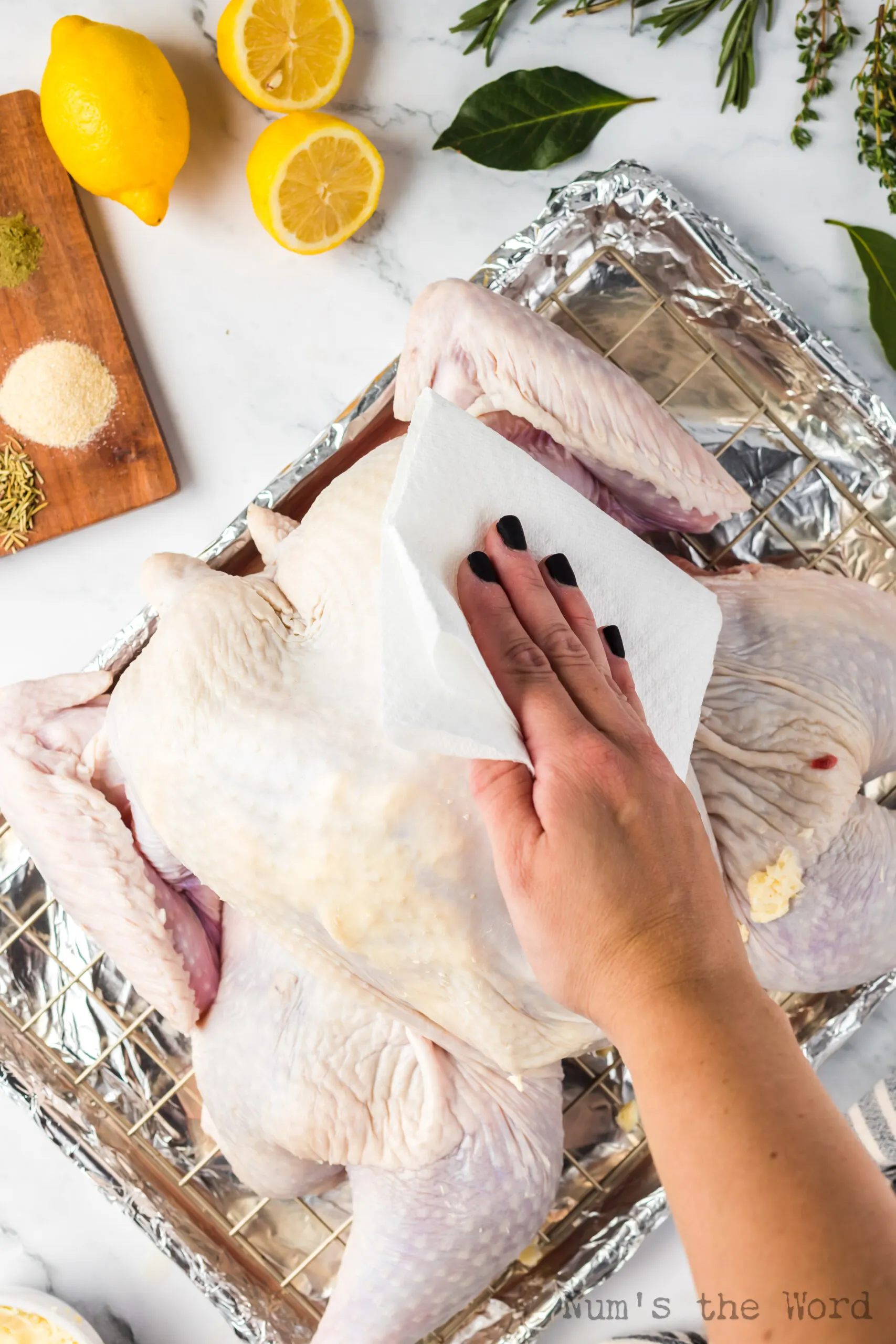 What Ingredients are Needed to Cook a Spatchcocked Turkey?
This spatchcock turkey recipe is the best way to get a moist turkey and crispy turkey skin. Seriously drooling just thinking about making it!
Here's the ingredients you'll need to grab from the grocery store:
Whole Turkey: The star of the show. Spatchcocked, of course.
Butter: This is what gives the juicy turkey its mouthwatering moistness.
Garlic (minced and powdered): Because turkey and garlic are a match made in heaven.
Onion Powder: Just like the garlic, onion is a classic with turkey.
Dried Rosemary & Thyme: These herbs will make your kitchen smell like Thanksgiving!
Lemons: Adds a touch of brightness and helps tenderize the meat.
Pro Tips:
If you aren't sure how to do the spatchcock method, I've got an article about it over here.
You'll need some sharp kitchen shears or a really sharp knife to get the perfect turkey.
Don't use a frozen turkey. You need the whole bird to be thawed before spatchcocking.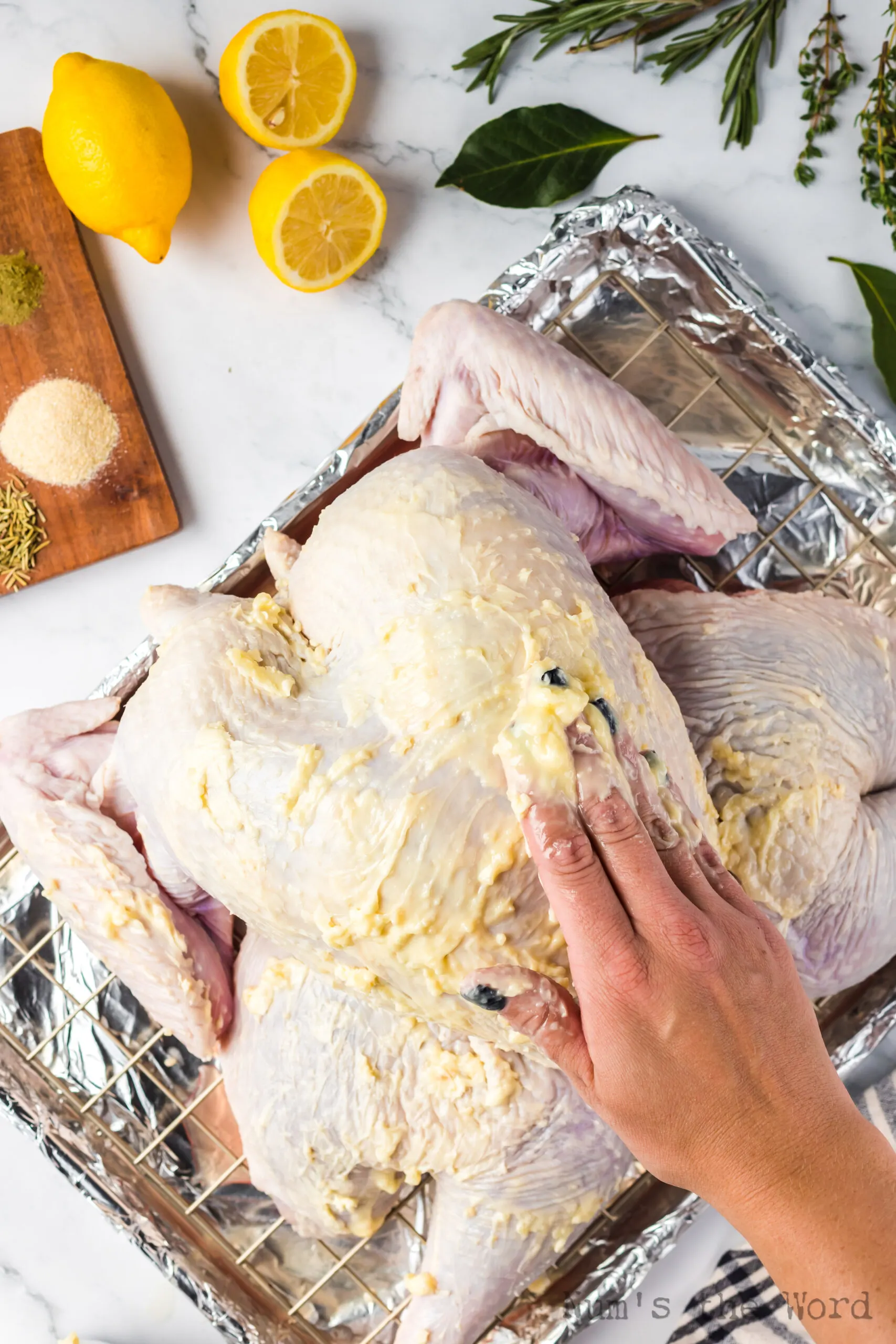 How to Cook a Spatchcocked Turkey?
Thanksgiving turkey the easy way! I promise you, Thanksgiving dinner just got that much better.
Prep your oven and turkey.
Mix together the seasonings and spread them on the turkey.
Bake the turkey.
Monitor and baste for that juicy perfection.
Let it rest before diving in.
Pro Tips:
Basting is essential! Keep the turkey moist by regularly pouring those delicious pan juices over the bird.
You'll cook at a couple different temperatures. That will help the turkey cook the right way.
If you notice any parts starting to burn, cover with aluminum foil, you want it golden brown.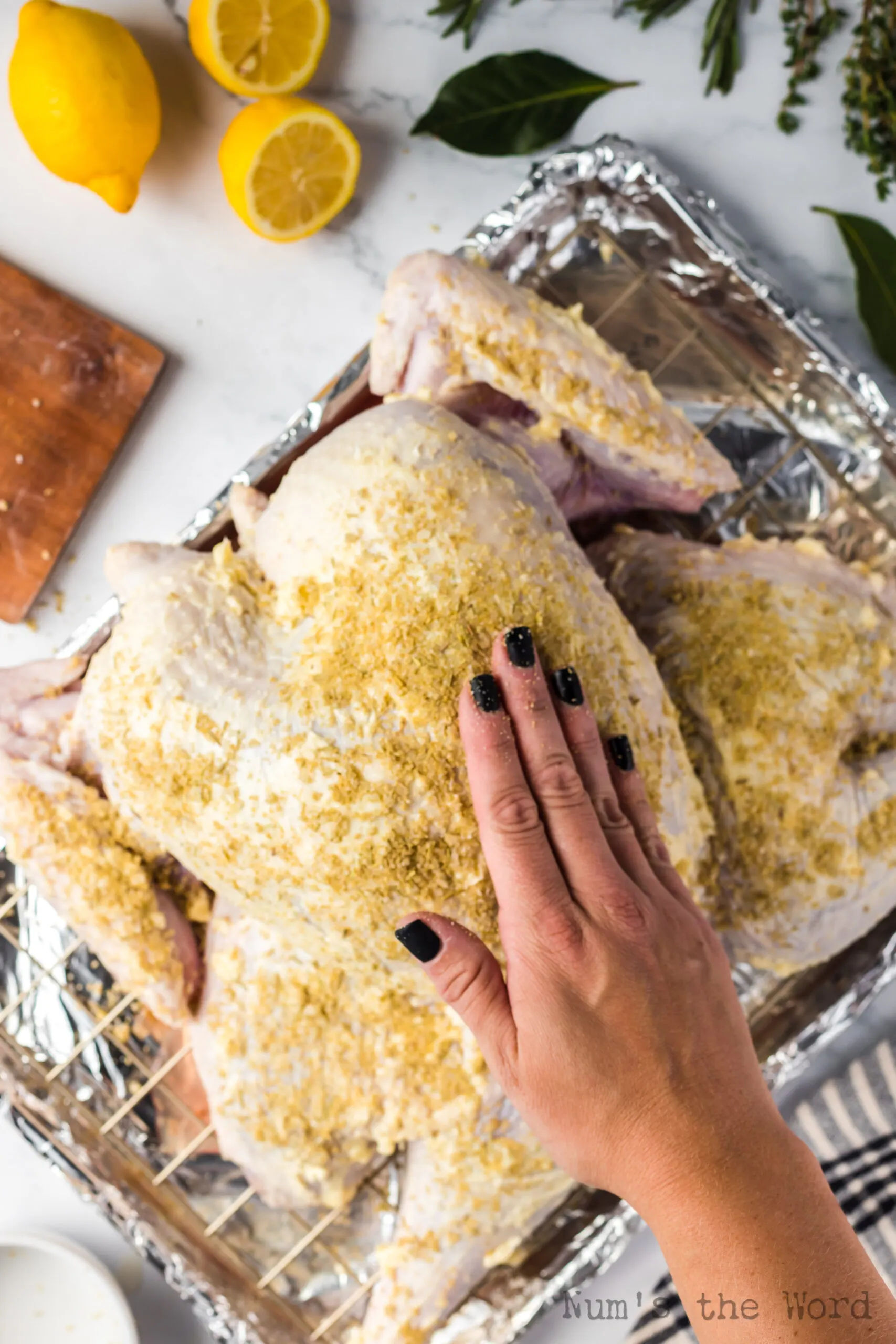 How Many Minutes Per Pound to Cook a Spatchcock Turkey?
Generally, for a spatchcocked turkey, you'll be looking at around 10 minutes for every pound of turkey.
So, a 12 pound turkey would be around 2 hours.
Remember to always use a meat thermometer to check the thickest part of the thigh and breast.
Aim for an internal temperature of 165°F.
Once the temperature is right, it doesn't matter how much time is left or not, it's done.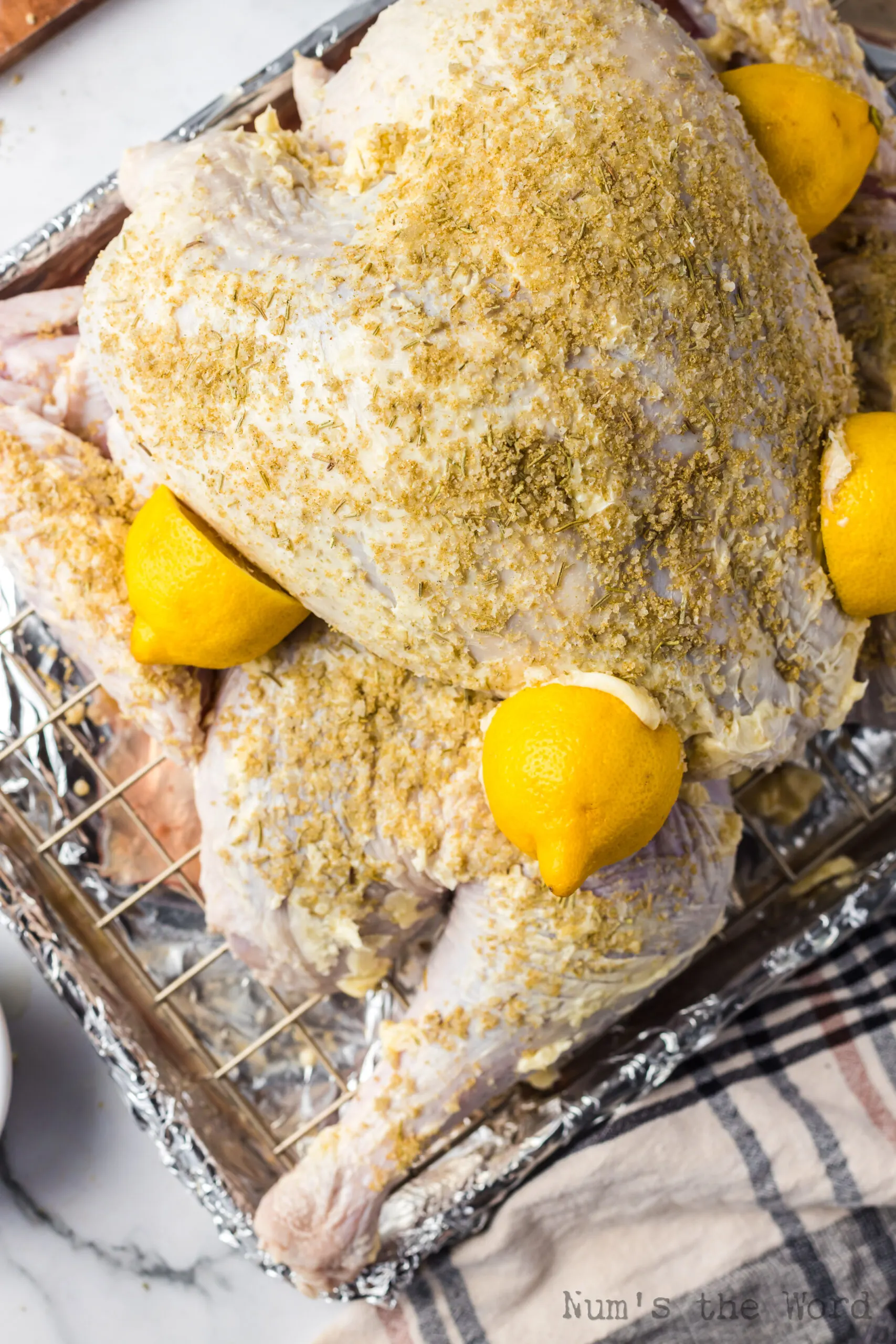 What to Serve with a Spatchcocked Turkey?
The great thing about Thanksgiving is the sides!
Think mashed potatoes, green bean casserole, cranberry relish, sausage apple cranberry stuffing, and of course, a delicious gravy made from the turkey drippings. Yum!
Here are some Easy Side Dish Recipes that your Thanksgiving table will love: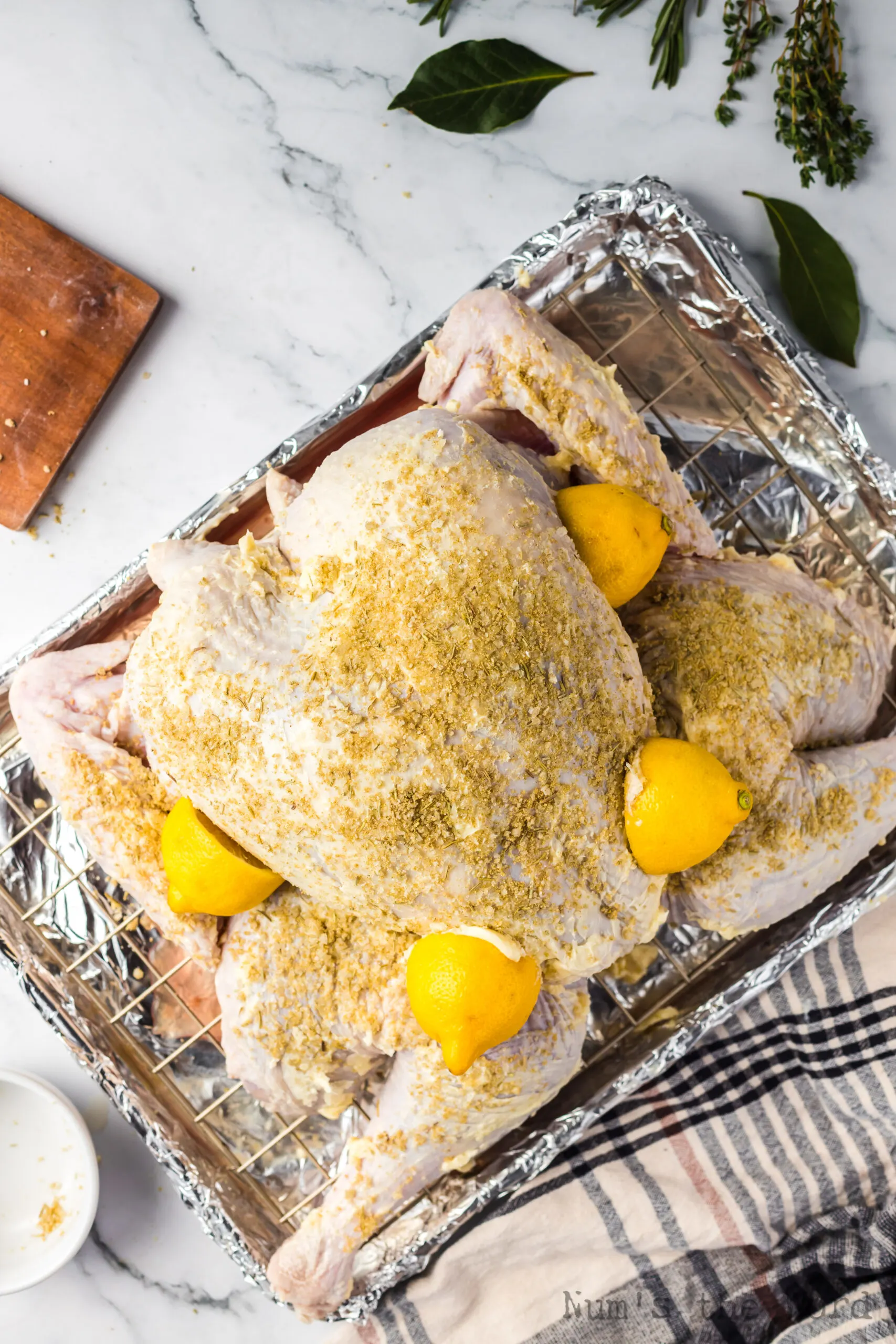 Does a Spatchcock Turkey Cook Faster?
A spatchcock turkey absolutely cooks faster than a regular turkey!
Due to its flat profile, a spatchcock turkey has a higher surface area exposed to the oven's heat.
That significantly reduces cooking time.
It's a great way to get that turkey on the table quicker, especially on a busy Thanksgiving day.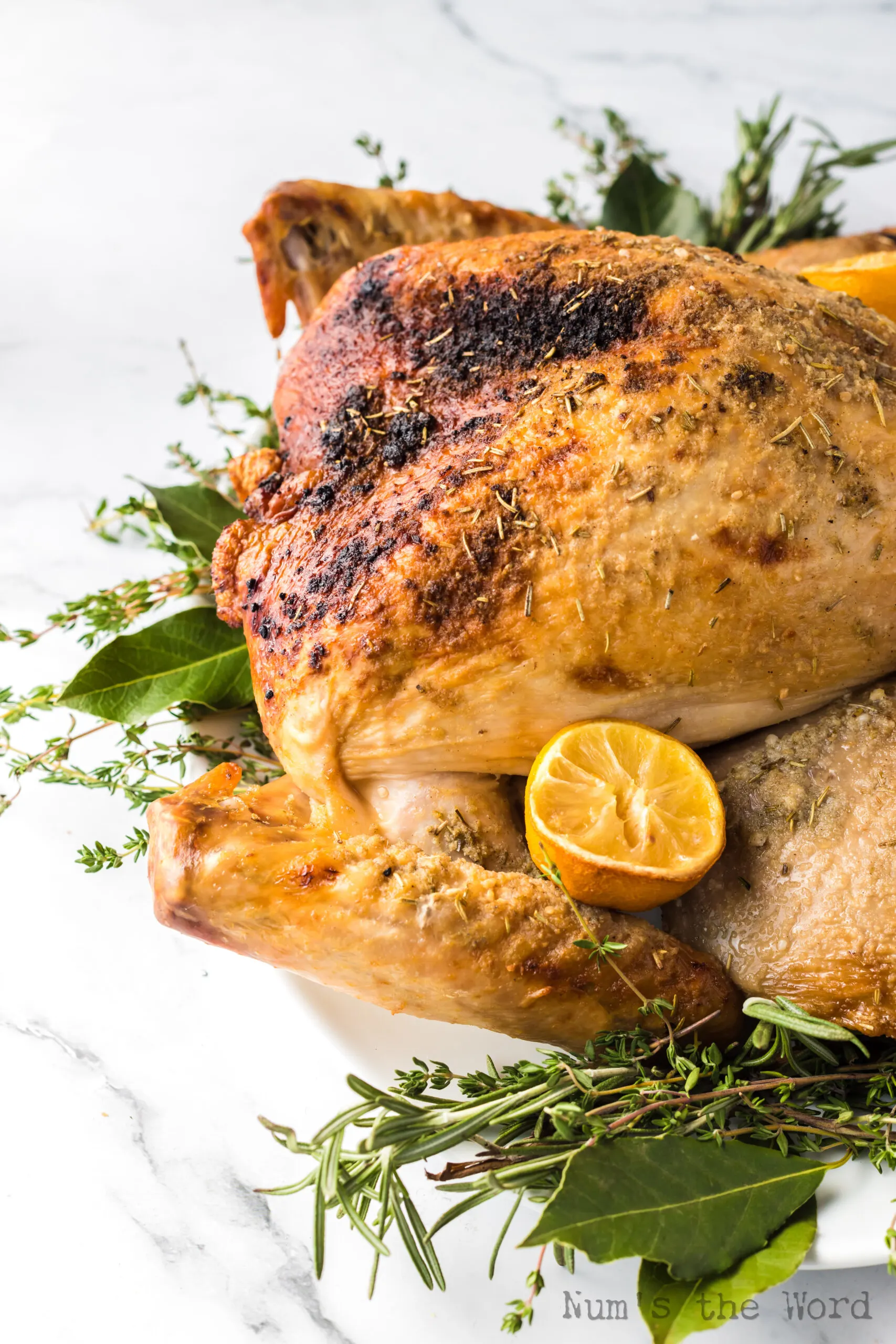 Can You Brine a Spatchcocked Turkey?
Yes, you can definitely brine a spatchcocked turkey!
You can choose a wet brine (submerging the turkey in a salty solution).
Or you can try a dry brine (rubbing salt and seasonings directly on the skin).
This recipe calls for adding the seasonings right to the turkey before cooking it.
Both methods work wonderfully with a spatchcocked bird.
And honestly a brine can give you more flavorful, juicy meat.
If you choose a wet brine, just remember to pat the turkey off with paper towels before adding the seasonings listed here and baking.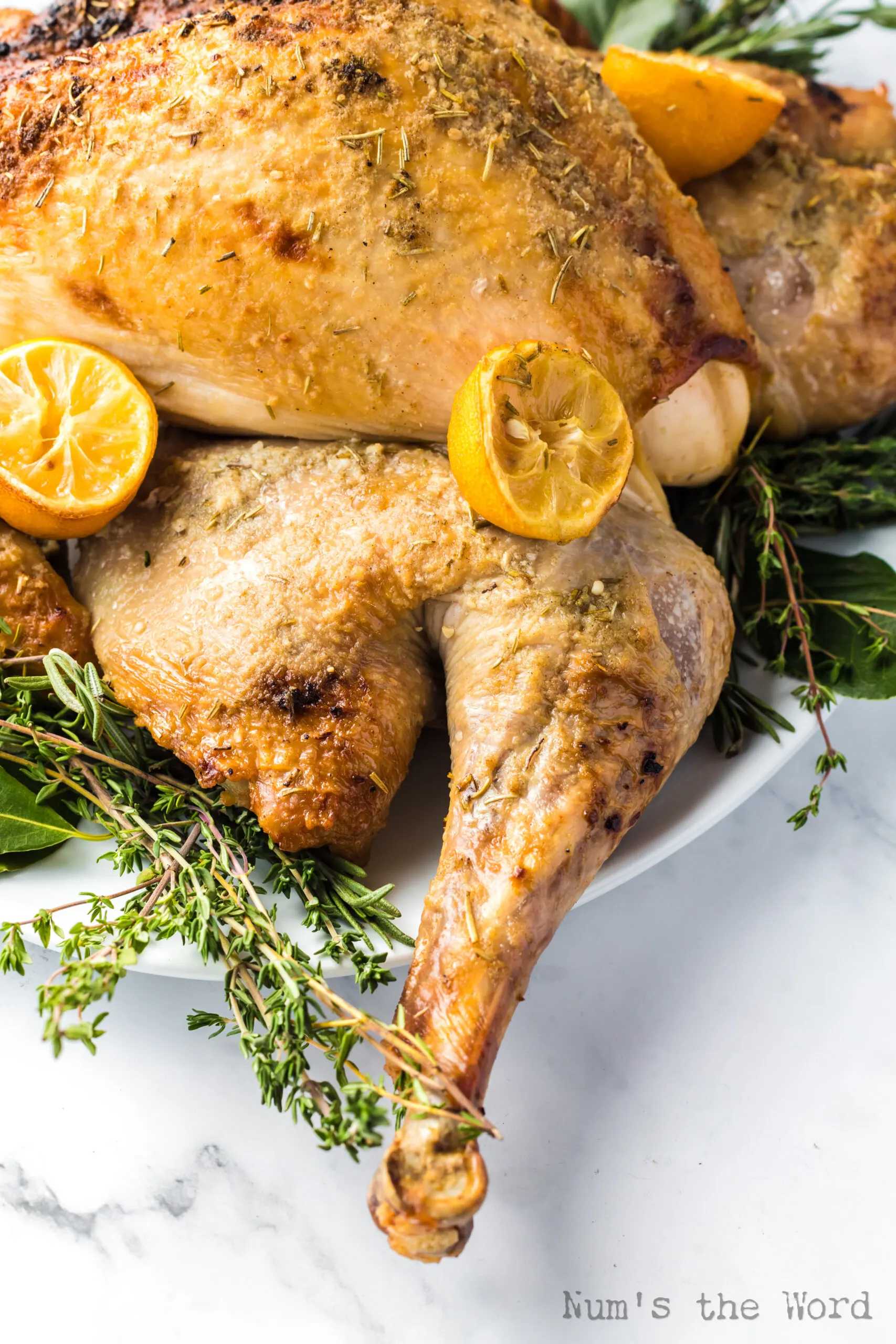 Do You Spatchcock a Turkey Before Brining?
Yes, it's a pretty good rule of thumb to spatchcock the turkey before brining.
You want the brine to totally permeate the meat. And if you do it after spatchcocking, it can soak in better.
This means when it cooks you'll get more flavorful results. And don't we all want more flavorful results?
Can You Stuff a Spatchcocked Turkey?
No, you can't really stuff a spatchcoked turkey.
Because the turkey is lying flat, you can't really fit that traditional stuffing inside the bird.
Actually, stuffing a bird can be a guessing game because it often means the inside doesn't cook quite as well while the outside is more likely to burn.
Instead I recommend cooking your stuffing separately in a baking dish.
This can actually lead to crispier, more delicious stuffing since it gets cooked evenly!
Knowing how to cook a spatchcocked turkey is an absolute must for Thanksgiving this year! It's method of cooking you're going to love!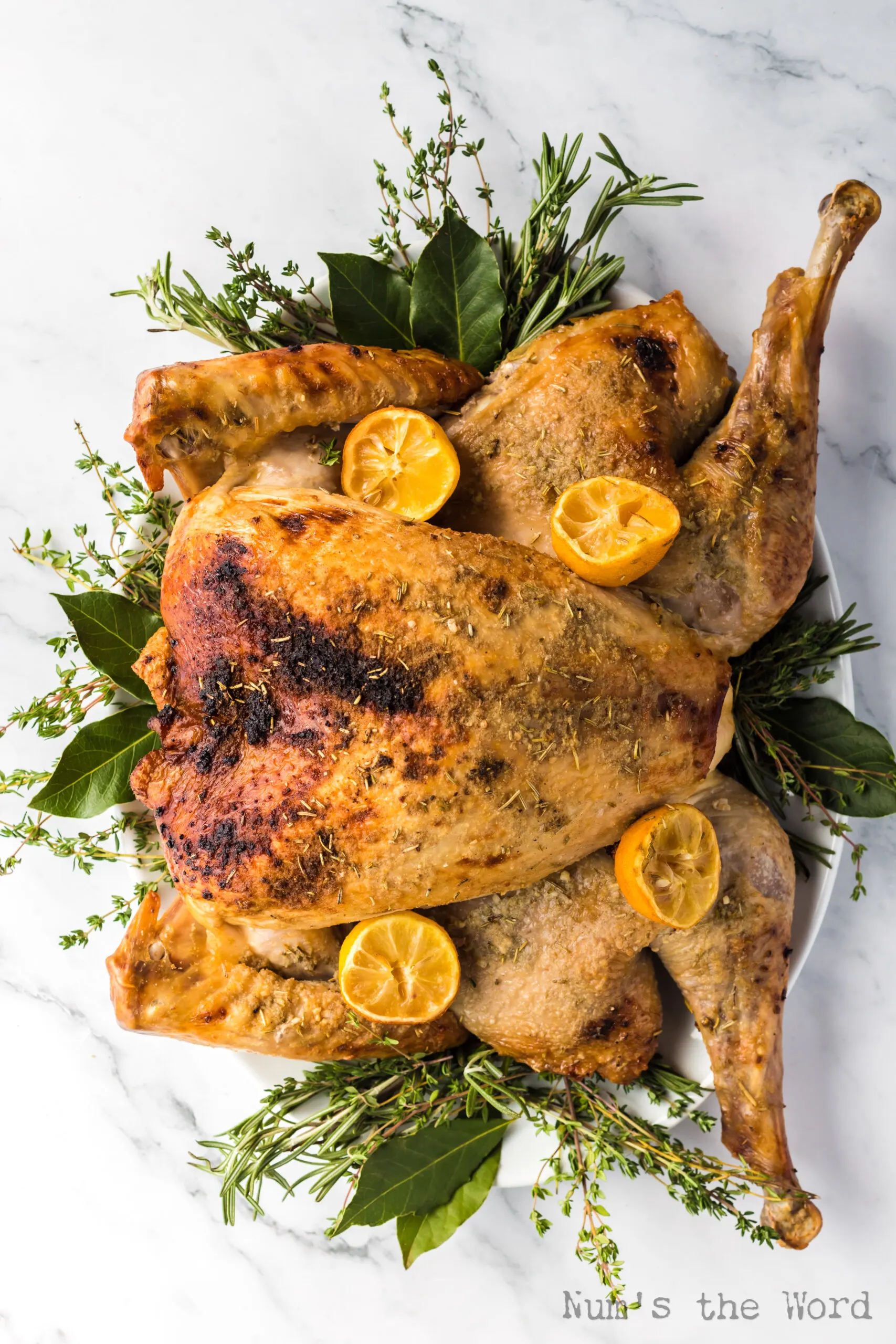 With crispy skin, even cooking, and faster results, it's a technique every home chef should have up their sleeve. Ready to give it a try? Your Thanksgiving guests will thank you!
Yield: Serving amount depends on size of turkey.
How to Cook a Spatchcocked Turkey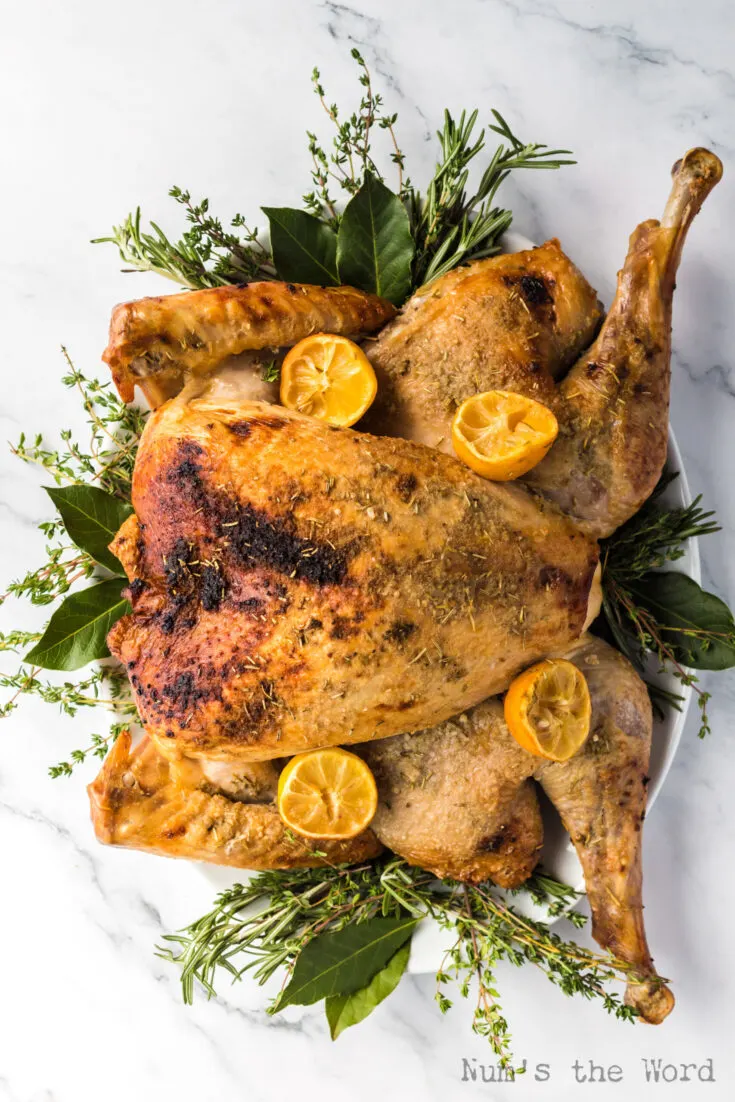 Get ready to learn How to Cook a Spatchcocked Turkey - a delicious turkey with crispy skin, juicy meat, and a faster cooking time. The ultimate Thanksgiving treat!
Ingredients
Instructions
Preheat oven to 425*F
Mix together the butter and minced garlic. Set aside.
Mix together the garlic powder, onion power, dried rosemary and thyme in a bowl. Set aside.
Use your hand to separate the turkey skin from the meat by slowly sliding your hands under the skin of the turkey. Go as far and wide as you can.
Take half the butter mixture and put it under the turkey skin, spread all around.
Thoroughly dry the turkey skin, and then spread the remaining butter mixture over the skin.
Sprinkle the powdered seasoning all over the turkey, making sure to cover all visible skin.
Cut the lemons in half, and put cut side down on each wing and each leg.
At this point you can put in your oven safe thermometer into the thickets part of your turkey breast. Your turkey will come with one. I like to also insert my own digital thermometer as I trust it more.
Put the turkey into the hot oven and bake for 20 minutes.
After 20 minutes, turn the temperature down to 350*F.
Continually check turkey for spots that are burning and cover those with aluminum foil if necessary.
Using a turkey baster, suck up the juices from the pan and pour back over the turkey every 20-30 minutes.
Continue to cook for 1-2 hours, depending on the size of your turkey. When your thermometer reads 165*F, take the turkey out of the oven.
Let turkey sit for at least 20 minutes before carving (preferably longer if you can).
Nutrition Information:
Yield:
10
Serving Size:
1
Amount Per Serving:
Calories:

100
Total Fat:

10g
Saturated Fat:

6g
Trans Fat:

0g
Unsaturated Fat:

3g
Cholesterol:

27mg
Sodium:

78mg
Carbohydrates:

4g
Fiber:

1g
Sugar:

1g
Protein:

1g