This Chicken Cream Cheese Pockets are a quick and delicious 30 minute meal that your entire family will love!  Use up a rotisserie chicken or leftover turkey to create these simple hand held pockets!  Perfect for at home or on the go!
This post contains affiliate links.  If you click on an affiliate link and make a purchase, I will make a small percentage on your purchase. This helps keep this website running! Thank you!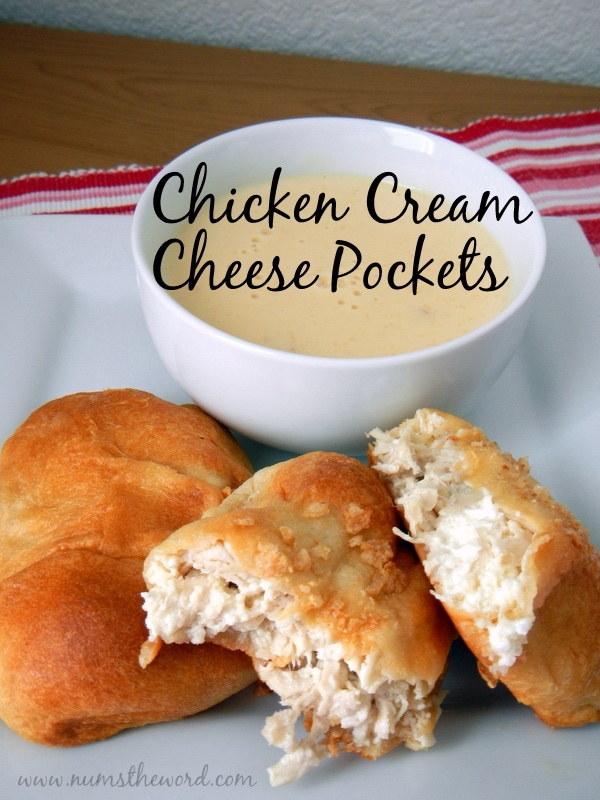 When it comes to weeknight meal planning I am the worst on the planet.
We tend to live our lives in a constant state of go and sitting down to a home cooked meal every night of the week is a fantasy.
However when I do cook, I tend to pick a theme for the week and stick with it.
For example I'll do a theme of rotisserie chicken or ground beef or chicken breasts or steak.
Then I revolve all my meals around that ingredient.
When we purchase a rotisserie chicken, we can't use all the meat in a single meal for us, so it gets used in two or three different meals.
Same goes for ground beef too.
This is mainly because I buy my ground beef in bulk from a club store because the cost is so much cheaper than the grocery store.
These 30 Minute Chicken Cream Cheese Pockets are an easy and quick go to recipe when I've got extra rotisserie chicken sitting around.
We also love to make this as an after Thanksgiving and Christmas meal to use up leftover Turkey!
I've learned over the years, and thanks to many of you, that this concept of a recipe is called different things.
Some people call them chicken pillows, others pockets and some just keep it simple and call them chicken crescent rolls.
We call them pockets.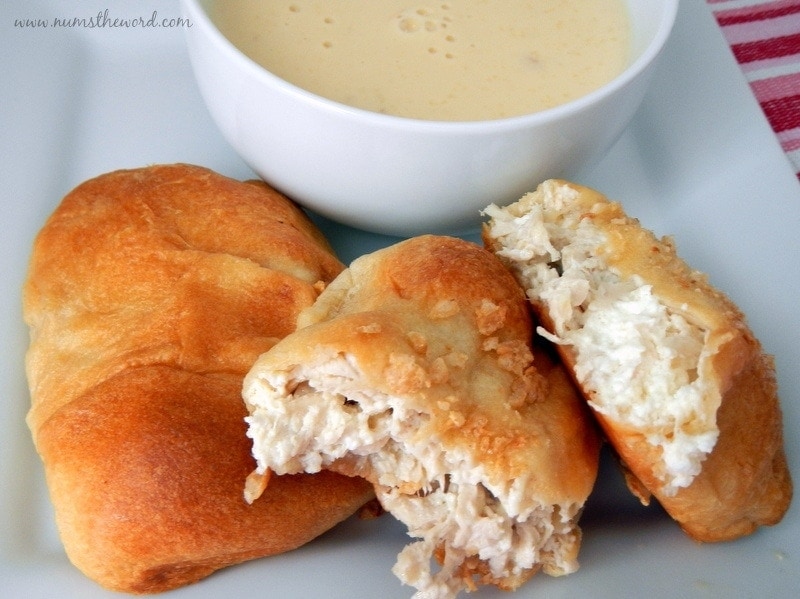 Though I do enjoy searching Pinterest for Chicken Pillows and seeing all the cute pillows that have chickens on them!
I guess you really can buy just about anything you can think of!
A pillow with a print of chickens was something I never even thought about before searching Pinterest for Chicken Pillows!
This recipe for these 30 Minute Chicken Cream Cheese Pockets is a family recipe.
Passed on from a cousin of my fathers and one that my entire family has fallen in love with.
We love how simple and quick these are and I especially love how they make a great on the go dinner option for busy school nights!
No fork and knife needed, just a pair of hands and a napkin.
Well…as long as you are willing to forego the sauce.
And don't hesitate to switch things up with these Chicken Cream Cheese Pockets.
Feel free to add in some green chilies or corn!
Or even a little salsa to spice things up!
All in all this is a meal that is parent AND kid approved!
If you live a crazy busy life like we do, then whip up a batch of these today!
Chicken Cream Cheese Pockets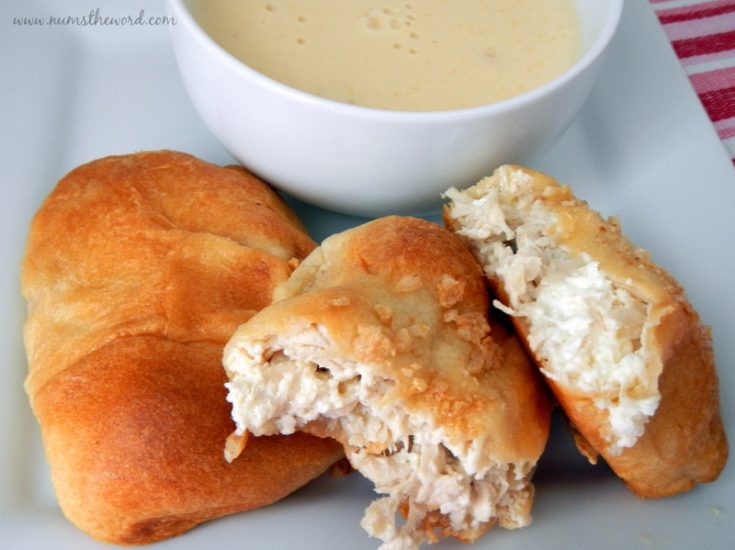 Ingredients
2 cups chicken cooked and pulled (Rotisserie chicken works great!)
4 ounces cream cheese, softened
4 Tablespoons butter, divided
1/2 cup mushrooms, sliced, or 1 small can of sliced mushrooms
1 can Pillsbury crescent rolls (We use the large rolls)
1/4 teaspoon Pepper
1/2 teaspoon Salt
1 can Cream of Chicken Soup
1 (12 ounce) can Evaporated Milk
Corn Flakes, crushed (optional)
Instructions
Preheat oven to 350 degrees F.
Combine chicken, cream cheese, 2 Tablespoons of butter & mushrooms.
Lay out a single crescent roll triangle. Stretch it out so that it is slightly bigger than normal.
Place approximately 1/4 cup of chicken mixture in the center of crescent roll.
Wrap dough around chicken mixture sealing up edges, creating a pocket.
Continue to do this to each crescent roll.
Place onto lined cookie sheet or in a greased casserole dish.
Melt 2 Tablespoons of butter and brush on to each crescent roll.
Add crushed corn flakes to top of each crescent roll, if desired.
Bake in oven for 20 - 25 minutes or until golden brown.
While baking, combine evaporated milk and cream of chicken soup in a pot on the stove, medium heat. Stir to incorporate and cook until simmer.
Turn off heat and allow to cool.
Serve Chicken Cream Cheese pockets with dipping sauce.
Notes
If you are making these ahead for a freezer meal, follow directions above to create pockets. There are two ways to do the freezer method.
1. After assembling, but before cooking, place filled pockets on a cookie tray and freeze for 2 hours. Once frozen, place in a freezer ziploc bag for up to 2 months. When ready to use, remove and place frozen pocket on a lined cookie sheet. Bake at 325*F for 30 minutes. (do not thaw - bake frozen).
NOTE: Each oven is different. So the heat time may take longer or less depending on your oven. My electric oven in Minnesota requires 30 minutes.
2. After assembling, cook as directed. When finished cooking, let cool completely. Place cool cookie sheet in freezer for 2 hours or until pockets are frozen. Place them in a freezer ziploc bag for up to 2 month. When ready to eat, place frozen pockets on cookie sheet and bake at 325*F for 20 minutes.
NOTE: Each oven is different. So the heat time may take longer or less depending on your oven. My electric oven in Minnesota requires 30 minutes.
Adapted From: Sandy Tippetts from the Laura Bowen Family Cookbook
Other Rotisserie Chicken Recipes You'll Love...