5 Minute Homemade Vanilla Buttercream Frosting recipe will produce beautiful white fluffy icing that will make you drool! This recipe will cover 24 cupcakes or a two layer cake! Such a simple recipe that is packed with flavor, this whipped buttercream is the best!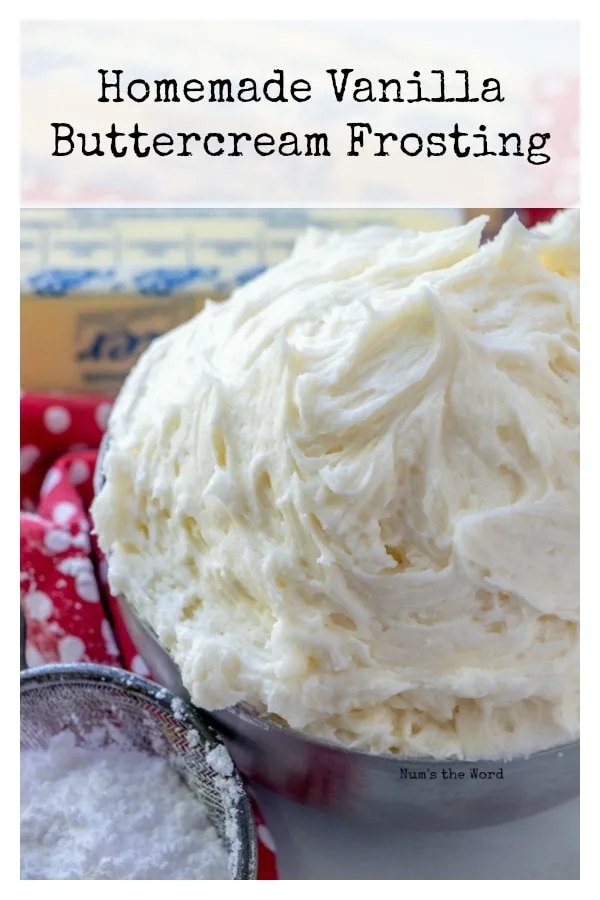 At some point in your life, you're going to have to know how to make buttercream frosting.
Whether you're throwing a baby shower for a friend or getting ready for your child's birthday party, you'll need a good cake. Making this buttercream frosting for these treats yourself certainly adds a personal touch to the gesture. Likewise, it saves you some shopping, and who hasn't gotten to the end of the recipe only to realize they forgot to buy the frosting?
Of course, there are also those overachievers who like to not only make an entire cake from scratch, but to decorate it themselves too. As a result, this is the best buttercream frosting recipe for any occasion, including for you (awesome) show-offs.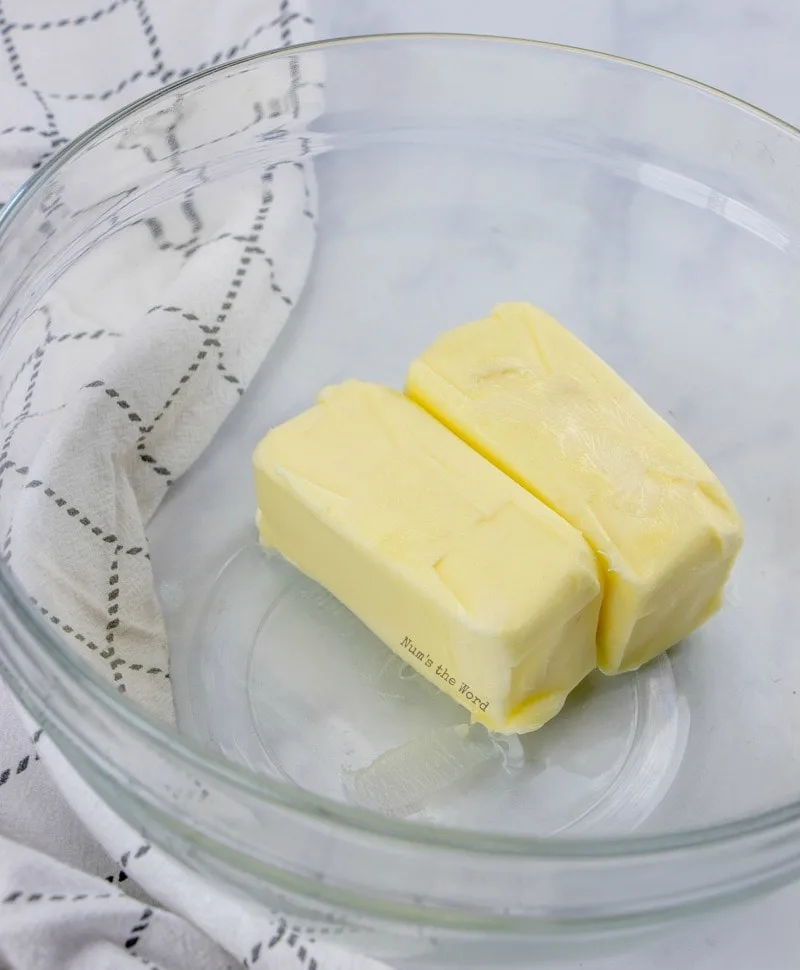 A Good Homemade Frosting Can Save Your Cake!
Personally, I'm not a fan of cakes or cupcakes, and as a result they're treats I wouldn't even think twice about. However my kids LOVE them.
When it comes to a store bought cake or cupcakes, I'm that person who picks the frosting off of cake and only eats the cake part (and even then, only to be polite). BUT, when I know that a cake was made with homemade frosting, I'll eat the entire slice with absolutely zero complaints.
When it comes to making a good cake, you can't cut corners on the frosting.
First of all, if you make a great cake with gross frosting the entire thing is a waste.
However if you make a poor cake with amazing frosting, and suddenly it's not so bad.
Finally, if you make a great cake with amazing frosting, and you'll convert even a non-cake lover like myself into wanting a second piece! In fact, I've learned to appreciate a good cake or cupcake over the last four years because of the frosting alone.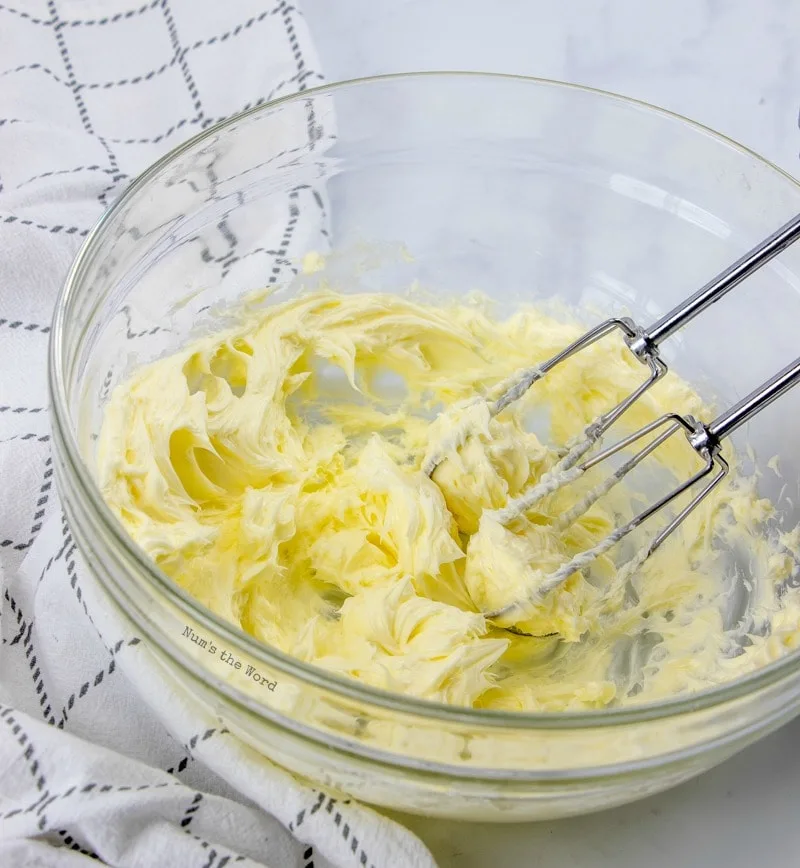 A Great Summer Treat
My children run a homemade cupcake and lemonade stand in our front yard every summer for 12 weeks due to the fact that a large festival happens at the park next door. I'm often asked why I help my kids run a cupcake stand if I don't like cupcakes in the first place.
I don't want to gain weight from all the delicious baking my kids do, so having them sell cupcakes is my way of avoiding that! If we ran a cookie, brownie, pie, or doughnut stand, I'd insist on trying samples of each batch because I love each of those items. However with cupcakes, that worry isn't there.
I do still taste-test at least half of one cupcake from each fresh batch, so I can make sure they turn out fine. I then give the other half of the cupcake to my husband to get his opinion too. As a result, I'm not tempted to eat a ton of desserts and I don't gain any weight!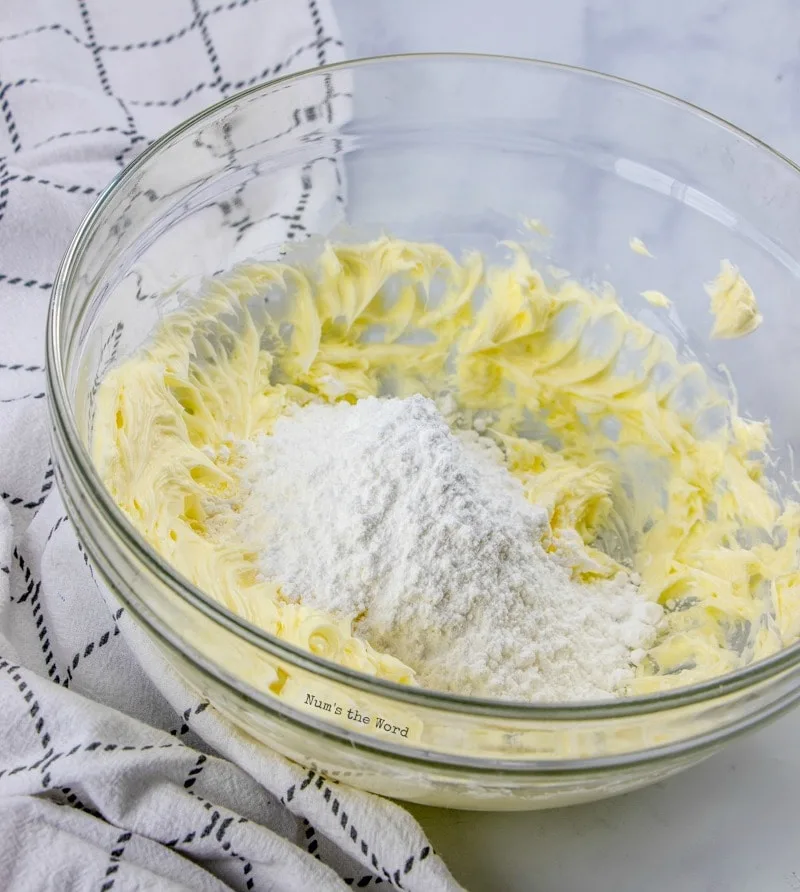 The Best Buttercream Frosting You'll Ever Eat!
Every week we make around 70 to 100 cupcakes for our cupcake and lemonade stand and almost always sell out. During their stand's annual 12-week run, I'll make cupcakes topped with a delicious variation of my vanilla buttercream frosting recipe for 10 of these productive weeks.
Trust me when I say: this is the best buttercream icing recipe you'll ever try. My kids' summer business is thriving because of it! We bake over 1,000 cupcakes every summer, and as a result, they sell out quick. Around 800 of those delicious, little cakes are smothered in this fluffy buttercream frosting or rather a variation of it.
This DIY buttercream frosting is also super quick to whip up and so easy to make. It has easily become my favorite go-to buttercream recipe for coating cakes, cupcakes, and even sugar cookies.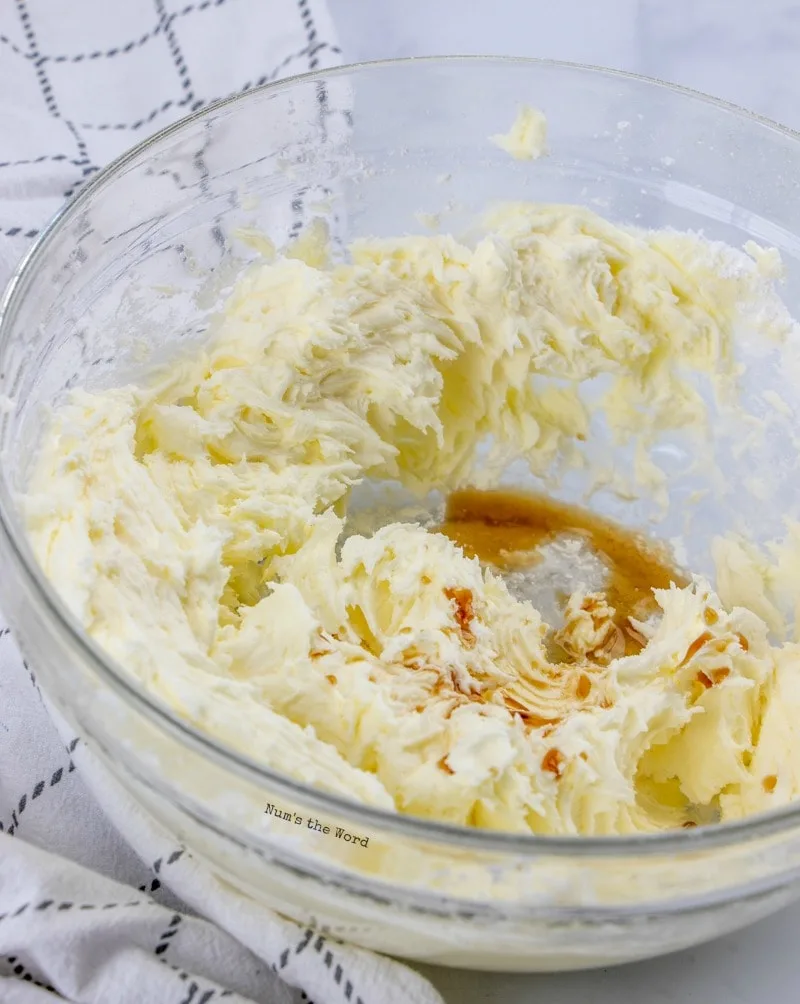 Can I Make Other Flavored Variations of This Frosting?
You may be asking yourself, what's the best thing about this simple buttercream frosting recipe? Because you can use it as a base for other, more flavorful variations! I'm a huge fan of experimenting with different buttercream frosting ingredients and as a result, creating new variations. But don't let me have all the fun. Similarly, I recommend you switch it up and tell me how it turns out!
If you're aching for ideas, here are even more of my own whipped buttercream frosting variations:
What ingredients are used in this Buttercream Frosting?
Butter
Powdered Sugar
Vanilla
Heavy Whipping Cream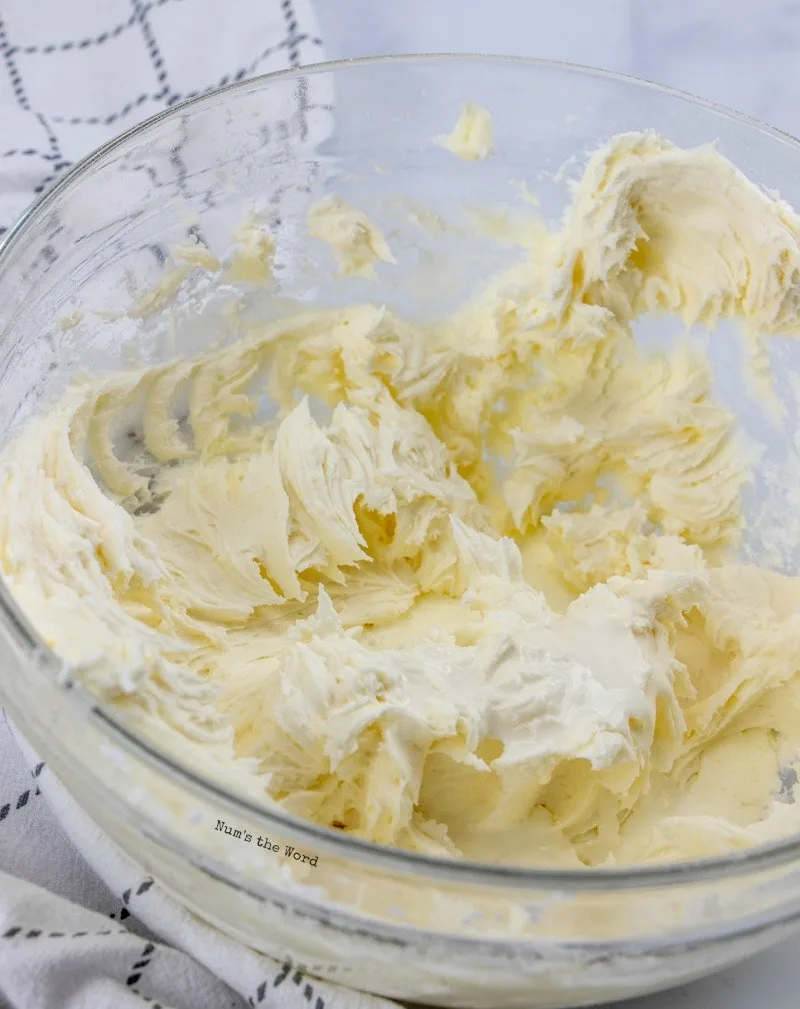 How Do You Store Buttercream Frosting?
Before you Google, "Does buttercream frosting need to be refrigerated?", let me save you some time and say that no, it does not.
This buttercream frosting is made with heavy cream and butter, which is safe to keep covered at room temperature because of all the sugar in this recipe.
How Long Can You Leave Buttercream Frosting Out?
Because this buttercream icing is made with real butter, it can't handle the same amount of heat as a store-bought frosting can. That's because store-bought frosting is made of a mixture of butter and Crisco – or just butter-flavored Crisco. In contrast to butter, Crisco can handle higher levels of heat.
Consequently, If you are planning to throw an outdoor summer party, just know that your sugar cookies' buttercream frosting (or cake or cupcakes' frosting) will start to melt after a short time in the sun.
Before you leave perfectly good frosting to melt, try leaving out a test batch to see how it holds up in the heat!
Another idea if doing an outdoor party is to keep the cupcakes stored in a cooler with ice until ready to serve. This way the real buttercream frosting doesn't begin to melt.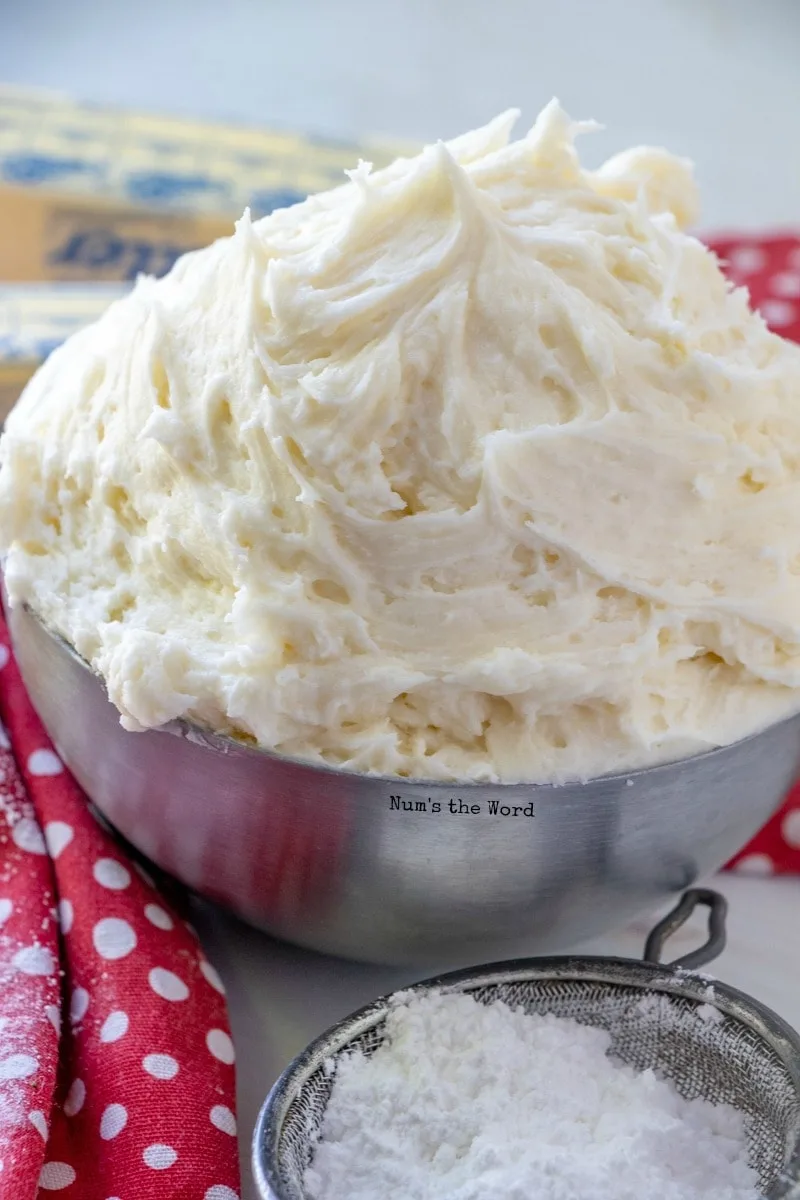 How Do You Thin Out Frosting?
Real buttercream frosting doesn't like being overly beaten which can consequently make it firmer. That can make it become thicker than you want. If you mess this up (I certainly have), try beating in some extra whipping cream – 1 teaspoon at a time – to thin it out until it gets to a consistency you like.
Alternatively, if your frosting turns into liquid, then you might've used the wrong kind of sugar. Regular white sugar is NOT a substitute for confectioners' sugar (also known as powdered sugar), so DO NOT MAKE THIS RECIPE without it! Hence, using the right sugar is crucial to getting this easy buttercream frosting just right.
What makes your buttercream frosting taste so good?
This is the Best Buttercream recipe because it's made with real butter. Substitutes will not result in the same taste or experience. Now is not the time to skimp on real butter. Invest in a quality butter and it will reward you with an amazing flavor.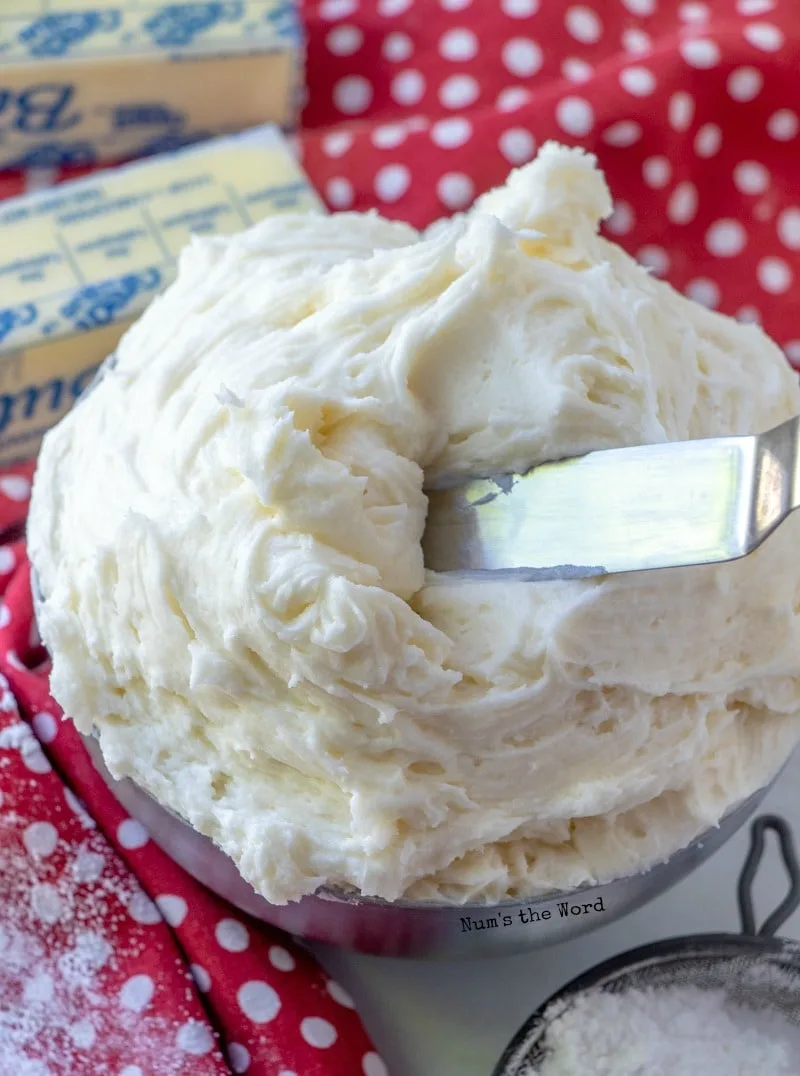 How do I get my frosting to be pure white and not off white?
Due to the butter being the color of a light yellow, it is pretty hard to get a perfect white buttercream frosting. However, I have a few tips that might help! Make the buttercream as directed. It will start off as a light yellow color, but as you add in your confectioners sugar and heavy cream the color will turn to an white but it will be an off white color.
Two tips that should help are to use clear vanilla extract (found in the wedding / cake decorating isle) and you can also add white food coloring to your frosting to help boost the white color!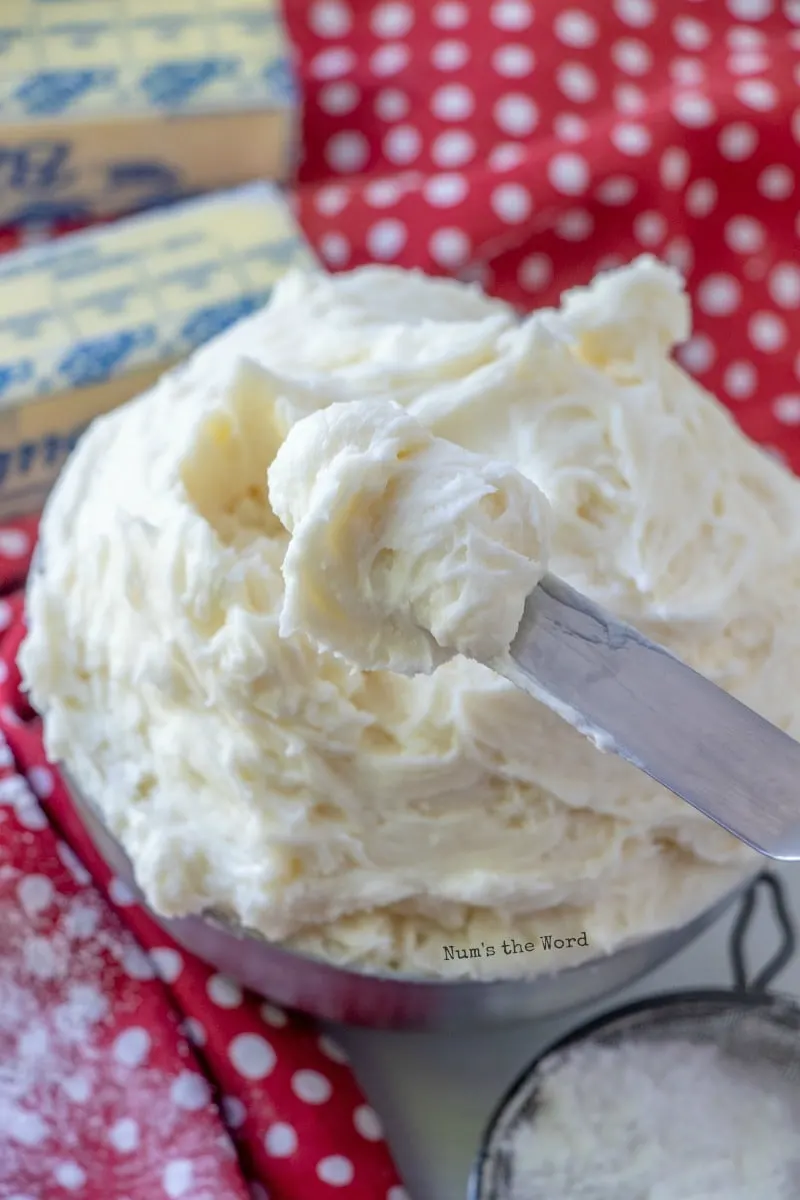 How many cups are in a stick of butter?
A box of butter comes with 4 sticks. Each stick is 1/2 cup of butter or 8 Tablespoons. 2 sticks of butter would equal 1 cup. Since there are 4 sticks per box, that means each box has 2 cups of butter.
This 5 minute Homemade Buttercream Frosting is the best you'll ever try! Rave reviews by everyone who has made it on how absolutely delicious it is! This will become your go to recipe guaranteed!
Yield: Frosting for 24 cupcakes
Homemade Buttercream Frosting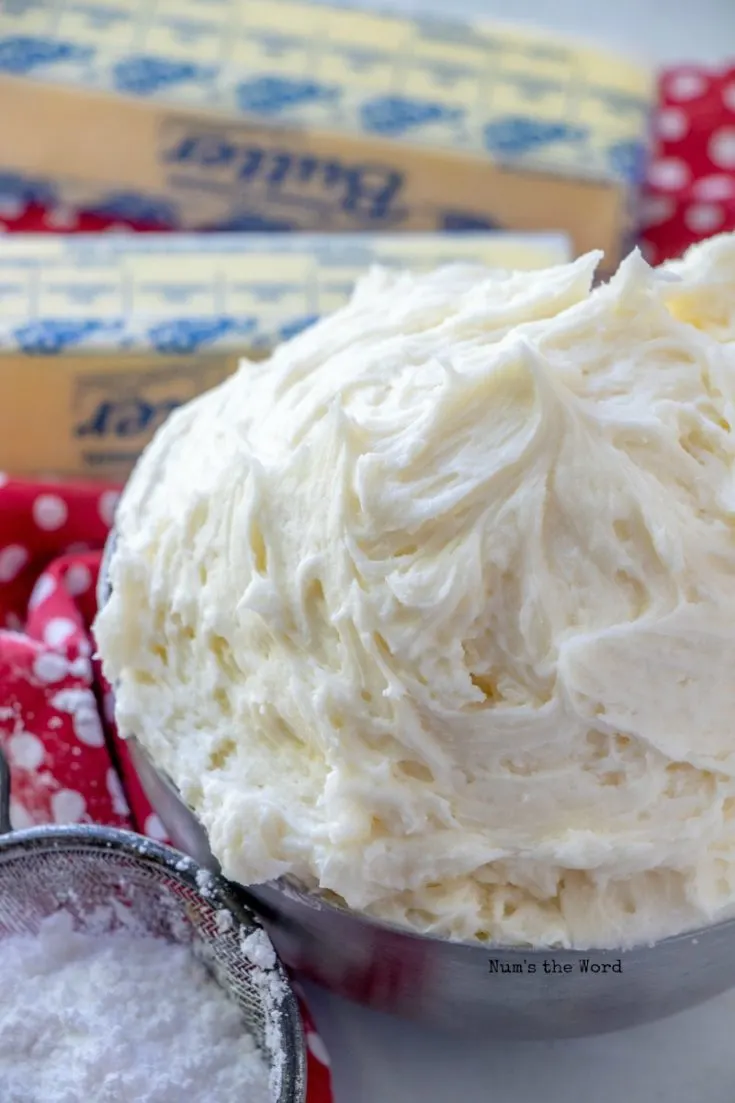 This 5 minute Homemade Buttercream Frosting is the best you'll ever try! Rave reviews by everyone who has made it on how absolutely delicious it is! This will become your go to recipe guaranteed!
Ingredients
1 cup of butter, softened
3 cups confectioners sugar
1 teaspoon vanilla extract
2 Tablespoons heavy whipping cream
Instructions
Using a stand or hand mixer, blend butter until smooth & creamy.
Add powdered sugar 1/2 cup at a time until fully incorporated.
Add vanilla and mix well.
Add heavy whipping cream and blend well until full mixed in.
Fill pipping bag and pipe onto cake or cupcakes.
Nutrition Information:
Yield:
24
Serving Size:
1
Amount Per Serving:
Calories:

126
Total Fat:

8g
Saturated Fat:

5g
Trans Fat:

0g
Unsaturated Fat:

2g
Cholesterol:

22mg
Sodium:

61mg
Carbohydrates:

14g
Fiber:

0g
Sugar:

14g
Protein:

0g
Originally Posted: July 15, 2015
Photos & Text Updated: July
Recipe Adapted from Food Network