Beefy Country Pie is an old classic that not only tastes great but is a hit with kids. This is a simple, toss together, pantry dish that everyone will love!
This post contains affiliate links.  If you click on an affiliate link and make a purchase, I will make a small percentage on your purchase. This helps keep this website running! Thank you!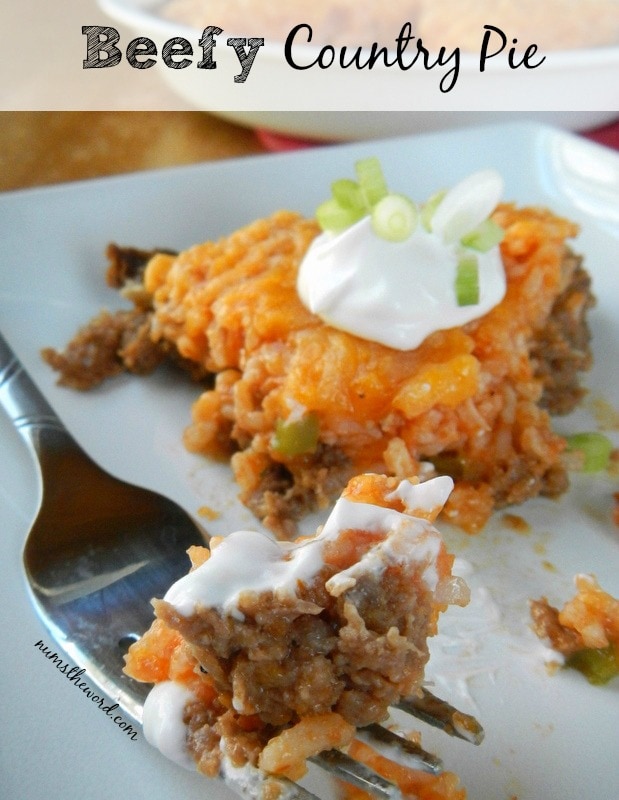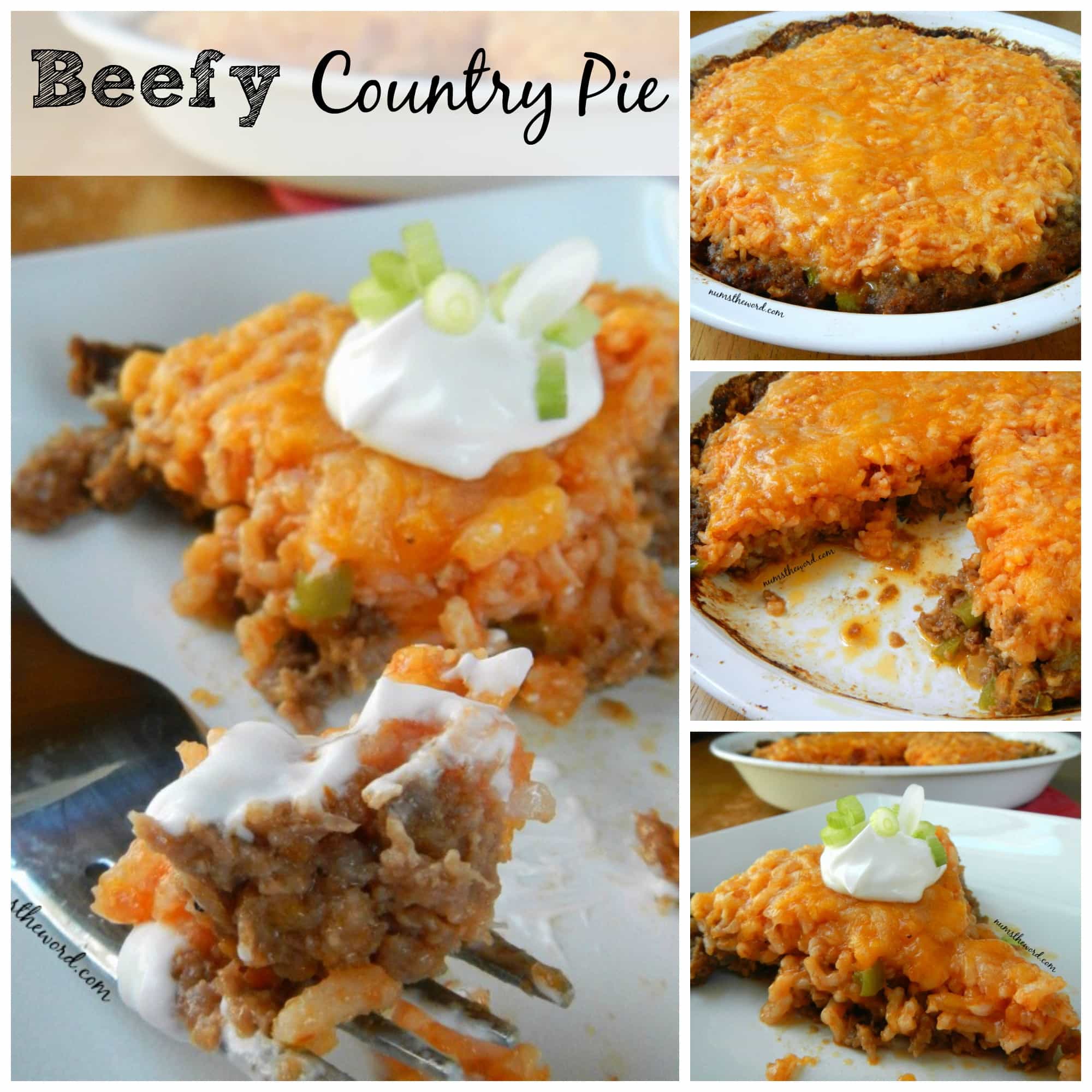 If you're looking for a simple, classic recipe, this Beefy Country Pie is just the recipe for you!
This is home cooking at it's finest, served in a fun and unique way!
For this Beefy Country Pie, the beef is the pie "crust" and the rice mixture is the "filling" making this a tasty and visually unique dish.
However, if you don't own a pie dish, then just use a simple 9×9 casserole dish.
No need to buy extra dishes.
My favorite recipes on this website (and for my belly) are the easy, use what you have in your pantry kind.
And this Beefy Country Pie is definitely a pantry recipe.
Most of these items you already have on hand.
If not all of them and it certainly doesn't require you to run out and buy unique items just for this one use.
I'm the kind of person who buys my meat at a club store in mass quantities.
So depending on the week, I'm looking for MULTIPLE ground beef, stew beef or chicken recipes.
This is one of those recipes.
I literally wasn't sure what to make.
Then I ran across a recipe similar to this, adjusted it to what I had on hand and was quite impressed with the final results.
And as we all know, a true test of tastiness for a recipe is if it reheats well the next day.
And I'm going to have to give this one two thumbs up.
I enjoyed this most with sour cream and some green onions on top, though a good corn salsa would also be right up my ally too!
This Beefy Country Pie is a great weeknight or company's coming type of dish.
You can make it ahead of time and pop it in the oven when you're ready, making dinner a snap!
Also, freeze it!
Just prepare it and freeze it before baking!
When ready, thaw it out in the fridge for the day and bake it as normal!  Easy Peasy!
Ingredients
1/2 cup (4 ounces) + 1 1/2 cup (12 ounces) tomato sauce, divided
1/2 cup bread crumbs
1/4 cup onion, diced
1 teaspoon salt
1 pound ground beef
1/4 cup chopped green bell pepper
1/2 teaspoon oregano
1 1/3 cup Minute Rice
1/2 cup + 1/2 cup shredded sharp cheddar cheese, divided
1 cup water
1/2 teaspoon salt
Instructions
Preheat oven to 350*F
Combine 1/2 cup tomato sauce and bread crumbs until all sauce is absorbed.
Add onion, salt, ground beef, bell pepper & oregano. Mix well.
In a deep pie dish, squish meat mixture all around the bottom and up the sides as you would a regular pie.
Combine 1 1/2 cups tomato sauce, minute rice, 1/2 cup cheese, water & salt. Mix well.
Spread the rice mixture on top of beef.
Cover with foil and bake for 25 minutes.
Remove foil add additional 1/2 cup of cheese and bake for 10 more minutes or until cheese is melted.
Slice like a pie and serve.
Toppings may include: sour cream, chives, salsa, Tabasco, avocado, guacamole, etc.
https://numstheword.com/beefy-country-pie/
Other Ground Beef Recipes You'll Love...