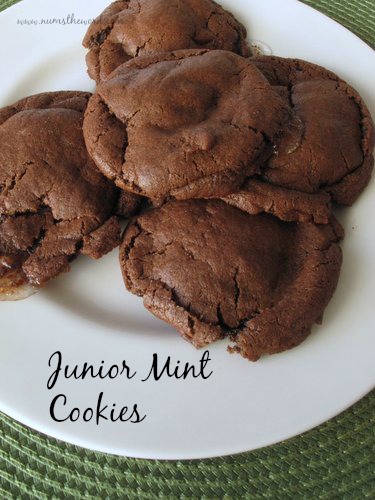 It is Favorite Friday and since we are right smack in the middle of our St. Patrick's Day celebration, I thought I'd share one of my favorite combinations: chocolate and mint.
And in honor of my lovely mother, it involves one of her favorite treats too.
Not just Junior Mints, but frozen Junior Mints.
Why she likes them frozen, I'm not really sure.
For this recipe it helps the Junior Mints to mix into the dough without exploding or breaking.
There's a little more work to these cookies in order to make sure the candy doesn't make a complete mess of your cookie sheets, but they are so worth it.
If you're looking for some other chocolate and mint options, there are these awesome Truffles filled with mint chocolate chip cookie dough.
I know.
We've also got a Peppermint Hot Chocolate.
Visit Delectabilites for Recipe