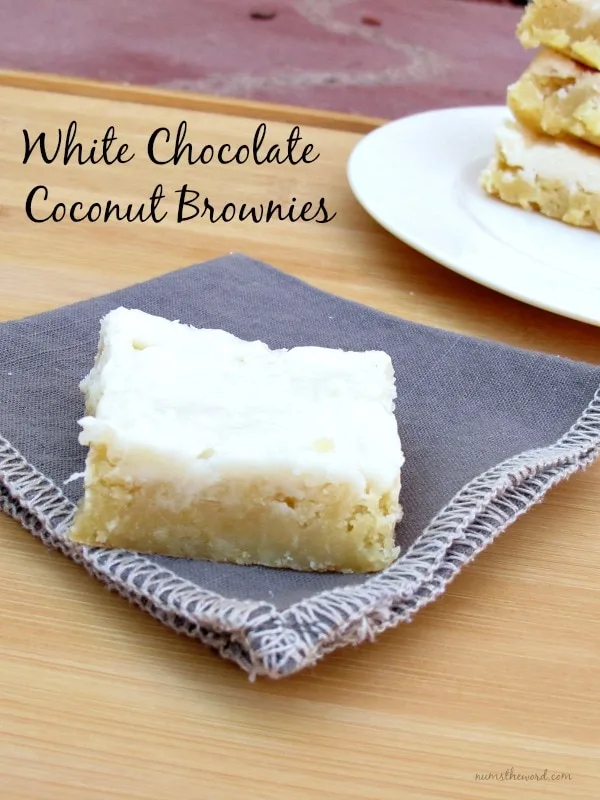 I hope you're not sick of coconut. Because I don't think I ever will be.
These brownies are super rich and amazingly delicious. They are fantastic with or without the coconut. I happened to find Lindt Coconut White Chocolate and thought it would be perfect to use in these. And it was. With a little extra added coconut.
Even my coconut hater said she LOVED them. Not only right after eating them, but a few weeks later when I was editing pictures she said "Oh, mom, those were so good!".
I had to wait for a time when I was taking something to a party. I can't have so much of something so yummy hanging around my house. I don't have enough self control.
White Chocolate Coconut Brownies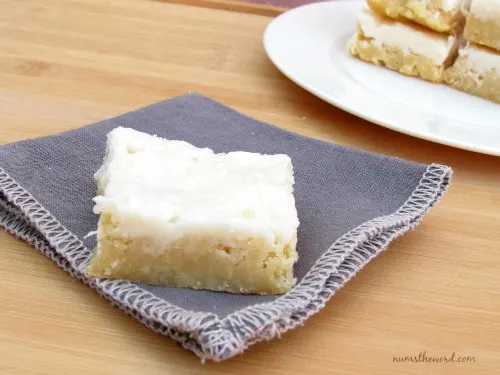 Ingredients
1 cup butter
1/2 cup white chocolate, chopped
4 eggs, beaten
2 cups sugar
1 1/2 cups flour
1 1/2 teaspoons vanilla
for the frosting
1/2 cup butter
1/3 cup white chocolate, chopped (preferably Lindt Coconut White Chocolate if you can find it)
1/3 cup coconut
3 cups powdered sugar
2 tablespoons heavy cream
1 1/2 teaspoons vanilla
Instructions
Preheat oven to 350 degrees. Spray a 9x13 pan with booking spray and set aside.
Melt 1/2 cup chopped white chocolate and butter in a microwave safe bowl, or you can use a double boiler. Melt slowly and watch it carefully so it doesn't burn.
Whisk in sugar and eggs, then add flour and vanilla.
Pour into prepared pan and bake for 25-30 minutes.
Allow to cool completely before frosting.
for the frosting

Slowly melt the white chocolate and butter in microwave or double boiler.
Add powdered sugar, coconut, heavy cream and vanilla.
Allow frosting to harden before cutting, you may need to place in the refrigerator to help both the brownies and frosting to cut better.
Notes
I used Lindt Coconut White Chocolate for both the brownies and the frosting and thought it was perfect. If you can find it, I highly recommend it.
These turn out very gooey. I put mine in the fridge for several hours before serving.
Adapted from Your Home Based Mom