Eggo & Nutella Breakfast Pizzas are a quick 5 minute breakfast packed with flavor and able to hold you over. Perfect for in the car to the office or school. Morning breakfast never tasted so good!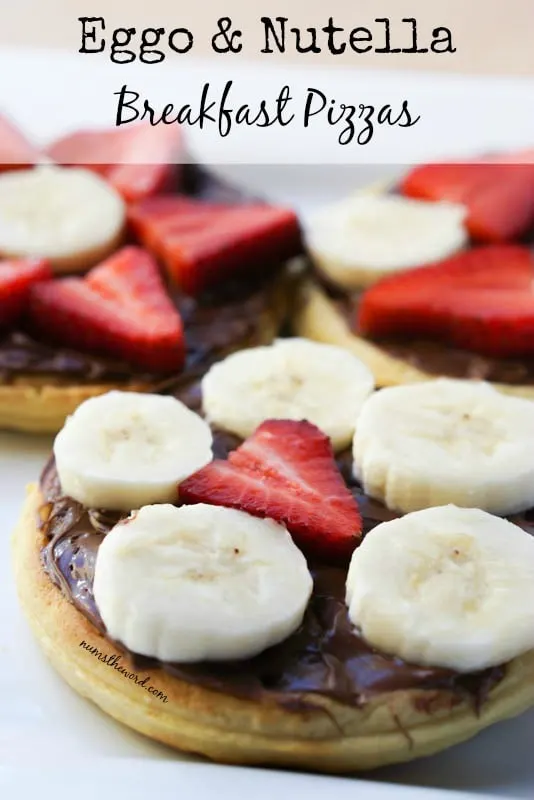 There are two kinds of people in this world.
Those who love Nutella and those who do not.
This topic is considered a hot topic and can really get people in a frenzy if posted on social media.
It's always surprising when someone is willing to admit that they aren't a fan of Nutella, and it generally stems from the fact that they also don't like Hazel Nuts.
Those people I highly doubt are reading this right now.
There would be no reason to read about a recipe that contains an ingredient you don't care for.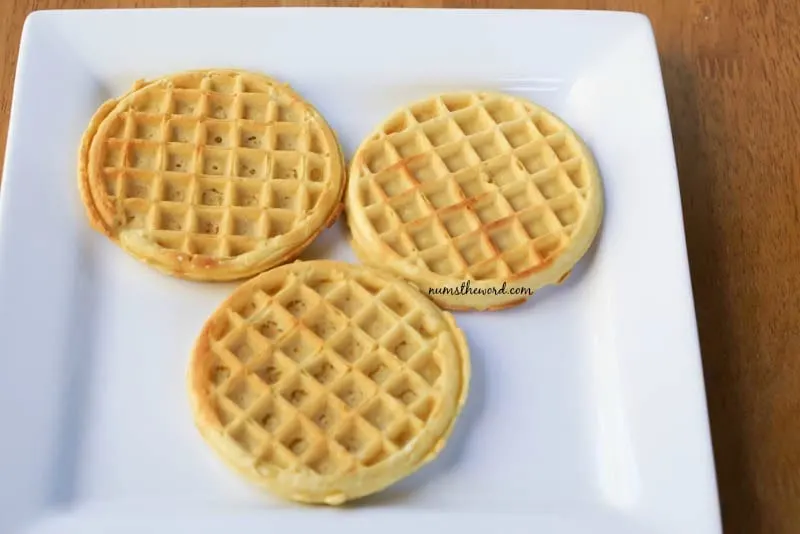 However for everyone else, once you determine you are a Nutella lover, then it's time to address the other debate.
Is Nutella a breakfast item or a dessert item?
I would venture to say that most people would consider it a breakfast item, making these Eggo & Nutella Breakfast Pizzas right up your ally.
However if you think it's more of a dessert item, I suggest serving this as a dessert with a scoop of vanilla ice cream.
We can unofficially change the name to Eggo & Nutella Dessert Pizzas if that helps you.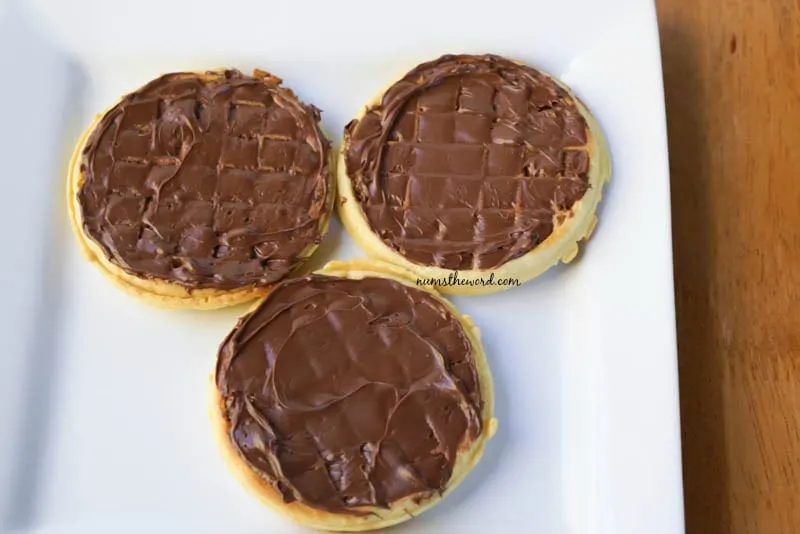 There is however, a third kind of person.
The person who sees this as a breakfast, snack, dessert and quite possibly everything in between just because they are huge fans of Nutella.
They are also the kind of person who eats Nutella straight from the jar and tend to double dip.
You know who you are.
The guilty look or knowing nod happening right now gives you away.
No matter what kind of person you are, I suspect these Eggo & Nutella Breakfast Pizzas are right up your ally!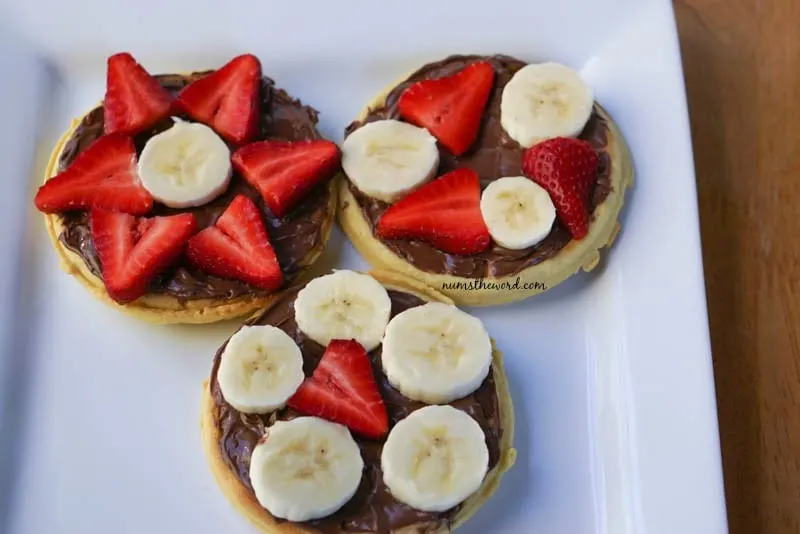 My kids and I are huge fans of my original post for Eggo Waffle Breakfast Pizzas, which use honey, peanut butter and fresh fruit.
However, we tend to play around with our food and ideas and quickly found fell in love with this new breakfast pizza version.
With only 3 simple ingredients, these Eggo & Nutella Breakfast Pizzas are easy to create and perfect for on the go.
No drippy messes, no sloshy foods.
Just a quick, morning meal that will stick to your ribs more than any doughnut will and one that your taste buds will rejoice over.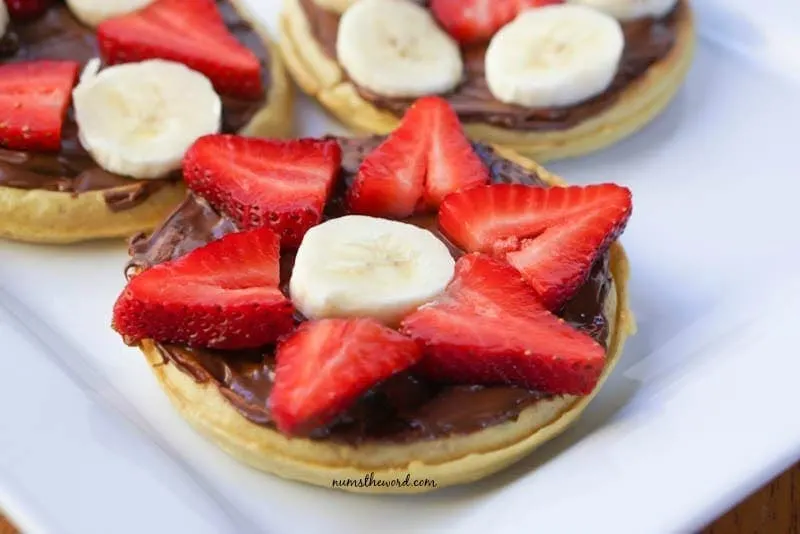 I'll let you determine if this is kid approved in your house, but in ours it is!
I also love that my oldest can make her own as long as I have a bowl of cut fruit ready to go, she can assemble it and devour it all by herself.
This gives her the opportunity to grow and be independent.
It also saves me an extra few minutes in the mornings from having to make breakfast.
Don't waste your time on a hectic breakfast.
Whip up these Eggo & Nutella Breakfast Pizzas and give yourself a gold star for the day.
Your taste buds will thank you and your friends will all envy you!
Yield: 1 Serving
Nutella Breakfast Pizzas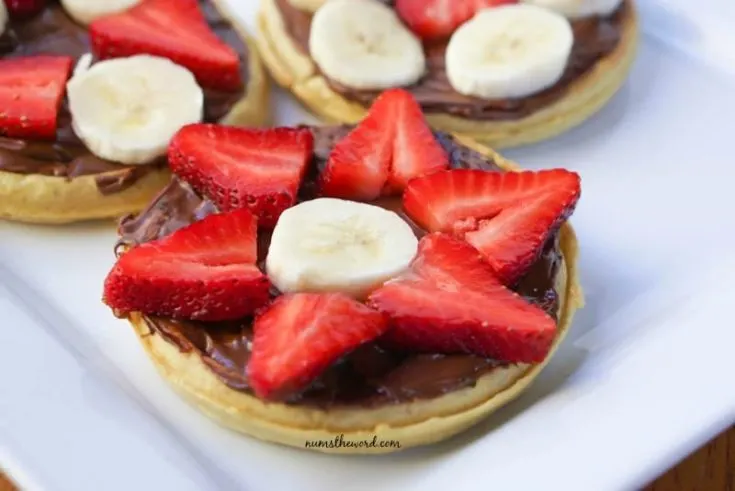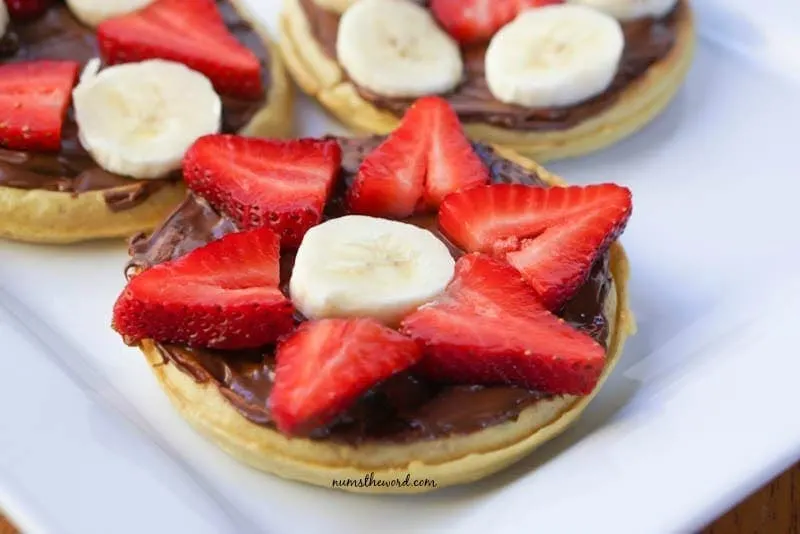 Ingredients
1 Eggo Waffle
2 Tablespoons Nutella
Fresh Fruit such as strawberries, bananas, raspberries or blueberries
Instructions
Toast waffles according to package directions.
Spread 2 Tablespoons of Nutella on on side of waffle.
Top with your favorite fruit.
Devour!