This classic Gingerbread Loaf recipe has been around for generations! Passed down from one baker to the next, it's become a Christmas favorite in our home!
Soft, flavorful and oh so tasty, this traditional gingerbread recipe is a winner!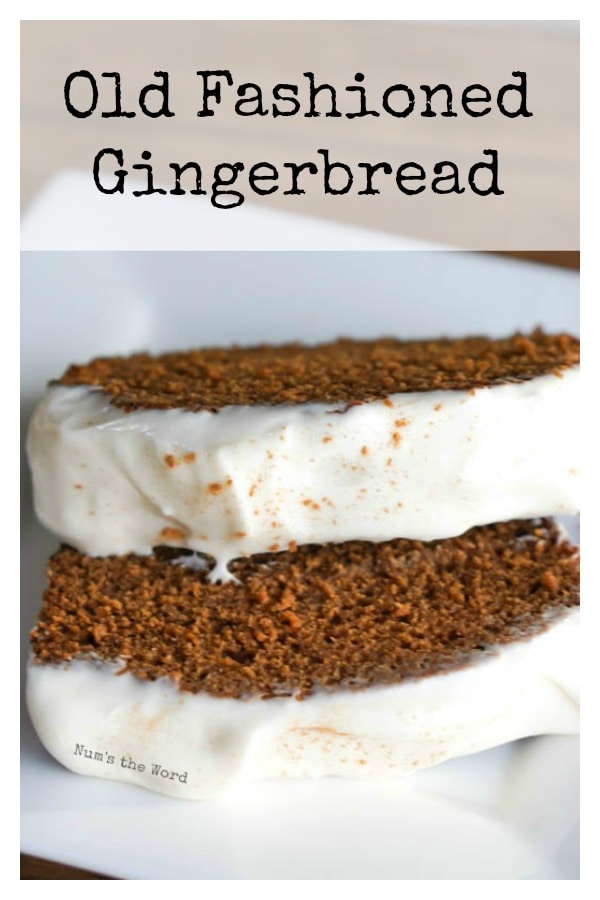 The tree is up, stockings are hung, gifts are spread roundabout and the smell of the holidays is in the air. I don't know about you, but Christmas time is one of my favorite times of the entire year.
The decorations and the Christmas spirit makes this time of year magical. I love gingerbread so much.
Because of my love for gingerbread, every year since I learned how to bake, I have used this gingerbread loaf recipe. It is a sweet and delicious way to start the season off right.
For centuries people have celebrated the Christmas season by making gingerbread cake and soon you will be able to too. You can wow any crowd, even the picky ones, with this recipe! Happy Baking!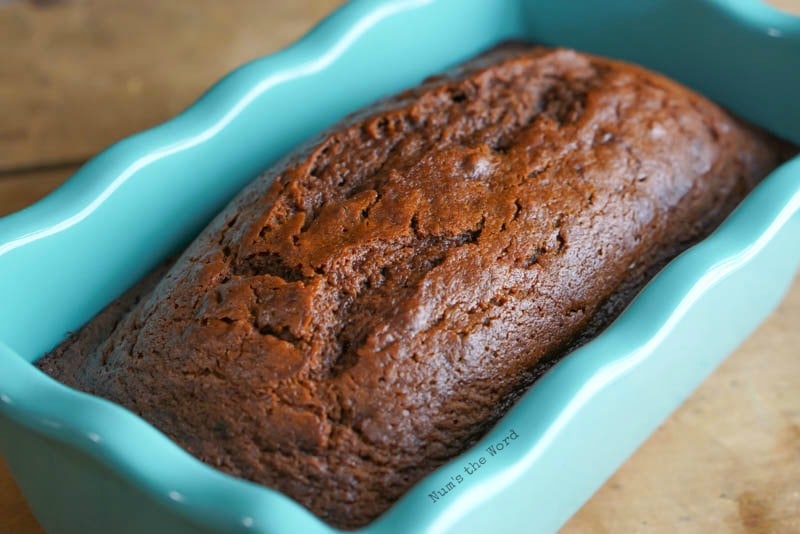 How to Make this Gingerbread Loaf Recipe:
Magic doesn't happen on it's own and once your gingerbread loaf is finished it certainly will taste like magic. To make the magic come to life in your very own kitchen here is what you are going to need:
Sugar:

Nothing is sweet without sugar!

Butter:

Butter enhances the flavor in recipes. I use salted butter because it has more flavor than unsalted butter.

Egg:

Eggs help create structure when baking. Without the eggs it wouldn't have that beautiful texture.

Molasses:

Not only will this add a sweet flavor to your bread, Molasses will help with the texture of your gingerbread loaf.

Baking Soda:

This ingredient neutralizes acids within recipes.

Cinnamon:

Everything tastes better with cinnamon.

Ground Ginger:

This is a key spice in all things gingerbread.

Ground Cloves:

This will help with the classic color and flavor of gingerbread.

Salt:

Fact, salt makes everything taste better.

All Purpose Flour:

Can you even make bread without flour?

Water:

You need something to help mix the ingredients around.

Apple Sauce:

This may seem like a strange ingredient, but it will make your gingerbread loaf even softer and the taste richer.

Crystalized Ginger:

This is just like candied ginger. This will help sweeten up your bread!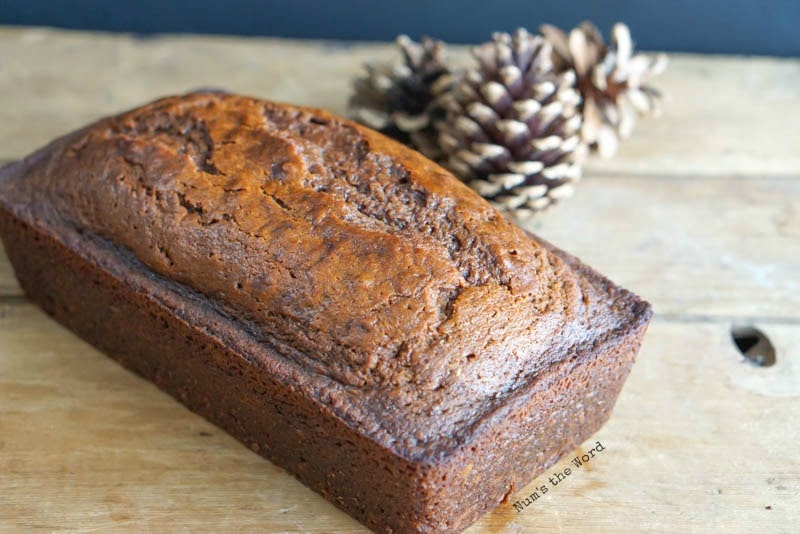 What ingredients do you need for Cinnamon Cream Cheese Frosting?
Now you have all the ingredients to make your gingerbread loaf you will want a great frosting for the top. The best kind of frosting to make to top off your bread is this cream cheese frosting. It is so easy to make and only requires five ingredients:

Cream Cheese:

This is the base of the frosting.

Powdered Sugar:

It's not frosting without sugar!

Vanilla:

This will add to the flavor of the frosting.

Heavy Whipping Cream:

This is what creates the fluffy texture of the frosting.

Cinnamon:

It isn't finished without the cinnamon!
What goes with gingerbread cake?
I think the real question should be, what doesn't? Gingerbread is a classic holiday treat so personally I think it goes well with anything you bake for the holidays. One of my favorite things to have with it is a nice cup of Peppermint Hot Chocolate or to top off a delicious Cranberry Pot Roast for dinner.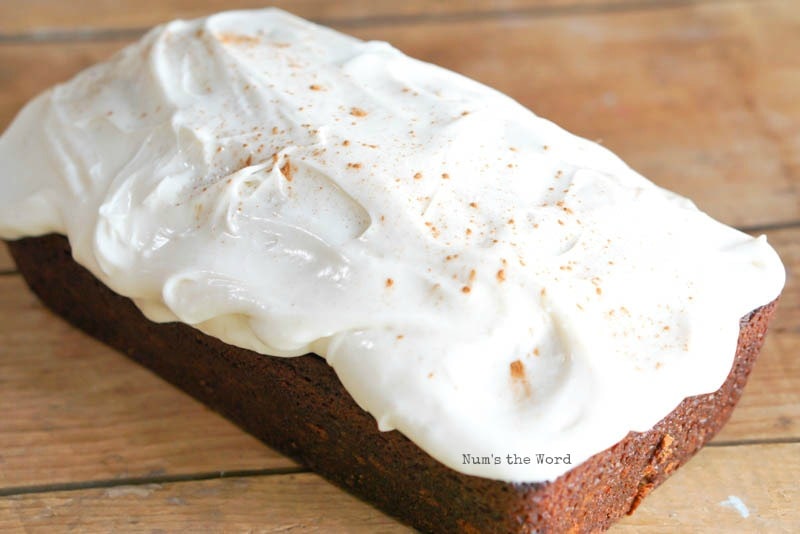 How should you store gingerbread cake?
Storing your gingerbread loaf could be a make or break factor on how long your gingerbread lasts. To make sure your ginger loaf stays soft for that party you have later, make sure you store it in an airtight container to keep from drying out.
You can leave it on the counter, or somewhere where it wont be eaten up, and it will be just as moist the day after.
If you are wanting to, you can go ahead and stick your loaf in the fridge. While it is fine to keep your gingerbread loaf in the fridge for a day or two, make sure you don't leave it in there for much longer as it may actually dry out your gingerbread.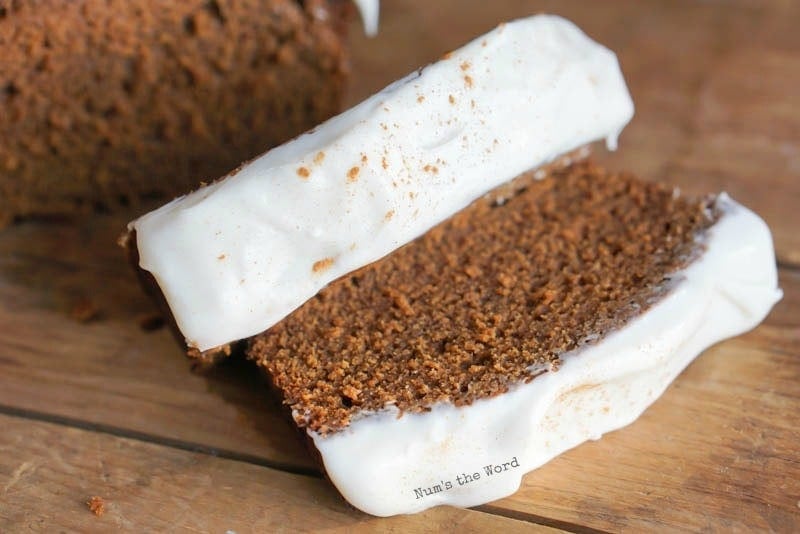 Can you freeze gingerbread cake?
Most certainly! Freezing your gingerbread loaf is a cinch! Before sticking your gingerbread in the freezer, make sure you first let it cool off. After it's cooled, wrap it up pretty tight in some plastic wrap.
After it's being tightly hugged by the plastic wrap, make sure you don't forget to put it in that airtight container. You can also use a zipper plastic bag if that is more space efficient for your freezer.
How do you decorate a gingerbread cake?
I honestly don't think there is a wrong way to do it! Decorating gingerbread can be the best part about it! It is time to let your inner artist shine through! While this gingerbread loaf recipe will result in a softer cake, It will still let you decorate it like a pro.
For a simple quick design, you can never go wrong with pouring the frosting on top. It is classic and always has a simple elegant look to it. If you are looking to create an original masterpiece, the kitchen is yours. You can add anything from your favorite candy to a gingerbread town on top.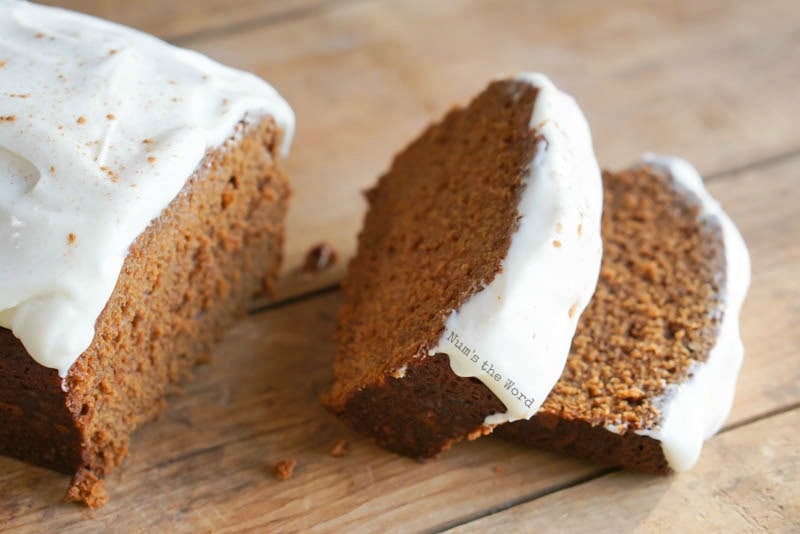 Is spice cake the same as gingerbread?
Spice cake is amazing. I love it! It is not, however, the exact same as gingerbread. Spice cake is made with a lot of the same spices, but the main difference about spice cake is it doesn't have ginger in it.
Looking for other Gingerbread recipes? You will also love these:
More Holiday Favorite Recipes You'll Love:
You can never go wrong with a soft, moist gingerbread loaf to have with any of your Holiday meals.
It is a party favorite and a classic holiday tradition, not only for my family, but for countless others. You will sure to fall in love with this easy and incredibly tasty gingerbread loaf recipe.
Yield: 1 Loaf
Gingerbread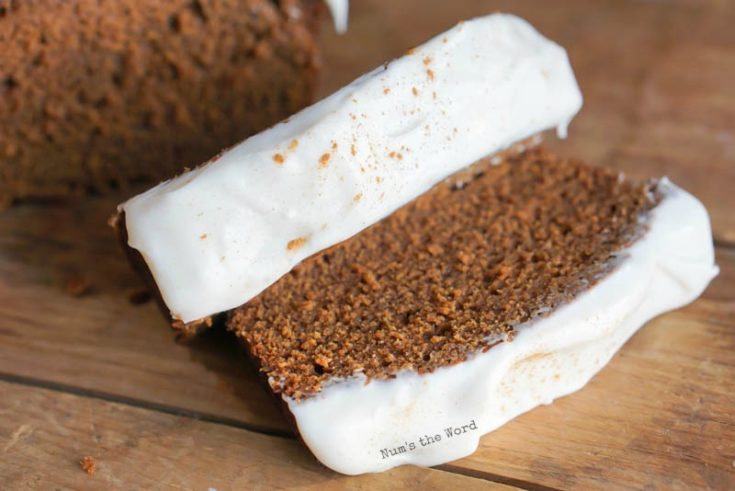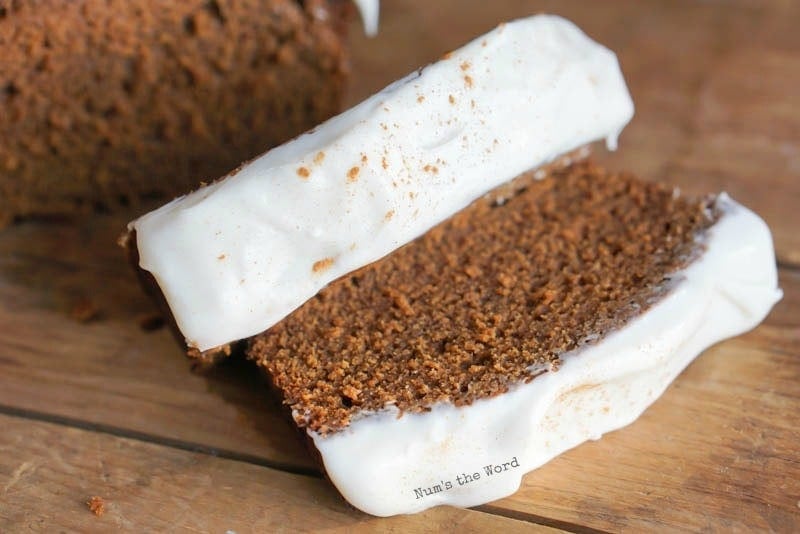 This classic Gingerbread Loaf recipe has been around for generations! Passed down from one baker to the next, it's become a Christmas favorite in our home! Soft, flavorful and oh so tasty, this traditional gingerbread is a winner!
Total Time
1 hour
10 minutes
Ingredients
1/2 cup sugar
1/2 cup butter (I used salted)
1 egg
1 cup unsulphured molasses
1 1/2 teaspoon baking soda
2 teaspoons cinnamon
2 teaspoons ground ginger
1 teaspoon ground cloves
1/2 teaspoon salt
2 1/2 cups all-purpose flour
1 cup hot water
1/2 cup apple sauce (optional for moistness)
1/4 cup diced crystallized ginger (optional - for a Starbucks copycat recipe)
Instructions
Preheat oven to 350*F.
Prepare a bread pan by lining with parchment paper and spraying with cooking spray. This will ensure bread slips right out of your pan with zero sticking.
Blend sugar and butter together until fluffy.
Add egg and molasses and beat well, scraping sides as needed.
Add baking soda, cinnamon, ginger, cloves and salt. Mix well.
Add flour in 1/2 cup at at time and mixing between each addition.
While mixing, SLOWLY add water to thin batter out. Now is the time to add the apple sauce if you wish, though I didn't need it.
If adding the crystallized ginger, add now.
Pour mixture into prepared bread pan and bake for 55 minutes. Remove from oven and add create a tent over bread to prevent from edges getting to dark.
Place bread back in oven and bake for 15 - 20 more minutes.
Remove from oven when a toothpick inserted into the middle of bread comes out clean.
Notes
This can also be made into a 9x9 cake or 4 mini loaf pans. Total cooking time will be approximately 45 - 55 minutes for cake pan or mini loaf pans.
Nutritional Information is estimated, not exact.
Nutrition Information:
Yield:
10
Serving Size:
1
Amount Per Serving:
Calories:

365
Total Fat:

10g
Saturated Fat:

6g
Trans Fat:

0g
Unsaturated Fat:

3g
Cholesterol:

43mg
Sodium:

390mg
Carbohydrates:

66g
Fiber:

1g
Sugar:

41g
Protein:

4g
Yield: Enough for 1 loaf
Frosting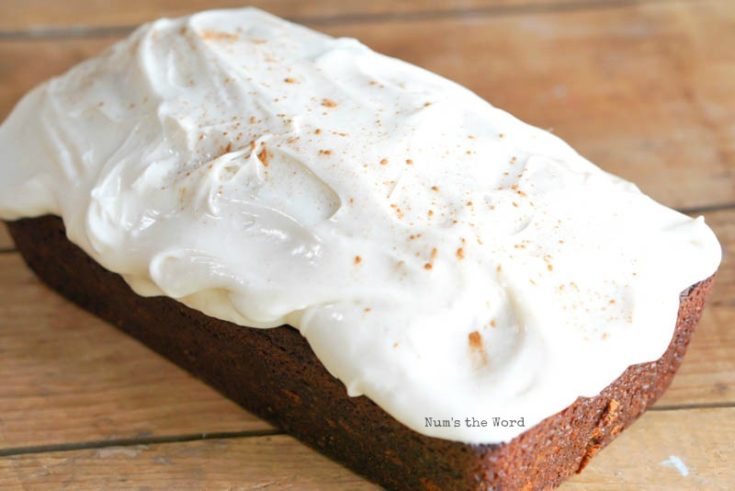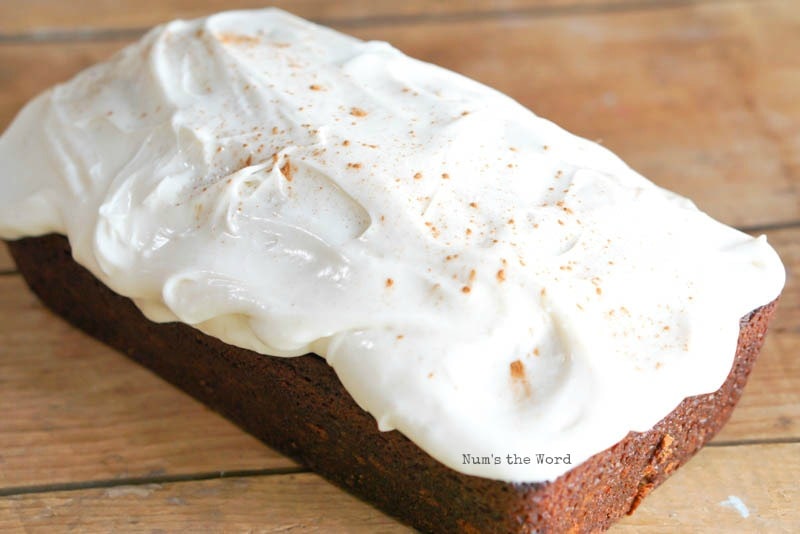 This classic Gingerbread Loaf recipe has been around for generations! Passed down from one baker to the next, it's become a Christmas favorite in our home! Soft, flavorful and oh so tasty, this traditional gingerbread is a winner!
Ingredients
4 ounces of cream cheese
1 1/2 cup powdered sugar
1 teaspoon vanilla
1 Tablespoon heavy whipping cream (optional)
Sprinkle of cinnamon
Instructions
Blend cream cheese until light and fluffy.
Add powdered sugar 1/2 cup at a time, mixing well between each addition.
Add vanilla mixing well.
If mixture is too thick, add heavy cream and blend (optional)
Spread thick cream cheese frosting over bread.
Top with a LIGHT dusting of cinnamon for beauty.
Notes
Nutritional Information is estimated, not exact.
Nutrition Information:
Yield:
10
Serving Size:
1
Amount Per Serving:
Calories:

111
Total Fat:

4g
Saturated Fat:

3g
Trans Fat:

0g
Unsaturated Fat:

1g
Cholesterol:

13mg
Sodium:

36mg
Carbohydrates:

17g
Fiber:

0g
Sugar:

17g
Protein:

1g
Originally Posted: October 24, 2018
Photos & Text Updated: October 14, 2020