If you're looking for a great flavorful side dish to your meal this week, this Sour Cream Rice is a kid approved recipe. Easy to whip up, packed with flavor and delicious reheated. All the things a good rice dish should be!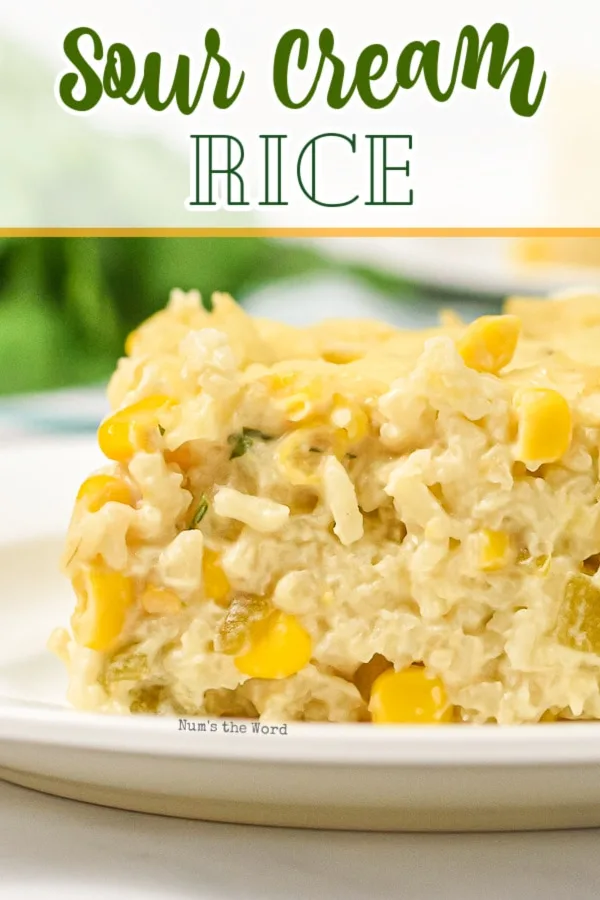 I haven't met a single person who doesn't love Mexican food. I think we can all agree that it is just down right delicious. You can never go wrong with Sweet Pork Tacos or these 20 Minute Enchiladas to serve with your rice!
One of the biggest parts of any Mexican dish is the rice. Rice is an important part of the meal and if given the choice, a flavorful rice like this Sour Cream Rice should always win over plain boring rice.
Not only is this rice absolutely delicious, it is perfect for leftovers. You don't have to eat it only once for dinner, but why not take it for lunch or save it when you are needing a good bowl of rice. It will stay good in your fridge for up to 5 days. Plenty of time to enjoy it more than once.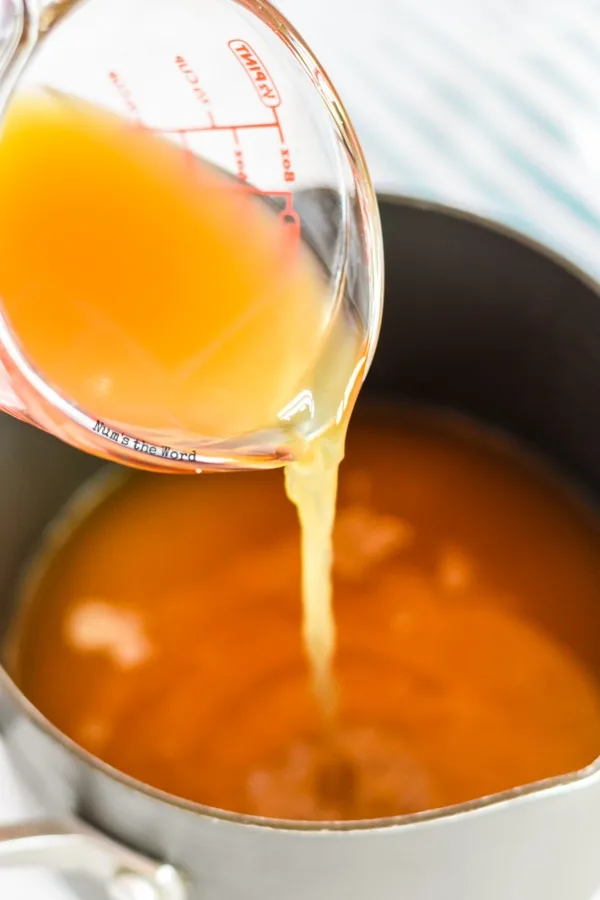 How to make Sour Cream Rice:
Making Mexican Sour Cream Rice is easy and will quickly become a staple on your dinner table. Like most recipes that leave you wanting more, there are a few things you will need to have. Here are the eight ingredients you will want to have:
Chicken Broth:

One can of chicken broth makes all the difference in this incredible sour cream rice recipe.

Rice:

It can't be Mexican sour cream rice without the rice! I recommend using Jasmine rice, though any will work.

Sour Cream:

It adds that distinctive taste and creamy texture. Sour cream makes everything better.

Green Chilies:

These will give your rice a slight kick of flavor.

Monterey Jack Cheese:

Who doesn't love to add cheese to everything. The Cheese is optional for your recipe, but we always include it.

Corn:

Corn is just good for you! Why wouldn't you add it?

Cilantro:

This will add a tasty flavor to your rice.

Salt:

Salt enhances the flavor and goes well with everything.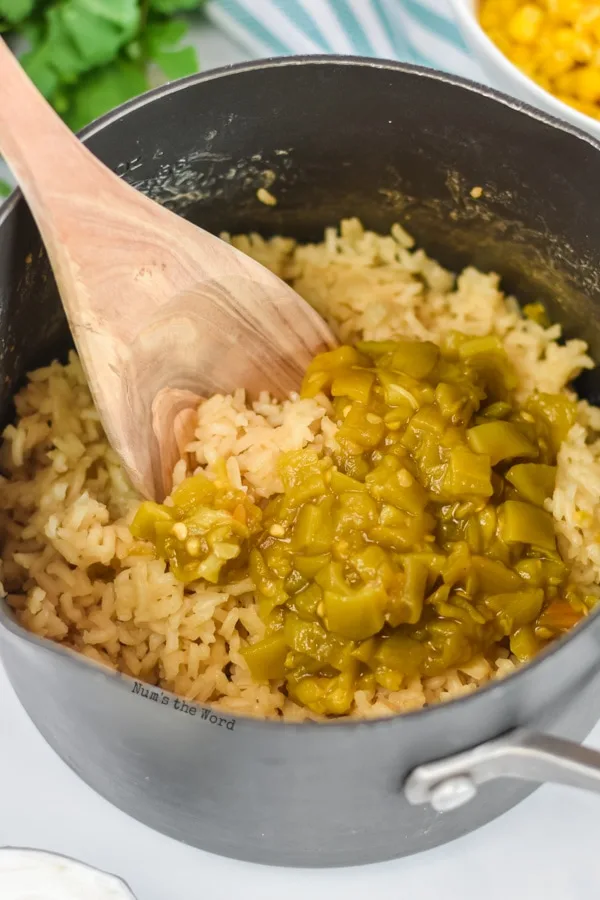 Pro Tips:
If you are making Creamy Chicken Enchiladas

with your rice, use a bigger pan and put your enchiladas on top of the rice to cook. Make your dinner into a one pan dish. Less dishes for you to do.

If you need a substitute for chicken broth you can use a can of vegetable broth and your end results will be just as good.

You can also substitute chicken broth with equal amounts of water and a chicken bouillon cube.

If you are looking for a little more flavor in your rice, add a bit of taco seasoning and that should do the trick.

If you are needing a quicker version just use instant rice instead.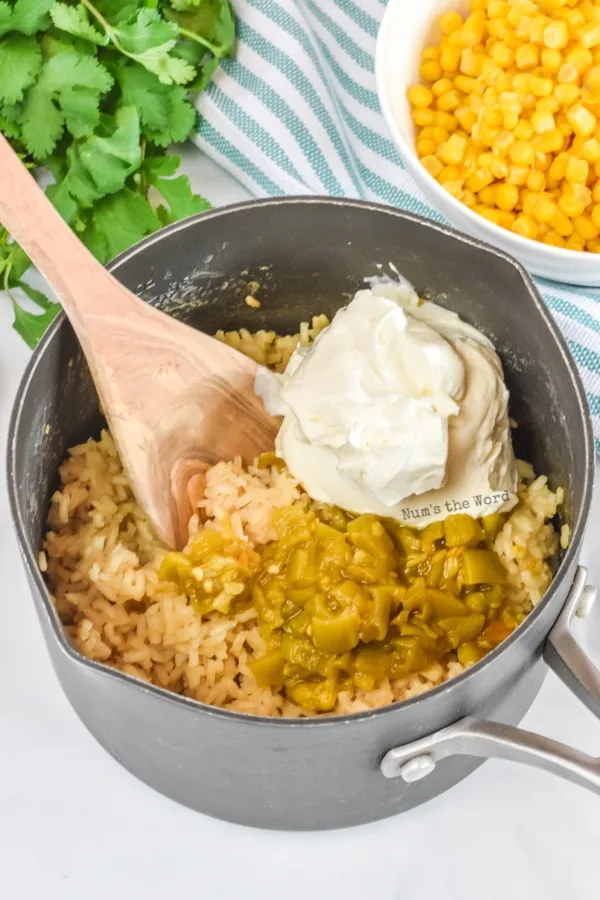 Can you make sour cream rice with Greek yogurt instead of sour cream?
Yes, you can make your sour cream rice with yogurt. Greek Yogurt is a healthier alternative for sour cream and is the most common substitute for it. If you are using yogurt in your rice recipe use the same amount of yogurt you would sour cream.
Can you freeze sour cream rice?
Yes, you can freeze your sour cream rice. Rice is best frozen right when it is done cooking. Let your rice cool and then place it in an airtight container and you are good to go. Freezing your rice extends your rice's lifespan from 4-5 days to 4-5 months. Just heat it up in the microwave and enjoy!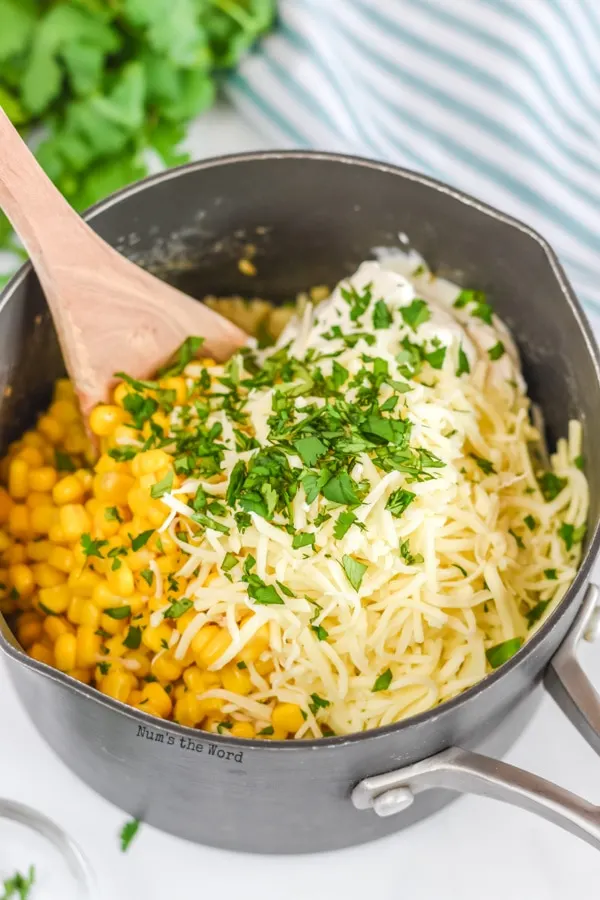 Can you make sour cream rice with brown rice?
Yes, brown rice is great for making sour cream rice. Brown rice is a whole grain, which makes a healthy alternative to your normal white rice. Using brown rice will still give you a delicious Mexican rice you can use for any meal.
Brown rice typically requires a longer cooking time, so follow the instructions on your package.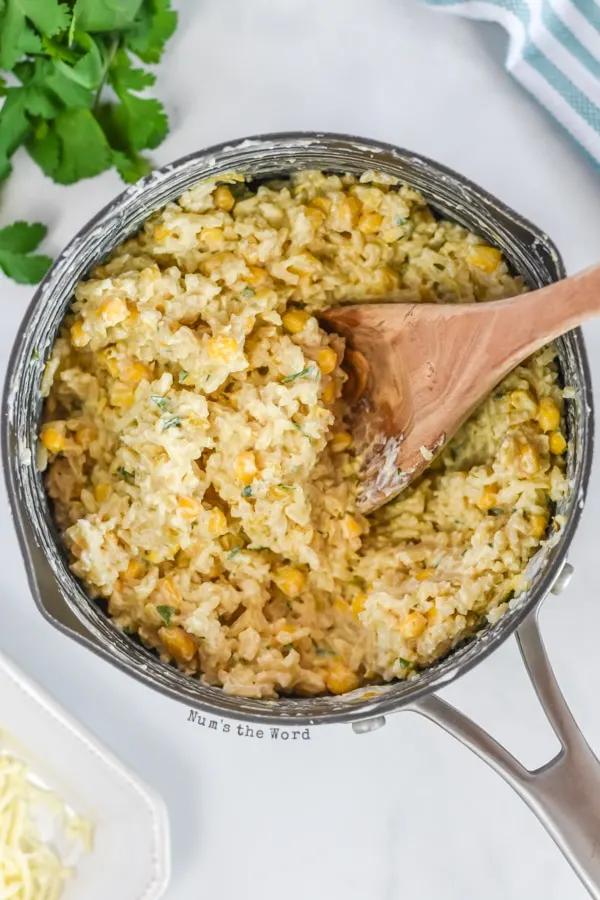 Can you make this with riced cauliflower?
Yes, you can most certainly use riced cauliflower for your sour cream rice. Riced Cauliflower, unlike white rice, doesn't soak up the moisture of the ingredients resulting in a different texture. Riced cauliflower is a little more bland than normal rice so make sure you season your rice well.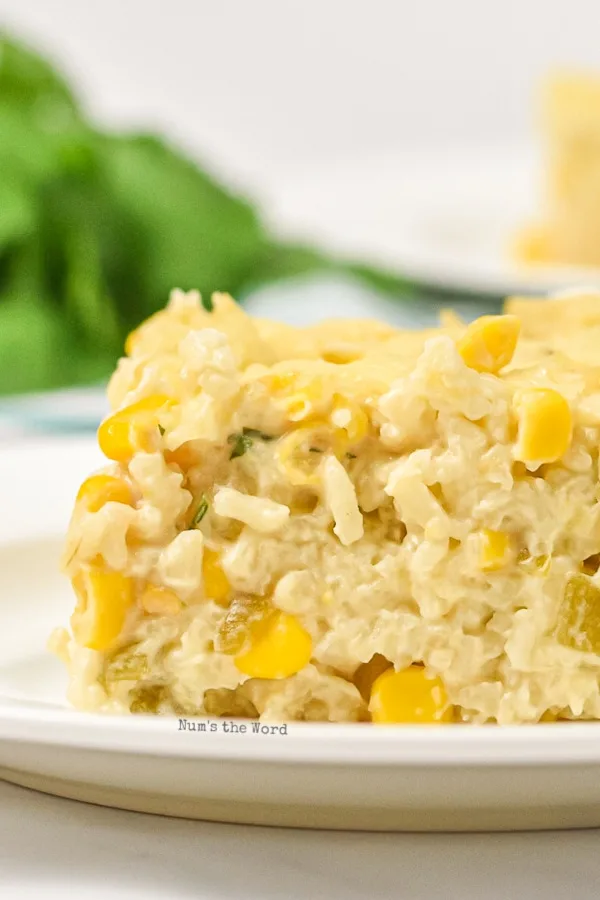 Sour cream rice can go with almost anything you see sit. But if you are looking for something to pair with your sour cream rice, these recipes are some of my favorite Main Dishes are: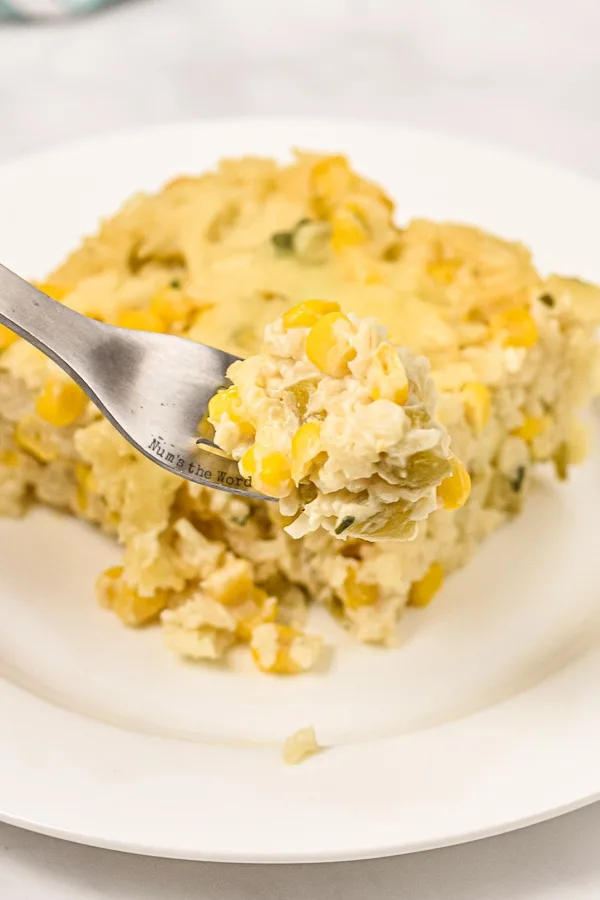 A rice side dish can be the difference between a good and great meal. Especially when it comes to a Mexican inspired dinner. In my opinion the rice can be the best part of the entire meal.
This Sour Cream Rice recipe is a family favorite recipe that is served with a variety of Mexican inspired dishes. If you're looking for a unique and flavorful side dish that isn't traditional Mexican Rice, then give this one a try tonight!
Yield: 9 Servings
Sour Cream Rice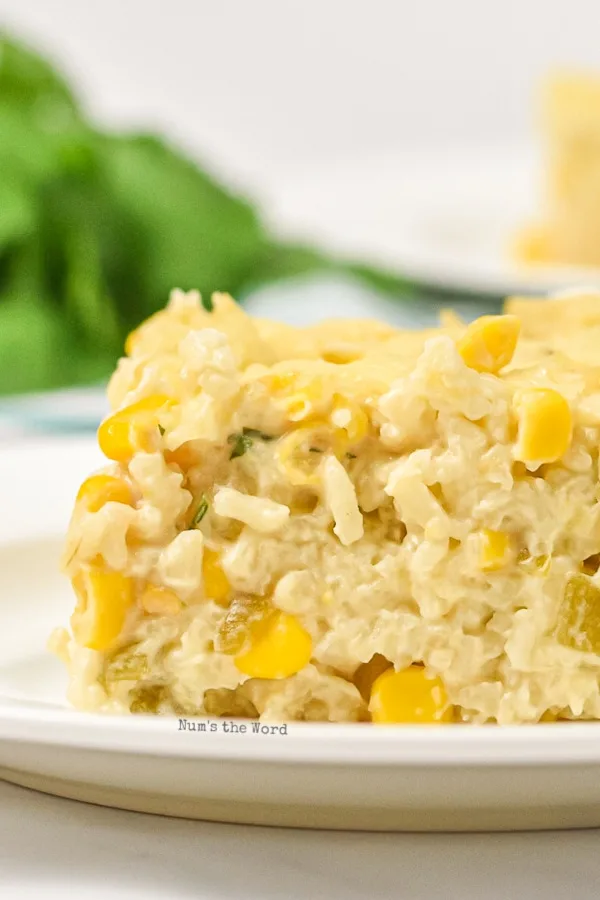 If you're looking for a great flavorful side dish to your meal this week, this Sour Cream Rice is a kid approved recipe. Easy to whip up, packed with flavor and delicious reheated. All the things a good rice dish should be!
Ingredients
1 can (14 ounce) chicken broth
1 cup uncooked Jasmine rice - NOT MINUTE RICE - see notes
1 cup sour cream
4 ounces diced green chilies
1 cup shredded Monterey jack cheese
1 can (15.25 ounce) corn, drained or 2 cups fresh (yellow or white)
1/4 cup cilantro, chopped
1/4 teaspoon salt
Instructions
Preheat oven to 350*F
In a large pot, bring the rice and chicken broth to a boil.
Once rice begins to boil, cover and reduce heat to low. Simmer for 20 minutes.
Spray an 8x8 square casserole dish with non-stick spray set aside.
Once rice is done, all chicken broth will be absorbed.
Turn off burner and place pot on a cool burner.
Add to the rice the sour cream, green chiles, 1/2 cup Monterey Jack cheese, corn, and cilantro. Mix well.
Season with salt and mix again.
Pour rice mixture into prepared casserole dish, and top with remaining 1/2 cup of cheese.
Bake uncovered 30 minutes. Cheese will be bubbly and lightly browned.
Serve immediately!
Notes
TIP: A reader of ours left this comment below! Great tip for anyone wanting to use Minute Rice instead of regular rice.
"I made it with minute rice . I just fixed the rice as it said and then added it to bowl with other ingredients and cooked it til cheese melted! was great thanks!!!"
Nutrition Information:
Yield:
9
Serving Size:
1
Amount Per Serving:
Calories:

192
Total Fat:

9g
Saturated Fat:

5g
Trans Fat:

0g
Unsaturated Fat:

3g
Cholesterol:

27mg
Sodium:

181mg
Carbohydrates:

21g
Fiber:

0g
Sugar:

2g
Protein:

6g
Originally Posted: May 5, 2014
Photos & Text Updated: August 13, 2020