Eggo Breakfast Pizza is a healthy, easy, on the go breakfast! It takes 5 minutes or less to whip up! And no one will be able to refuse when you tell them they get to eat pizza for breakfast!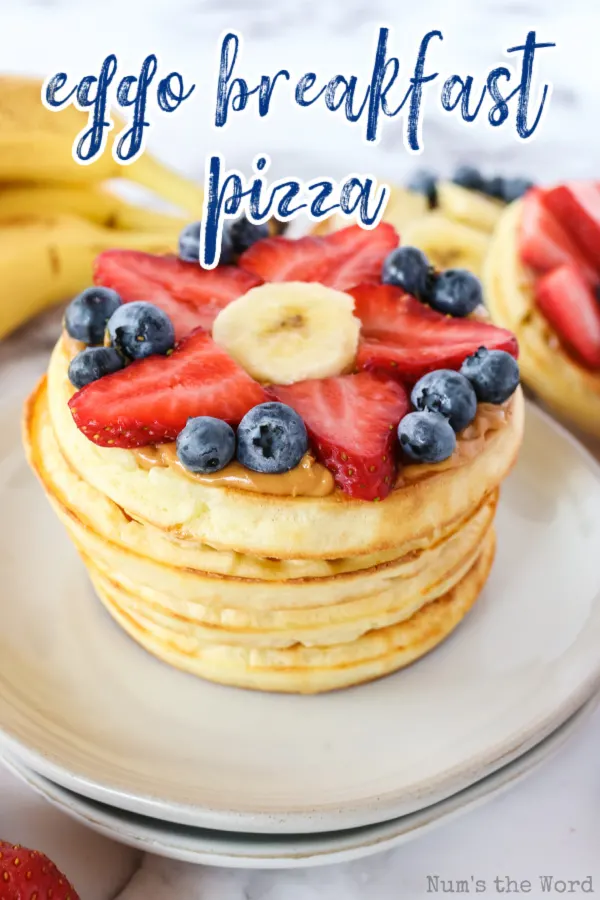 Of all the waffle breakfast ideas, this has been a life changing one! Take your eggo waffles, smother them in honey and creamy peanut butter. Layer some fruit on top, and you've got yourself a healthy and delicious breakfast!
I love how easy eggo breakfast pizza is to make. Whether you have kids at home or not, mornings are just plain busy.
But when you serve this homemade breakfast pizza, you can stop stressing. Breakfast? Check!
This eggo waffle recipe is a hearty breakfast that leaves my family feeling satisfied.
No need to be hungry 30 minutes later after scarfing down a bowl of sugar. Protein, fruit, carbs, eggo breakfast pizza has it all.
And pizza for breakfast is so customizable. You can really make this recipe your own. Play with it to find what's right for you!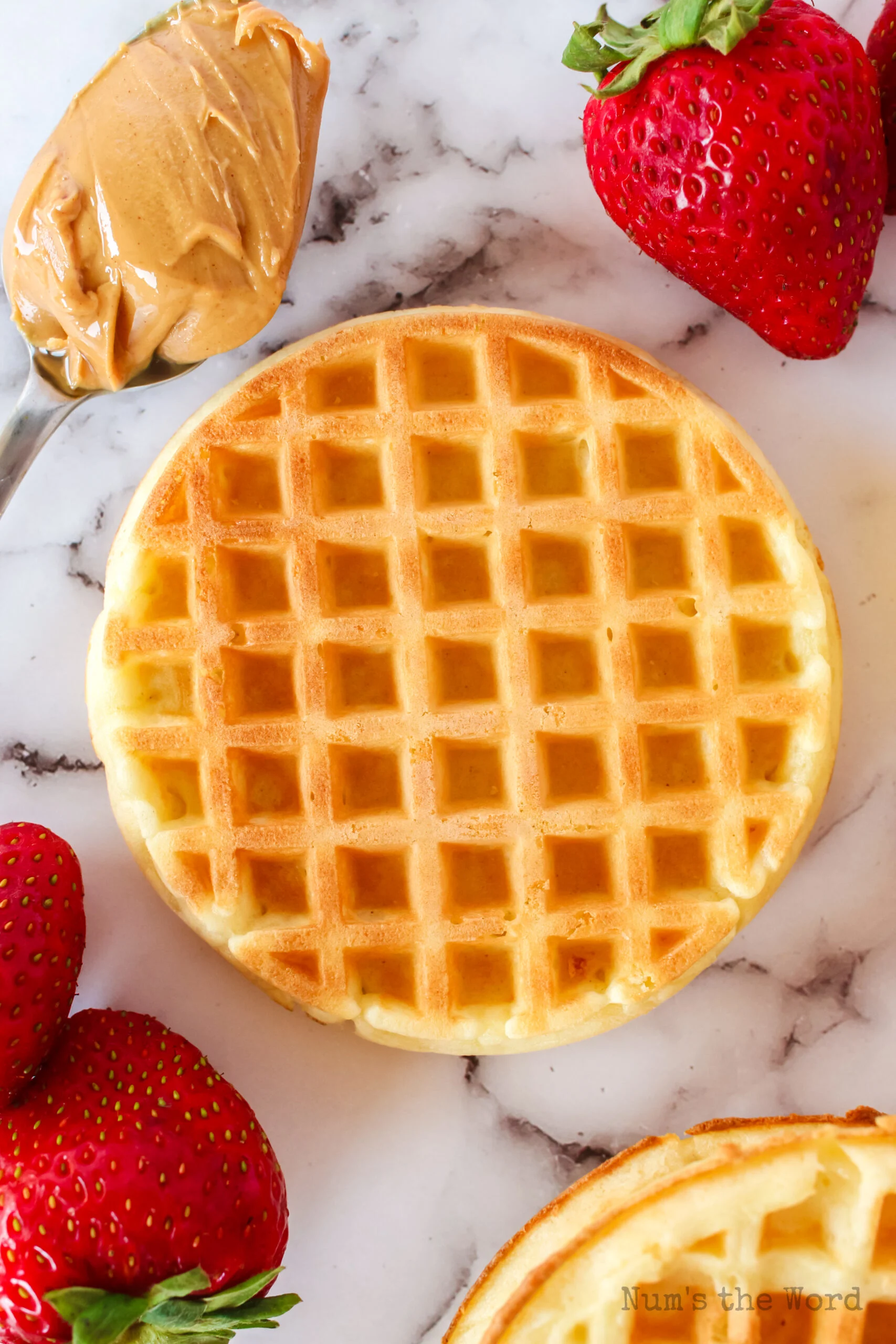 Are Eggo Waffles Healthy?
Ok, remember when I said before that these eggo breakfast pizzas are healthy? Well they are. That is no lie.
The eggo waffles, however, are not the healthiest part of this breakfast. It is the peanut butter, honey, and fruit I feel the best about.
The eggo waffles do have quite a few options to make them healthier. They have nutrigrain, low fat, and fruit waffles, which I really enjoy.
Mostly I'm of the mind that if my kids are happy, full, learning, and playing, then I'm happy with what I've fed them.
If you want a healthier option than eggo waffles, try making homemade waffles.
You can still freeze them, and toast them in your toaster just like store bought waffles.
That way you can still have your quick and easy breakfast. But it will be even healthier!
I love these Real Belgian Waffles for a substitute. They are homemade and I can pronounce every single ingredient!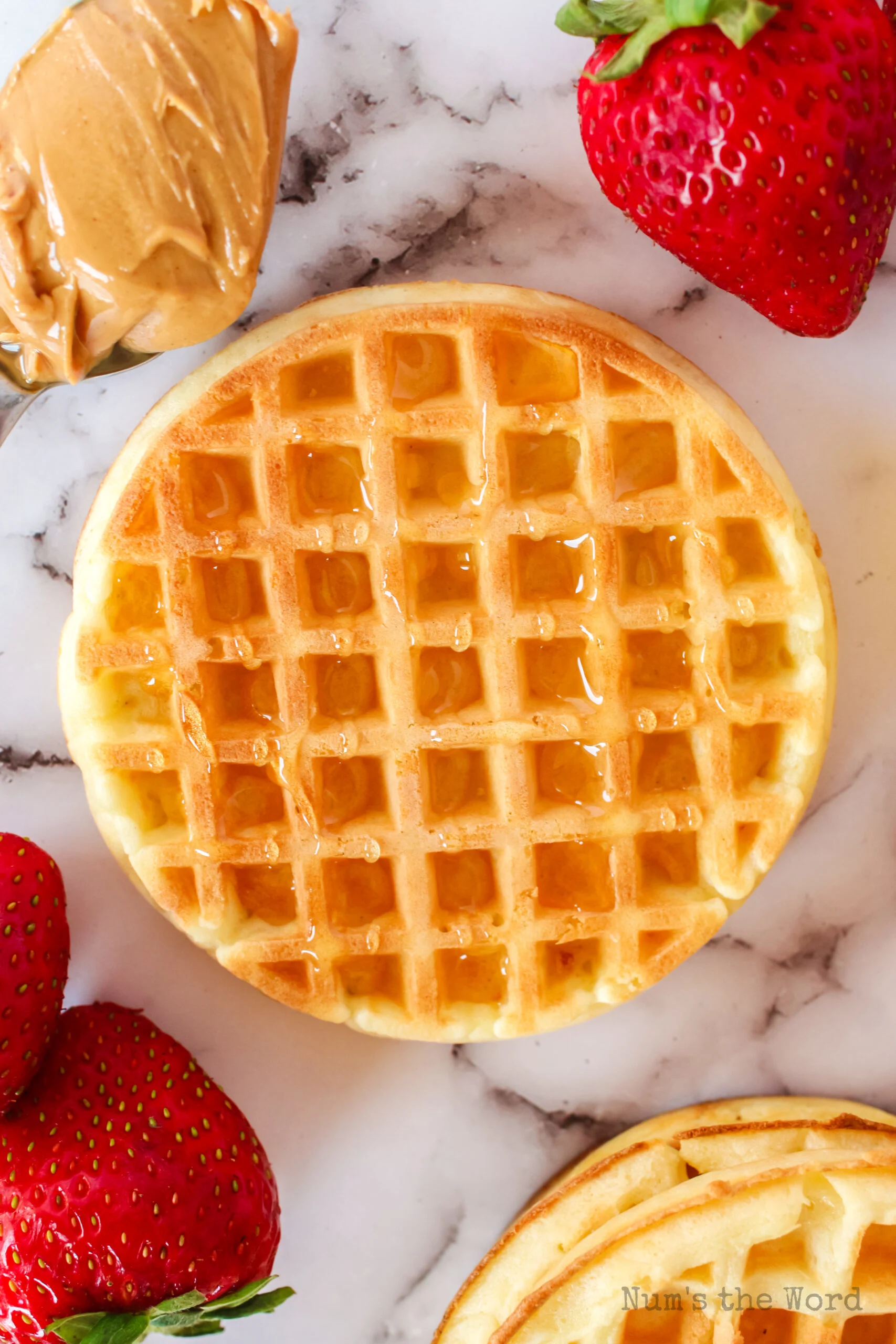 Are Eggo Waffles Vegan?
No, eggo waffles are not vegan.
The following companies make vegan waffles if you want to try one of those, it would still be super yummy with the rest of the recipe: Trader Joe's, 365 Everyday Value, Kashi, Van's and Nature's Path.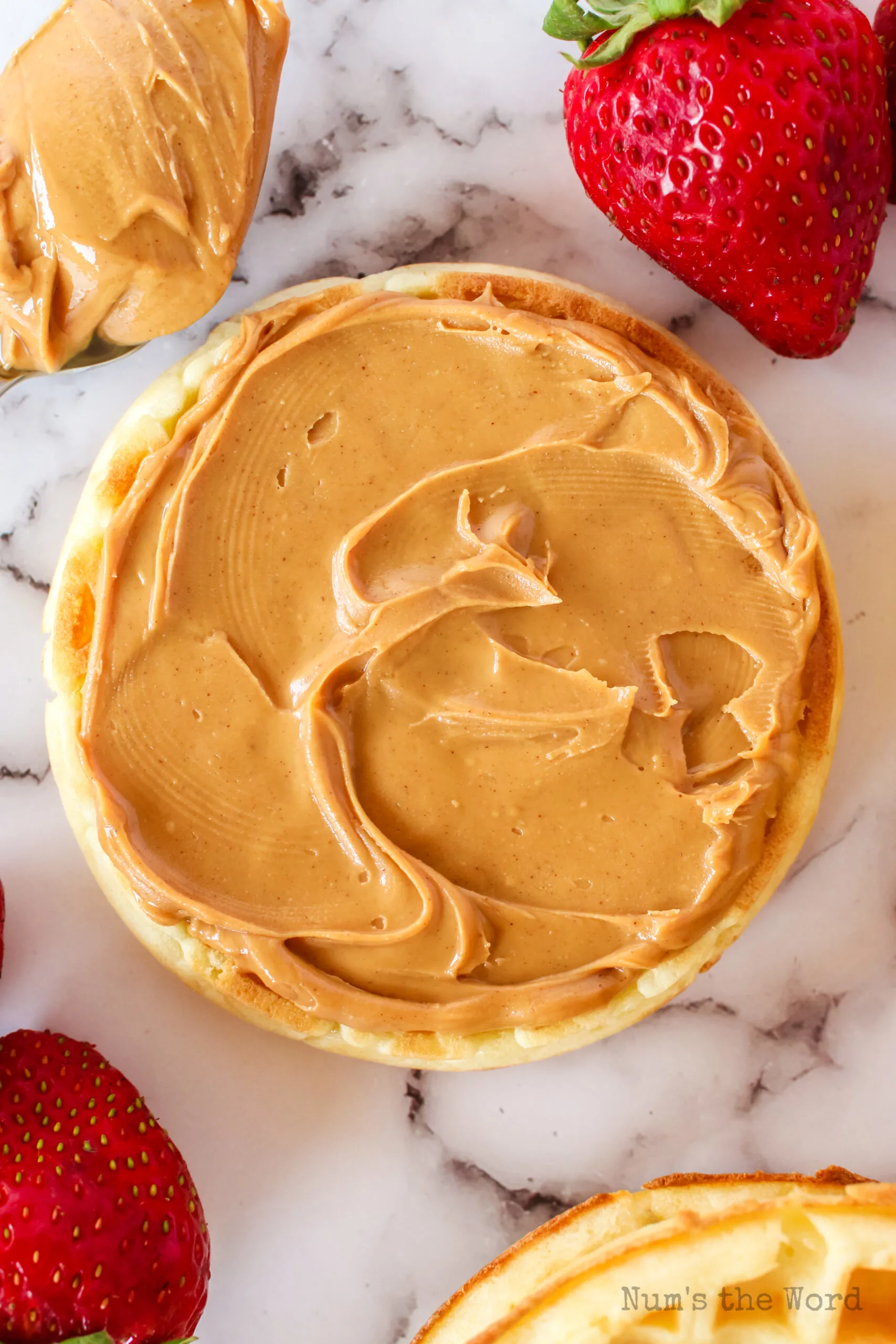 How to Cook Eggo Waffles
There are several options for cooking eggo waffles:
Toaster:

My favorite method! Cook the eggos on a low setting to make sure they don't burn. Two toastings may be required to fully cook the waffle.

Oven:

Preheat oven to 450. Place waffles on a baking sheet and bake for 5 minutes until hot and crispy.

Microwave:

I do not recommend this way as it makes your eggo waffle soggy! Sorry, but you'll thank me later.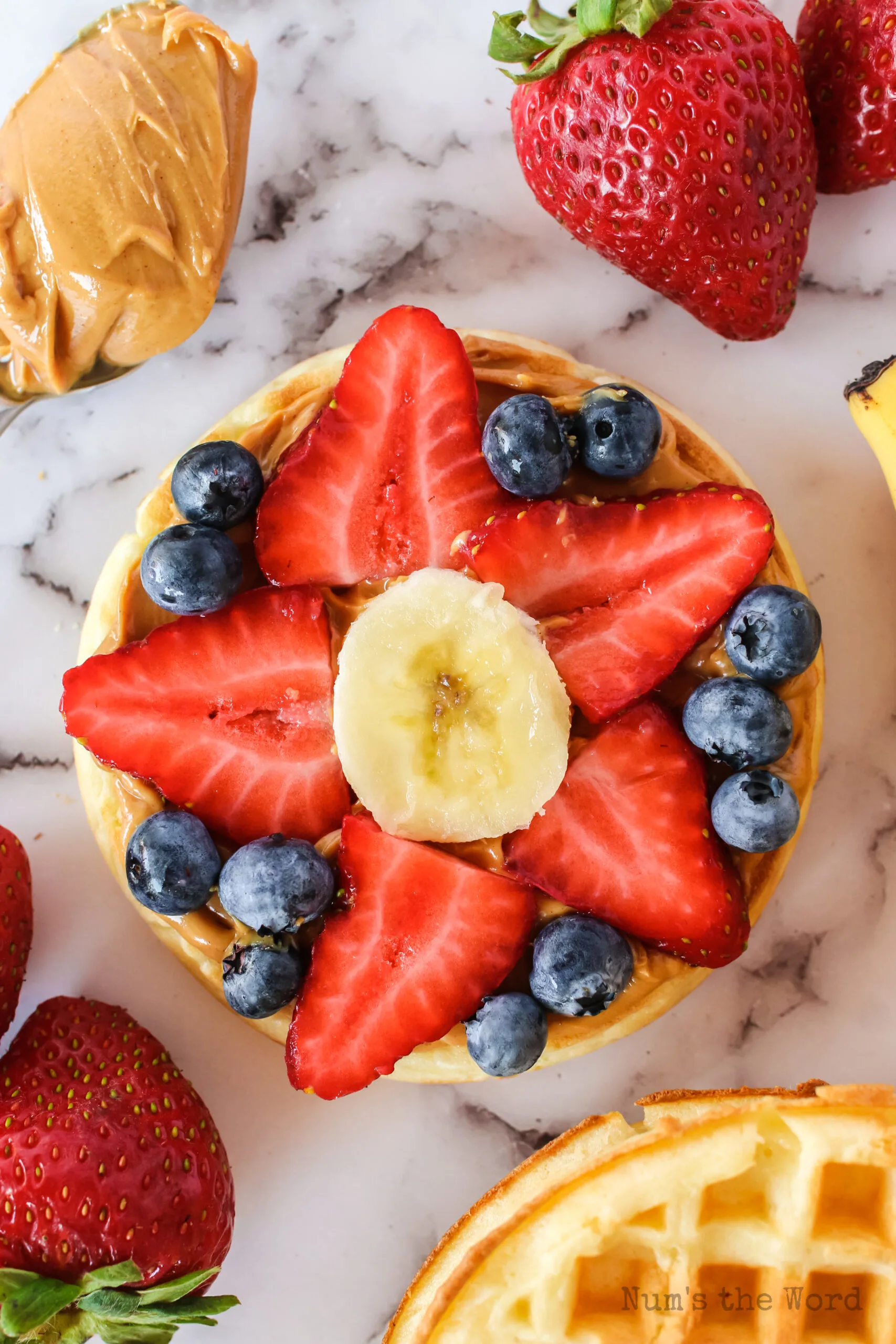 Ingredients For Eggo Breakfast Pizza
Waffle:

Use Eggo waffles or any of the other options mentioned above.

Honey:

For sweetening

Peanut Butter:

This gives your body the protein it needs.

Fruit:

Use what's in season! Berries, bananas, peaches, etc. All are good!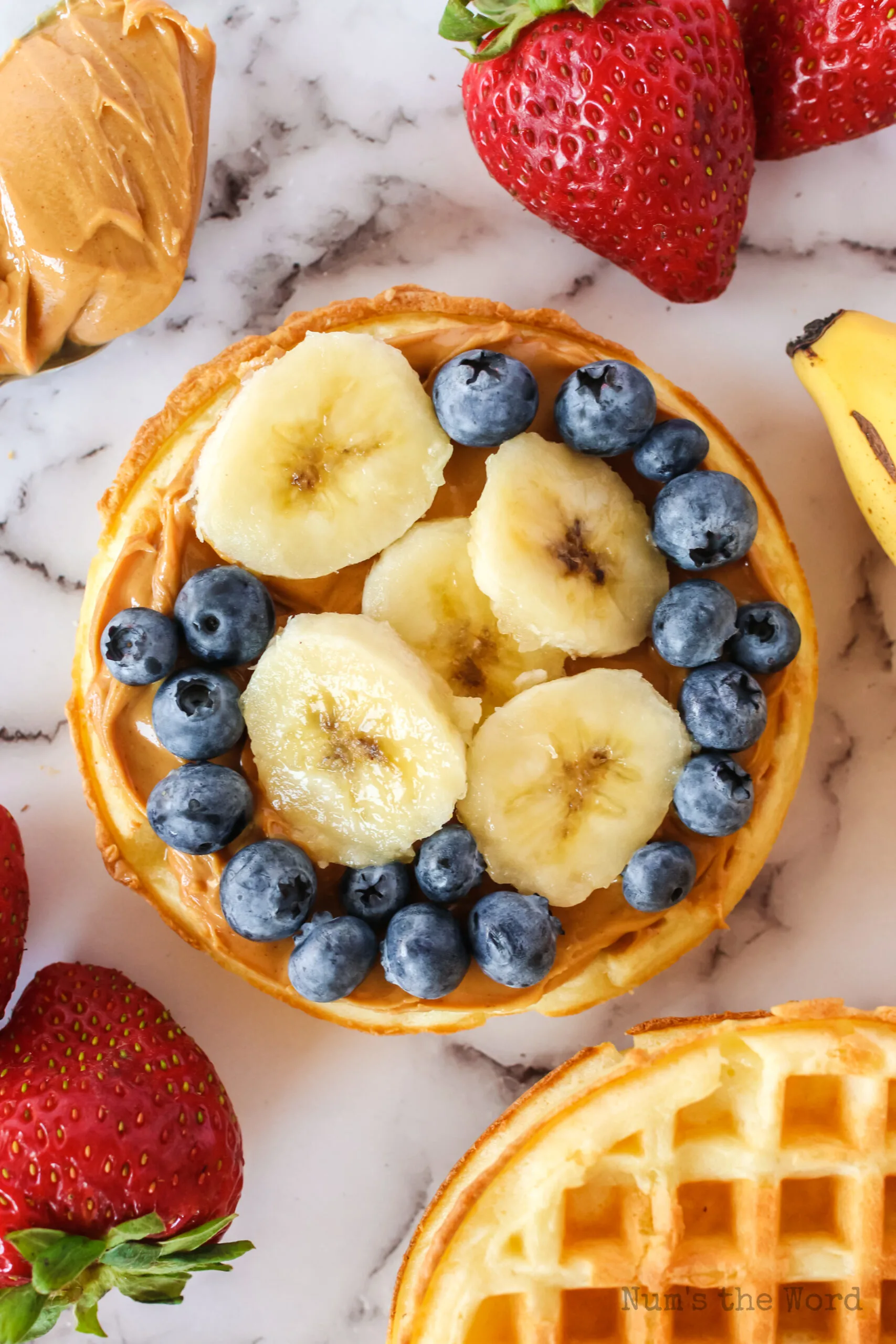 How to Make Breakfast Pizza
An eggo breakfast pizza could not be more simple. Just start with the eggo waffle, layer the rest of the ingredients, and done. SOOOO easy.
Eggo Breakfast Pizza Variations
When you have a good thing going, why stop there?
In addition to this eggo breakfast pizza, I love these other fun flavors and combos.
Cream cheese and fruit pizza

Yogurt, and fruit pizza

Egg, bacon, and cheese pizza
My favorite part is that we can pull all of the ingredients out and the kids can mix and match to make their own fun mini pizzas.
Then I seem like the best mom in the world and I feel like it too because I know they are getting a good breakfast.
And if you want to make a real breakfast pizza try this Ham, Egg, and Cheese Breakfast Pizza. Yum!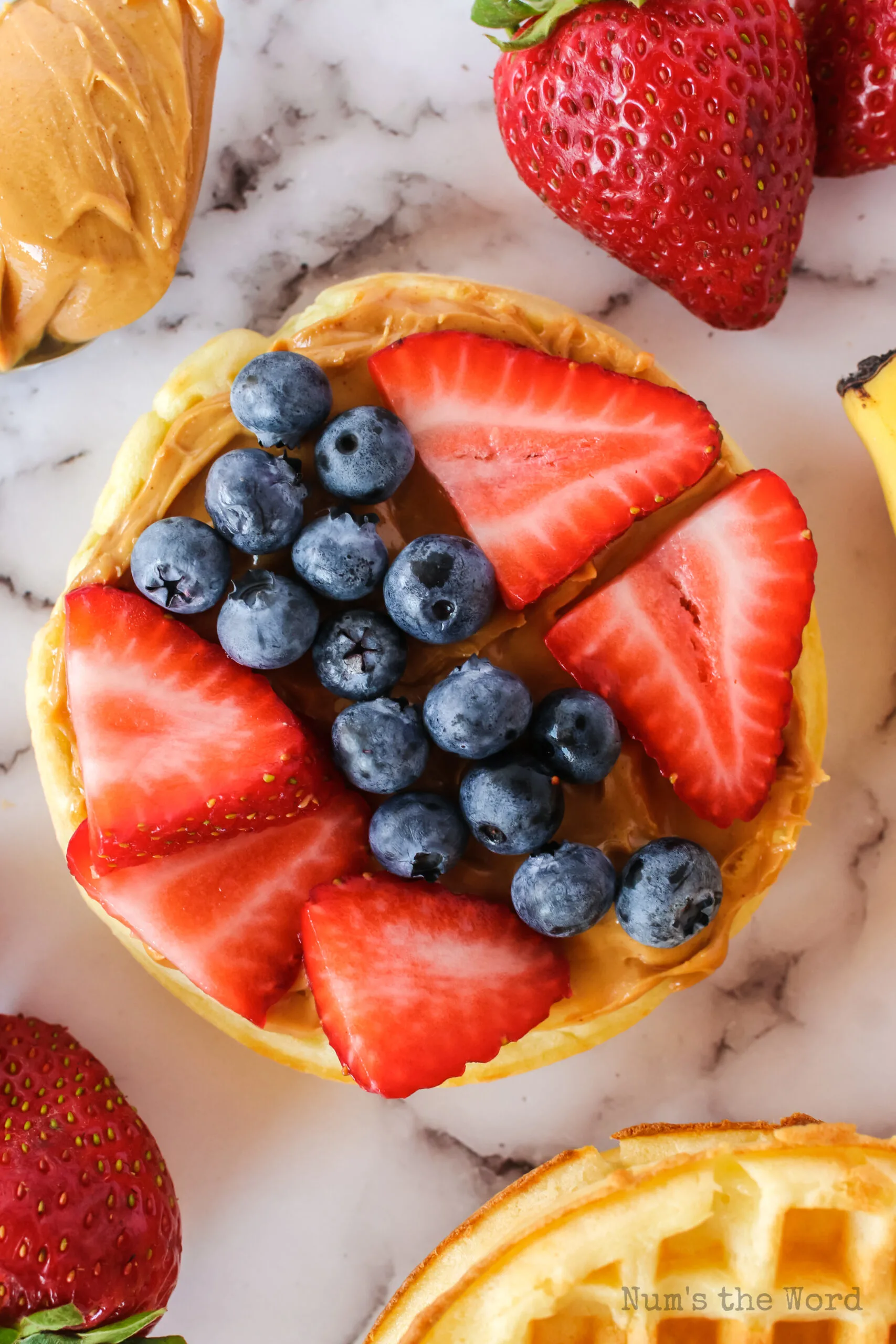 What Fruit Should I Put on Breakfast Pizza?
Bananas
Strawberries
Peaches
Blueberries
Kiwi
Mandarin Oranges
Blackberries
Apples
Raspberries
Pineapples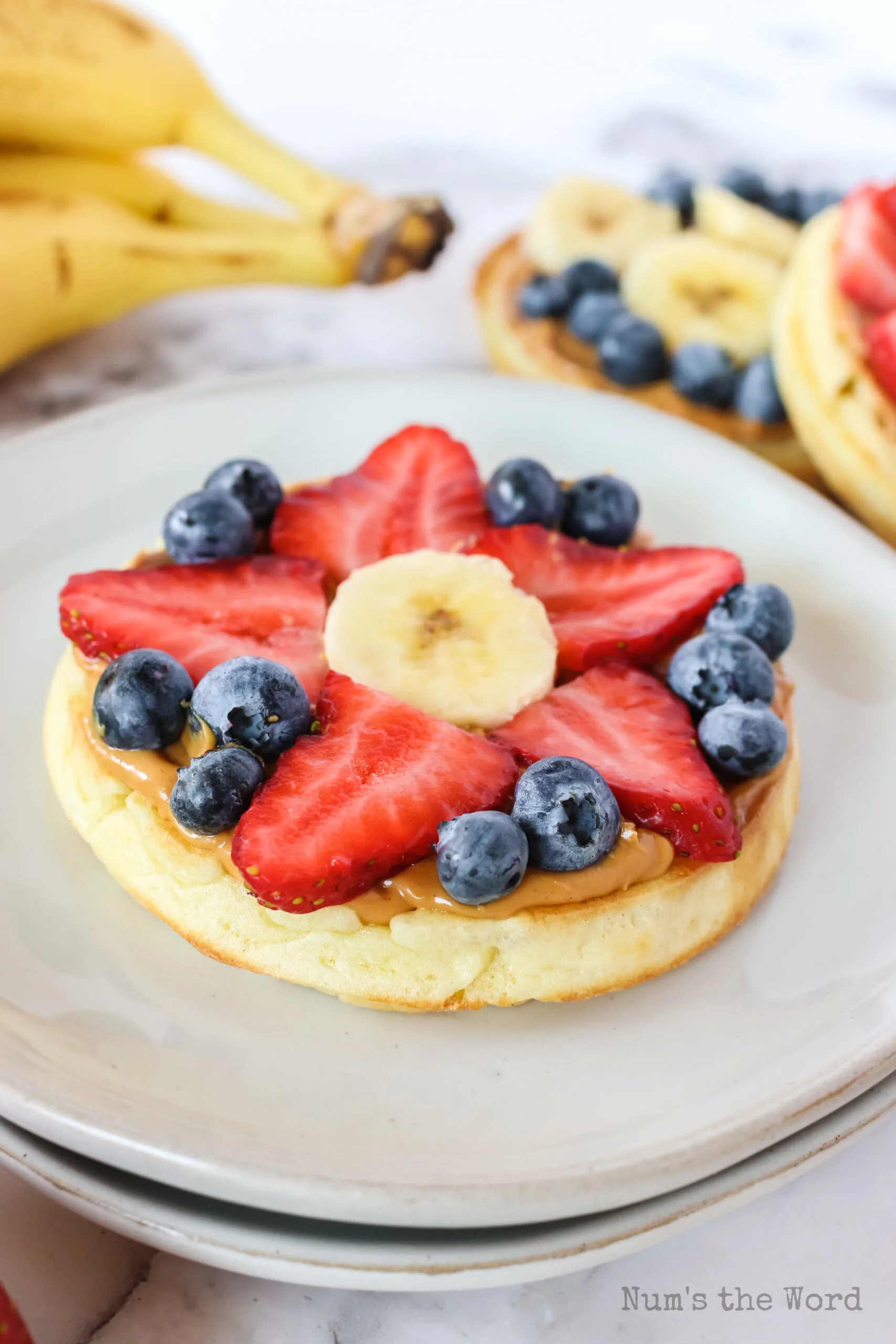 Can You Freeze Breakfast Pizza?
No. You cannot freeze eggo breakfast pizza once it is cooked and put together.
You want the eggo to be hot and crispy right? But if you were to try and reheat the eggo, with all the toppings?
Your peanut butter would melt off, your fruit would be hot and cooked, and it would not be at all as good as when you first made it.
There is nothing wrong with cooked fruit, don't get me wrong. I cook fruit all the time in pies and cobblers.
But for a breakfast pizza? Yeah. It's just not the same.
Luckily, this breakfast pizza takes all of 5 minutes or less to put together, so there is no need to freeze at all.
It's just as fast to make it the first time as it is to make it and reheat it the second time.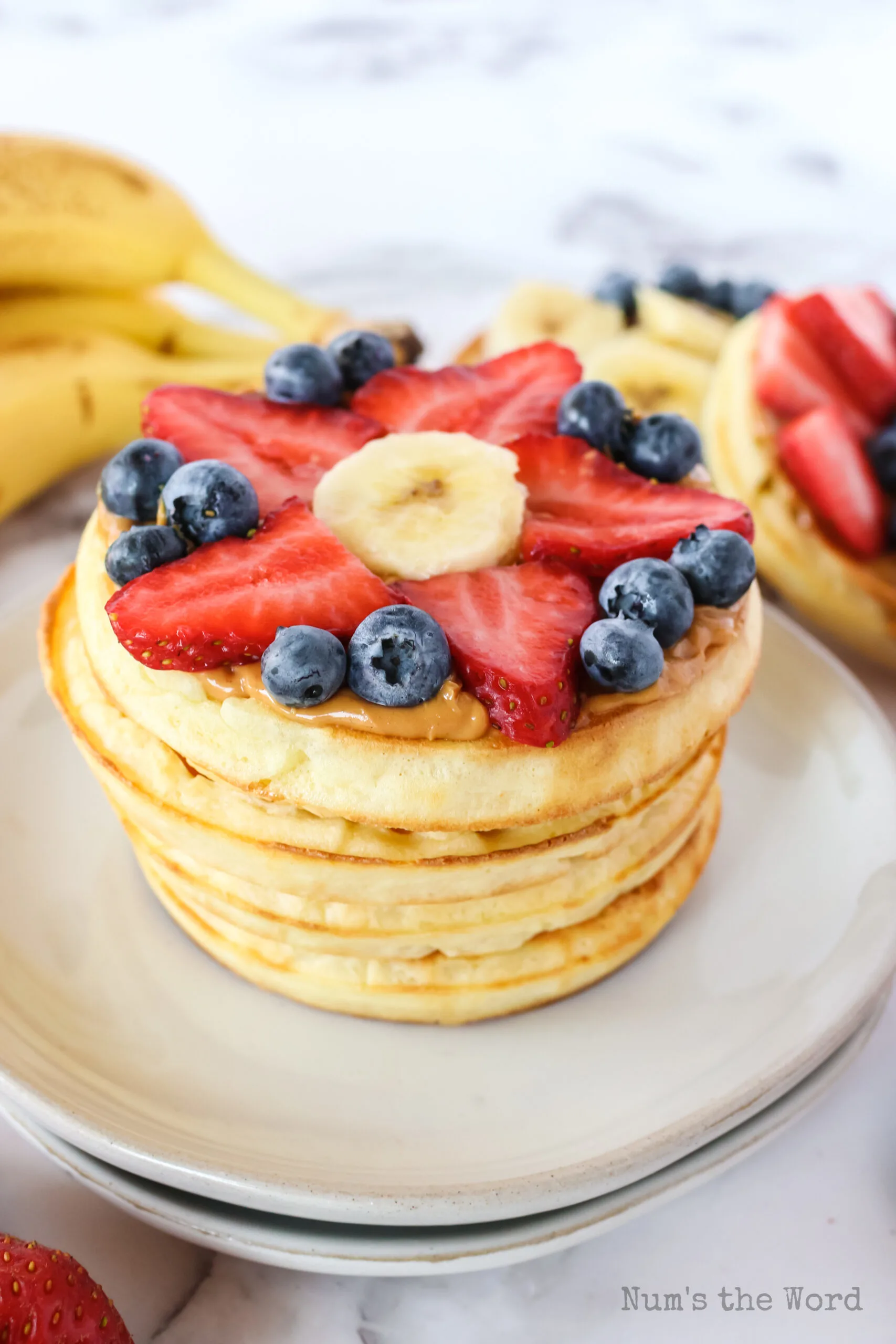 Who Invented Breakfast Pizza?
That's a tricky question! The words breakfast and pizza have actually not been together that long.
Sometime in the 1990s, early 2000's, breakfast pizza began to be a thing. And I mean A THING. And for good reason.
Pizza with cheese, sauce, and toppings are delicious, but a breakfast pizza is totally different.
It does, however, share similar characteristics:
A grain heavy, pizza crust bottom.

A "sauce" layer, typically made from peanut butter, cream cheese, yogurt, or the like.

A topping layer. Most often made from fruit but also occasionally eggs, meat, or cheese.
So who invented it? Well, there are actually several blogs and people claiming to have been the first. I'm not sure if there's any real way to figure it out.
All I know is, I'm so grateful I get to gobble down every delicious bite of this eggo breakfast pizza.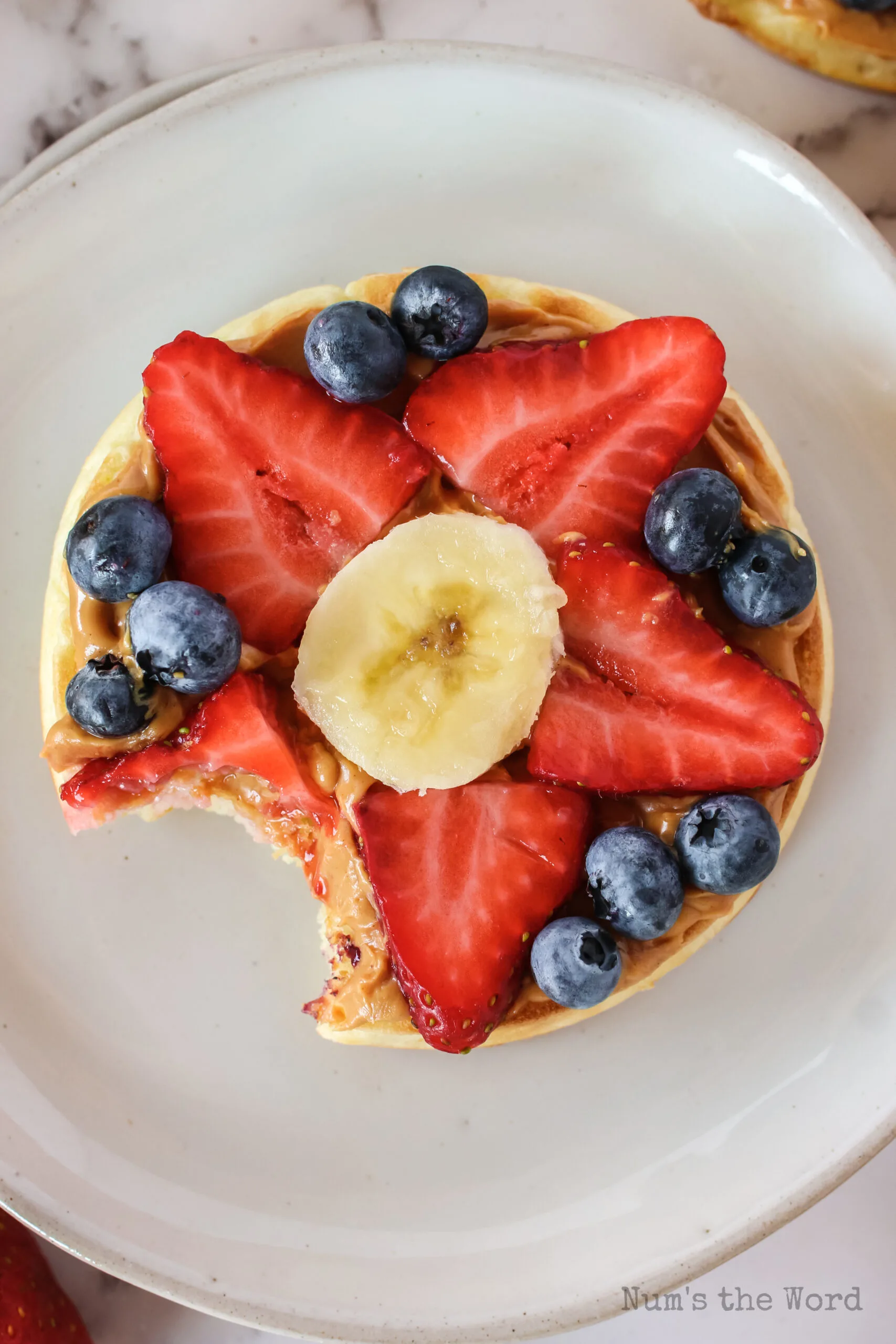 Eggo Breakfast pizza is such an easy, healthy, and quick breakfast. It's also totally delicious and the perfect addition to every busy morning. If you try it, let us know in the comments what your favorite combos are!
Yield: 1 Serving
Eggo Waffle Breakfast Pizza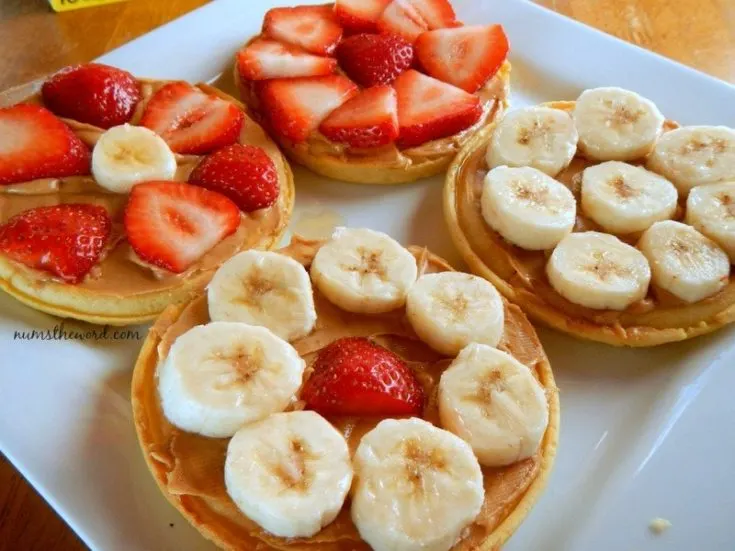 Ingredients
1 Eggo Waffle - any flavor
1 Tablespoon of honey
4 Tablespoons Peanut butter
Sliced fruit - your choice - strawberries, blueberries, bananas, peaches - whatever is in season!
Instructions
Toast Eggo Waffle according to package directions.
Drizzle honey over waffle, keeping it in the pockets.
Smear entire waffle with peanut butter.
Top with sliced fruit - squish into peanut butter so it doesn't fall off.
Devour. I recommend making two for adults and 1 for kids - SOOO GOOOD!
Originally Posted: October 1, 2015
Photos & Text Updated: November 2, 2021