Classic Homemade Lasagna is a meal every good cook needs up their sleeve! It's filling, hearty, full of delicious meaty sauce and pasta everyone can love!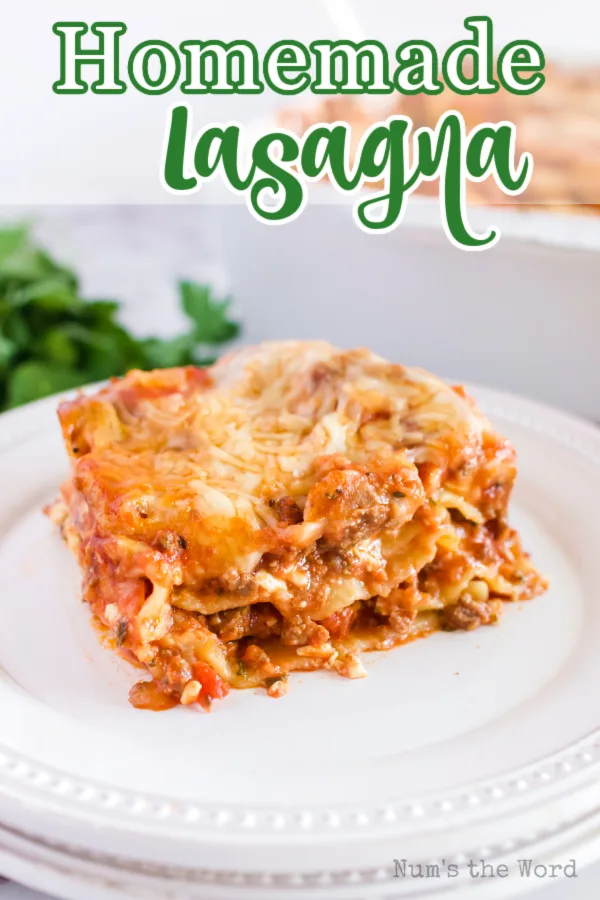 Every fan of Italian food knows that a great lasagna is where it's at. It's a mouthwatering dish with a perfect blend of tomatoes, a rich meat sauce, pasta, and gooey cheese. Yum!
There are so many reasons to love this easy lasagna recipe but let me tell you a few of my favorites!
First of all, homemade lasagne is delicious. How many people do you know that don't love some form of lasagna? It's such a classic!
This recipe for lasagna also feeds a crowd! I love to make it when company is coming over because I know there will be enough to go around.
And this homemade lasagna recipe is also so versatile. Mess with the ingredients? Leave something out? Add a favorite? It's a very forgiving meal!
Plus cottage cheese lasagna reheats really well! Which is perfect for lunch or another dinner!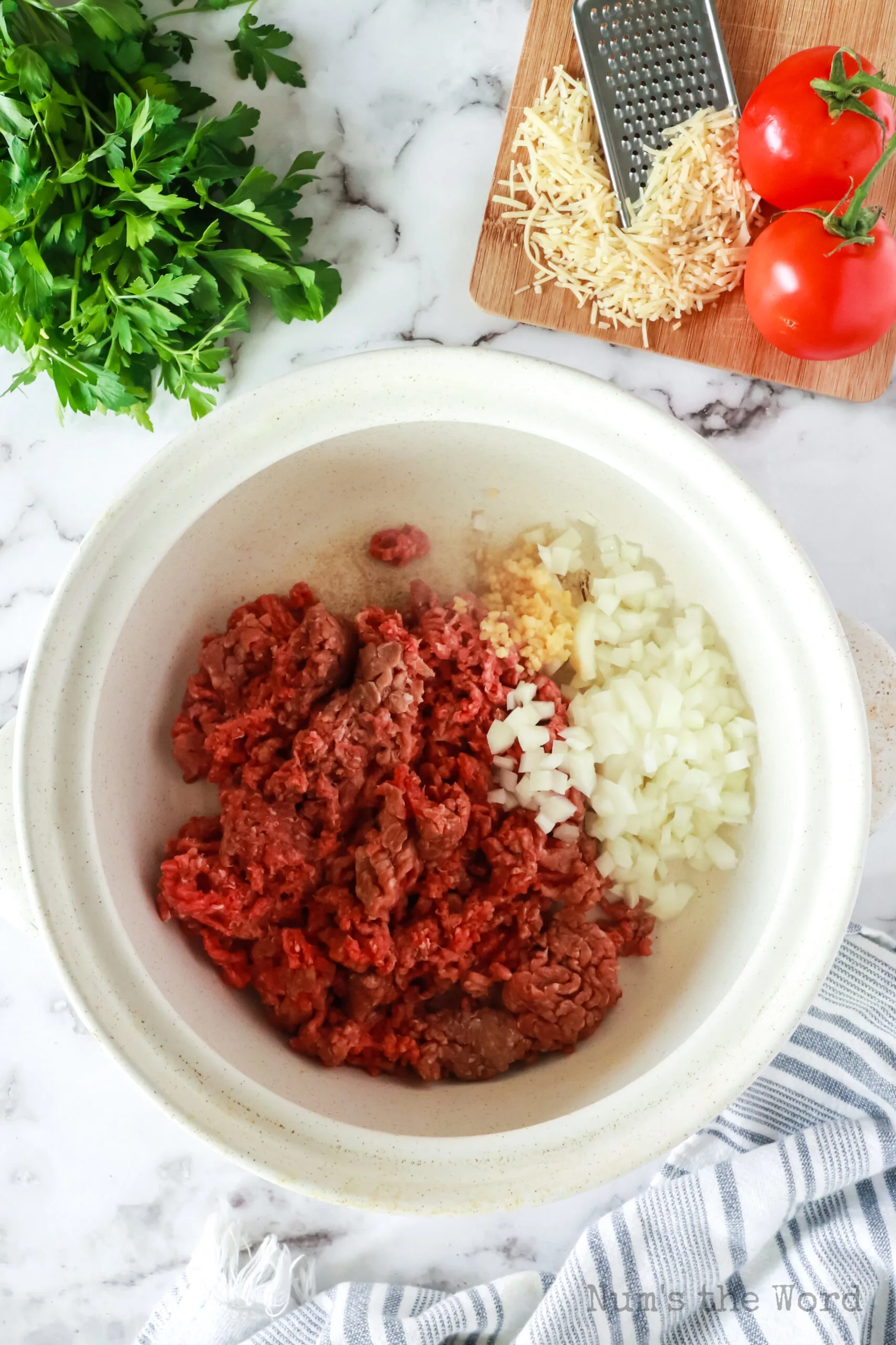 What is Lasagna?
Lasagna is an Italian dish (thank you Italians for all things wonderful!)
It involves layering meat or vegetables with cheese, wide strips of pasta, and tomato sauce.
Here's the key ingredients you'll need to make this easy classic lasagna recipe.
Ground Beef: Use lean ground beef where possible so you have less fat to deal with.
Onion and Garlic: These aromatics are essential for packing the ground beef with delicious flavor.
Tomatoes: Grab a couple of cans of Ro*Tel mild tomatoes for creating the sauce.
Tomato Sauce and Tomato Paste: You'll need both to get the right consistency for the meat sauce.
Sugar: The acidity of the tomatoes can be overpowering but just a small amount of sugar balances it nicely.
Seasonings: Grab some basil, Italian seasoning, salt and black pepper for the perfect blend of flavors.
Lasagna Noodles: No cook lasagna noodles are where it's at! No need to boil noodles. Just put them in the lasagna.
Cheeses: 3 different cheeses create the perfect blend of cheesy goodness. Cottage Cheese, Mozzarella Cheese, and Parmesan Cheese.
Egg: Combine the egg with the cottage cheese to help it bind together.
Pro Tips:
If you get regular noodles, you'll need to boil lasagna noodles before adding to the lasagna.
Other fresh herbs can easily be added in for an extra boost of nutrition!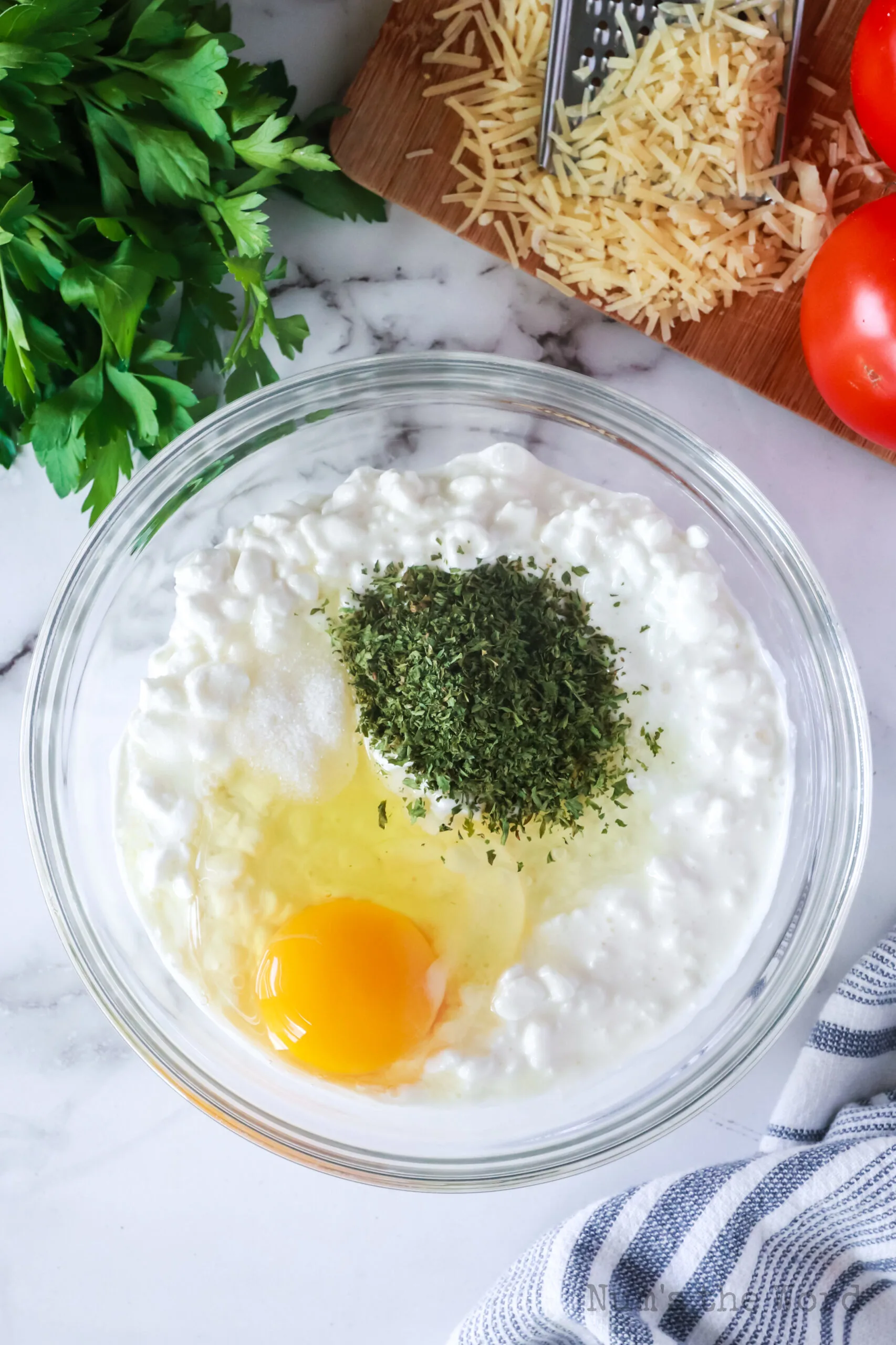 Can You Make Lasagna with Cottage Cheese?
Yes! While a lot of classic lasagna is made with Ricotta cheese, not everyone is a fan of it.
And by that I totally mean me! Cottage cheese just has such a nice texture that goes perfectly in lasagna.
Mixed with the egg, it holds together well and you don't need the ricotta cheese at all.
If you prefer, you can always make this homemade lasagna with the ricotta cheese too. Like I said: versatile!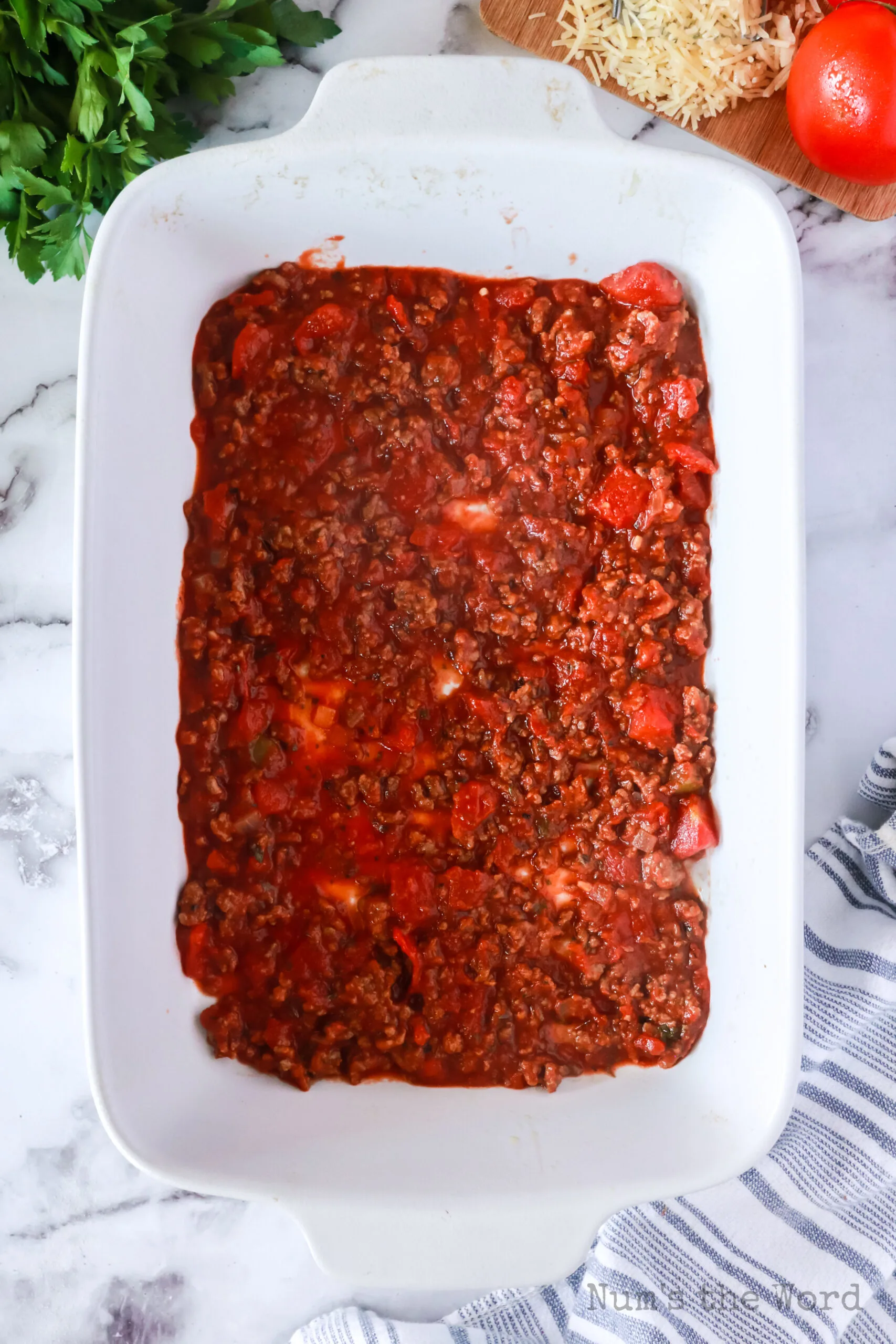 How to Make Lasagna
The longest part of making homemade lasagna is the sauce.
To get a really good lasagna sauce, you need to let it simmer so the flavors can blend.
Cook the Meat: When you cook with onions and garlic you naturally flavor the meat in such an easy and delicious way.
Add the Sauce Ingredients: Toss in the rest of the sauce ingredients and let it all simmer for one hour, being sure to stir regularly.
Layer: Get it all in the pan! (more tips on this below!)
Bake: Bake covered for half of the time to prevent burning and then take the cover off to get a perfect golden brown top of the lasagna.
Pro Tip: If you don't have much time, make the layer of sauce the night before and let it rest in the fridge overnight. It's the only thing that really takes time to cook.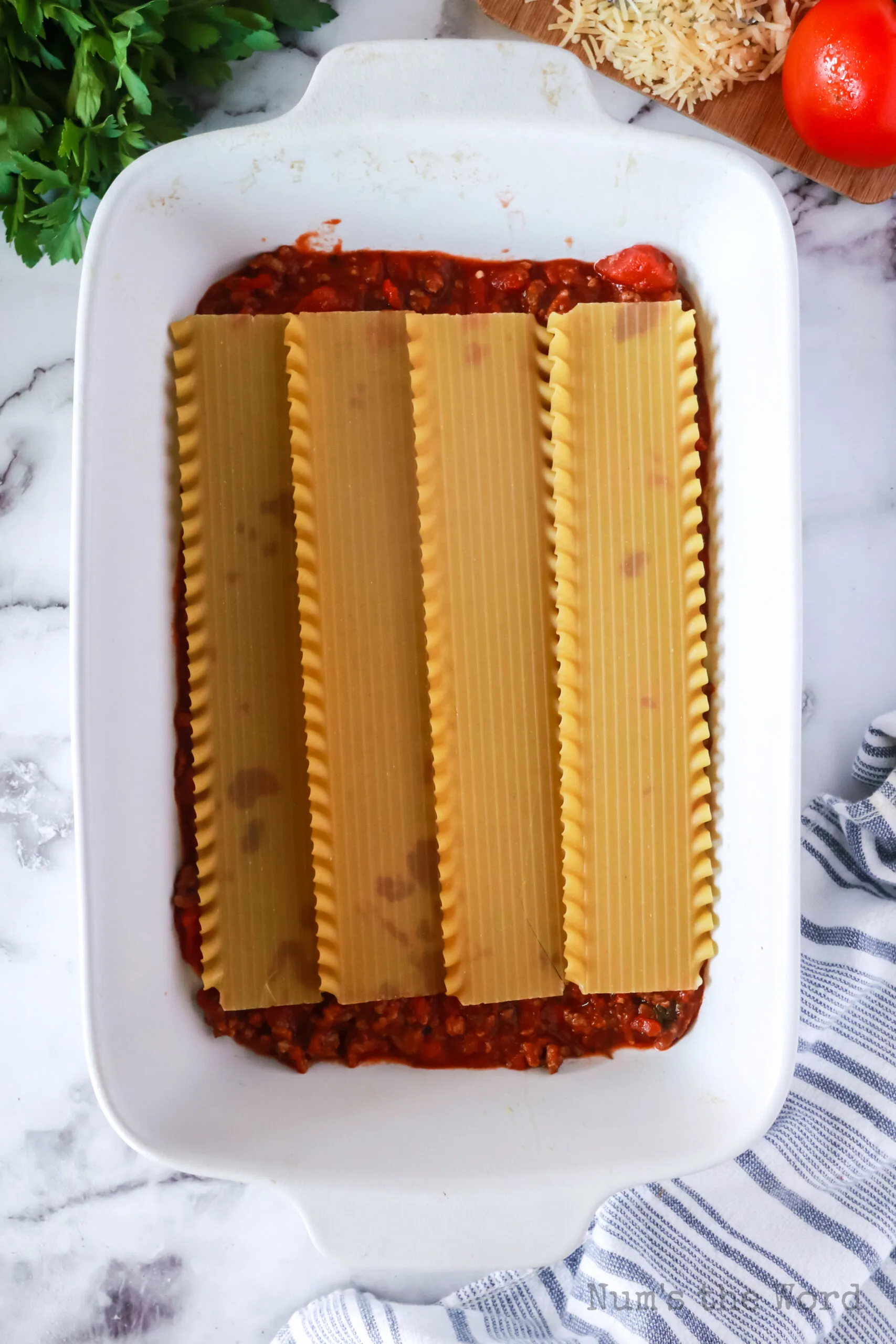 How to Layer Lasagna
Any perfect dish of lasagna needs at least 2 layers to be considered a lasagna at all. Here's how you'll layer to get the perfect lasagna:
Hearty Meat Sauce
Layer of Noodles
Cottage Cheese Mixture
Cheeses
Repeat it all one more time
This easy homemade lasagna will give you two layers of delicious noodles, sauce, and cheeses. Perfection!
Pro Tip: Be sure to spread all layers of pasta and cheeses and sauce to the edges of the lasagna pan.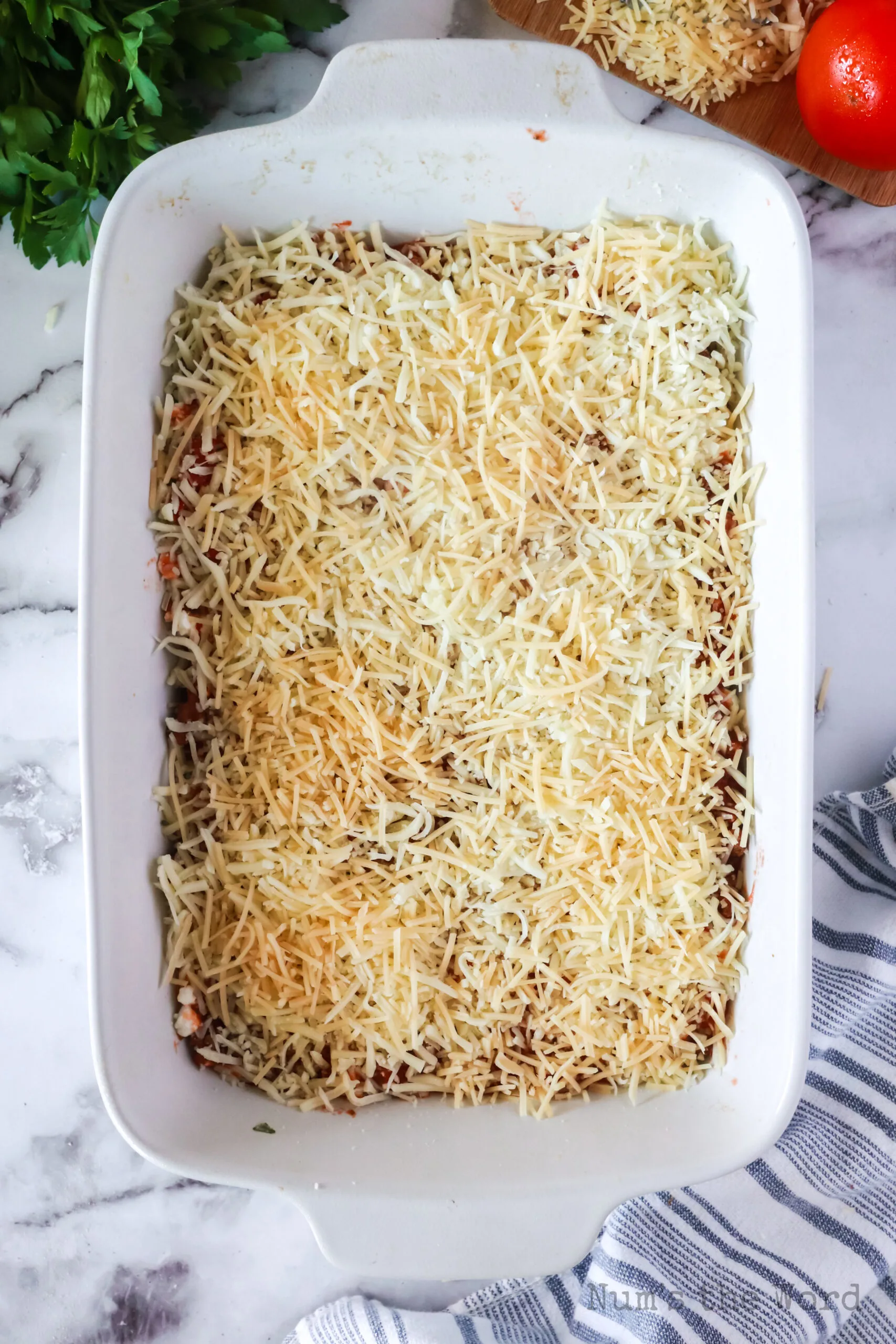 How to Reheat Lasagna
Any leftover lasagna should be stored in the fridge. This is a great recipe because the leftovers taste as great as the originals did!
You can either cover the casserole dish with aluminum foil or cut the lasagna into individual slices and place in a smaller airtight container.
If you've got a small amount, I find it easiest to put on a microwave safe plate and reheat until warmed through.
If you've got a lot you want to reheat, warm up the oven to 350 and reheat until warmed through that way. It should take about 20-30 minutes.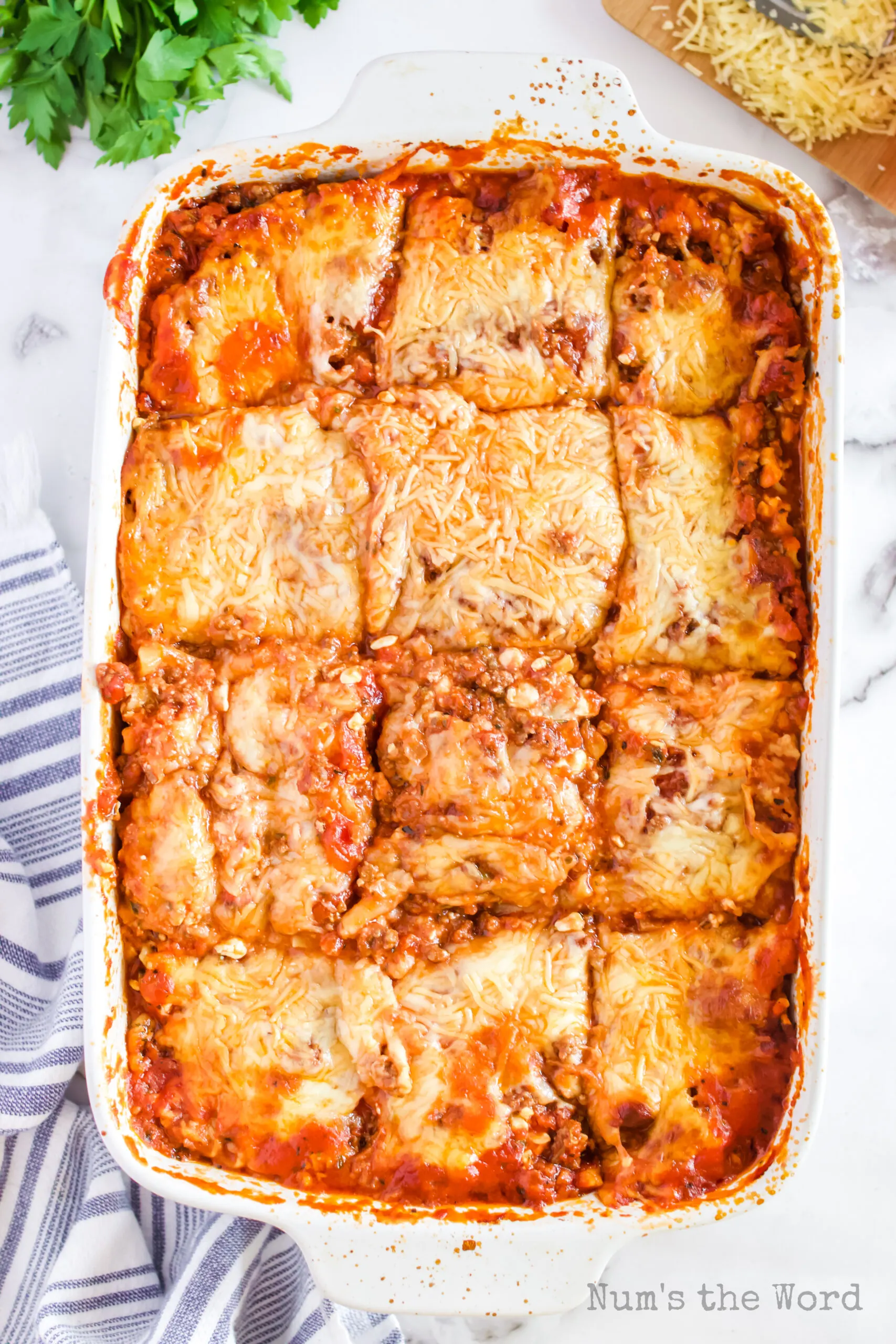 What to Serve with Lasagna
Italian food! Okay really, there are a lot of options that can go with lasagna.
If you've ever been to an Italian restaurant you know the classics. Pasta, salads, vegetables, breads, and all things delicious.
Try these easy recipes to get you started on your perfect Italian dinner.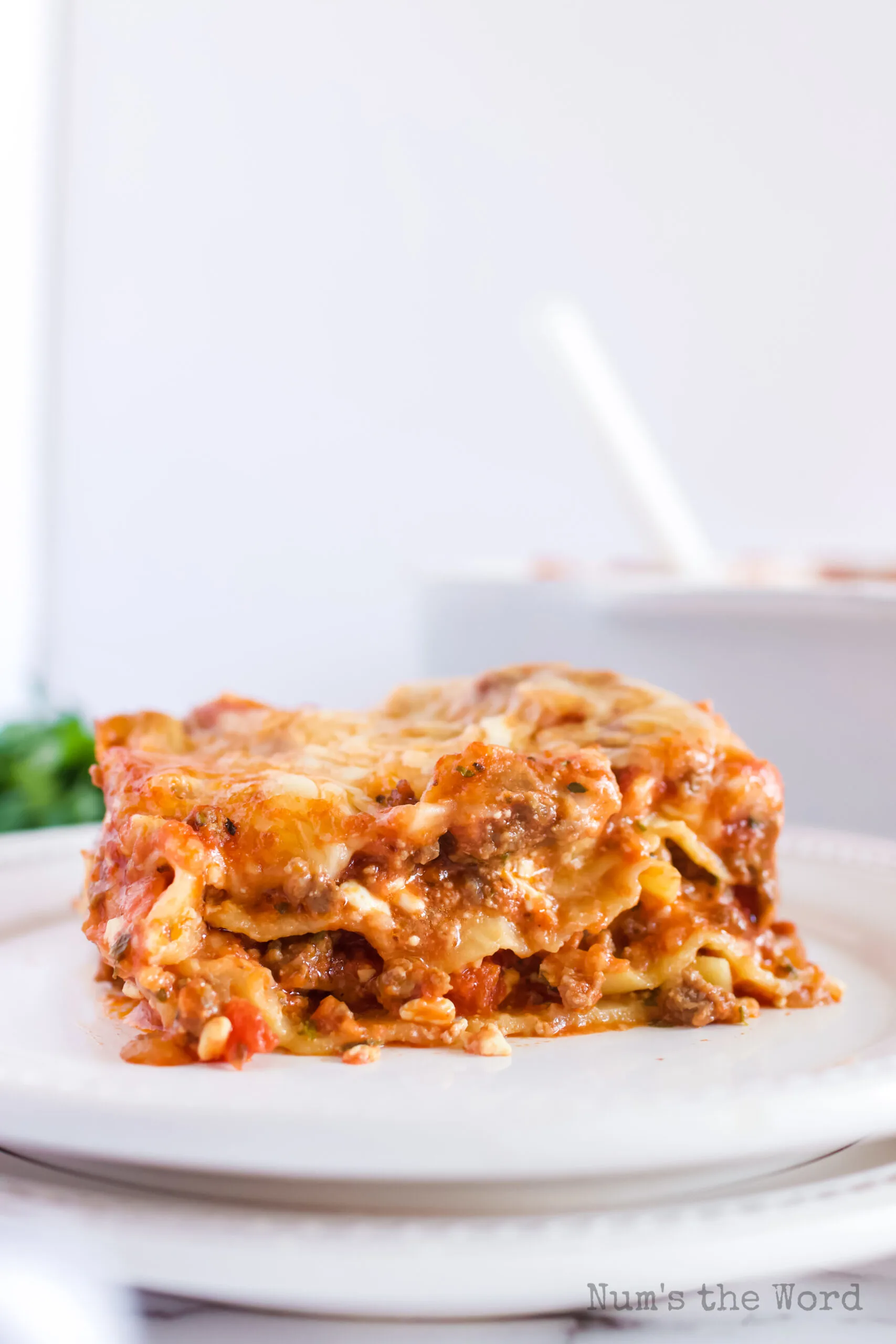 How to Freeze Lasagna
Here's my pro tip of the day: Double this homemade lasagna! You'll be so grateful you did!
The best lasagna recipe is the perfect freezer meal. It freezes so beautifully and is perfect for pulling out on busy weeknights!
To freeze lasagna, first allow the lasagna to come to room temperature.
Then wrap the casserole dish tightly with two layers of aluminum foil.
Write the instructions and name of the recipe on top.
Then it's ready for whenever you need to pull it out or when your neighbor needs a meal!
It really is a classic food for a reason!
This best homemade lasagna recipe will stay good for up to 3 months in the freezer.
Pro Tip: If I know I'm going to be giving my extra lasagna away, I'll make it a tinfoil baking dish. Then no one needs to remember to return the pan!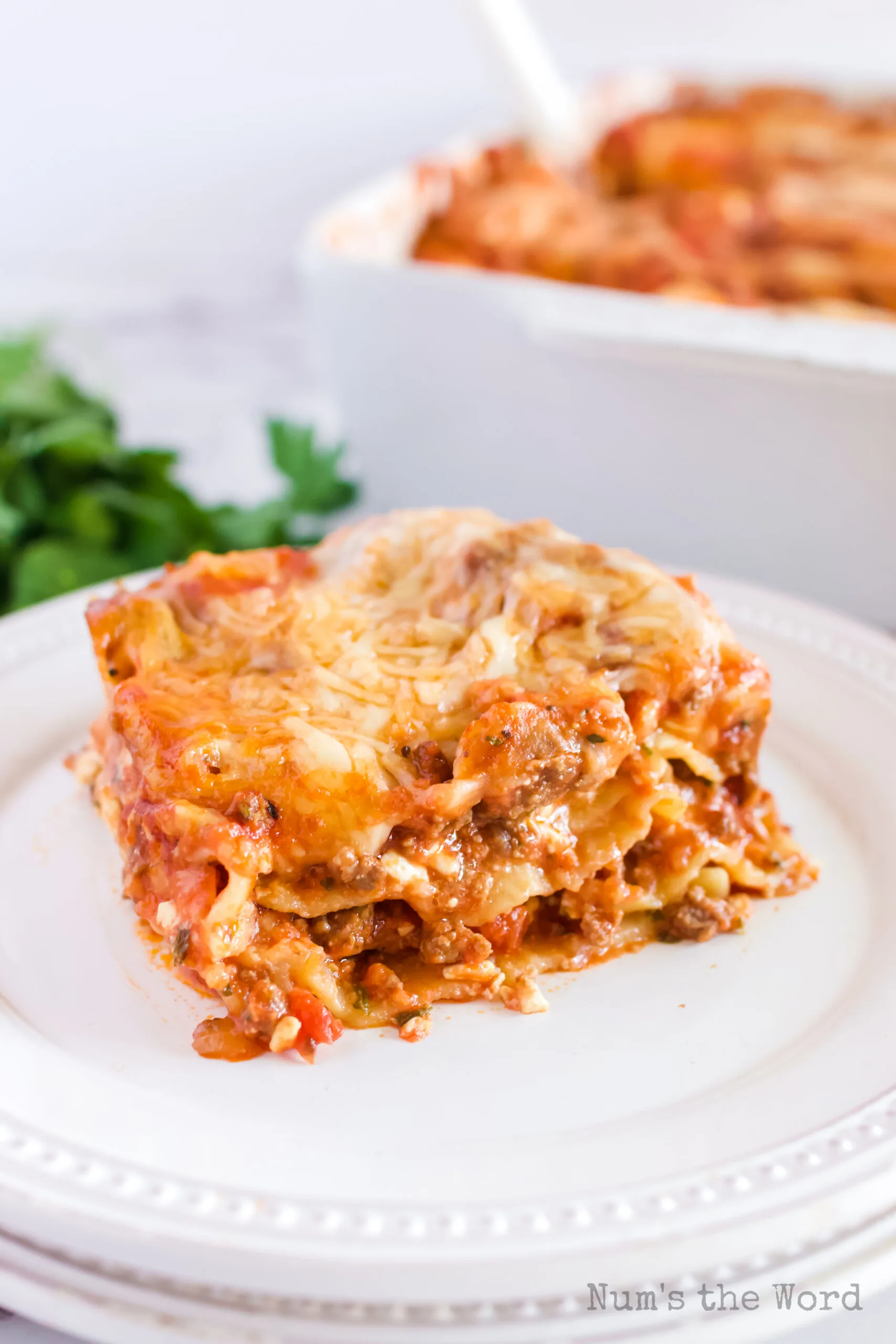 How to Cook Frozen Lasagna
There are two options for cooking frozen lasagna.
You can cook it straight from frozen or you can thaw in the fridge overnight and cook from there.
Frozen: Keep lasagna covered and bake for one hour and then uncover and bake for 30-45 more minutes until cooked through.
Thawed: Bake as directed in the recipe. 25 minutes with foil and then 25 minutes without.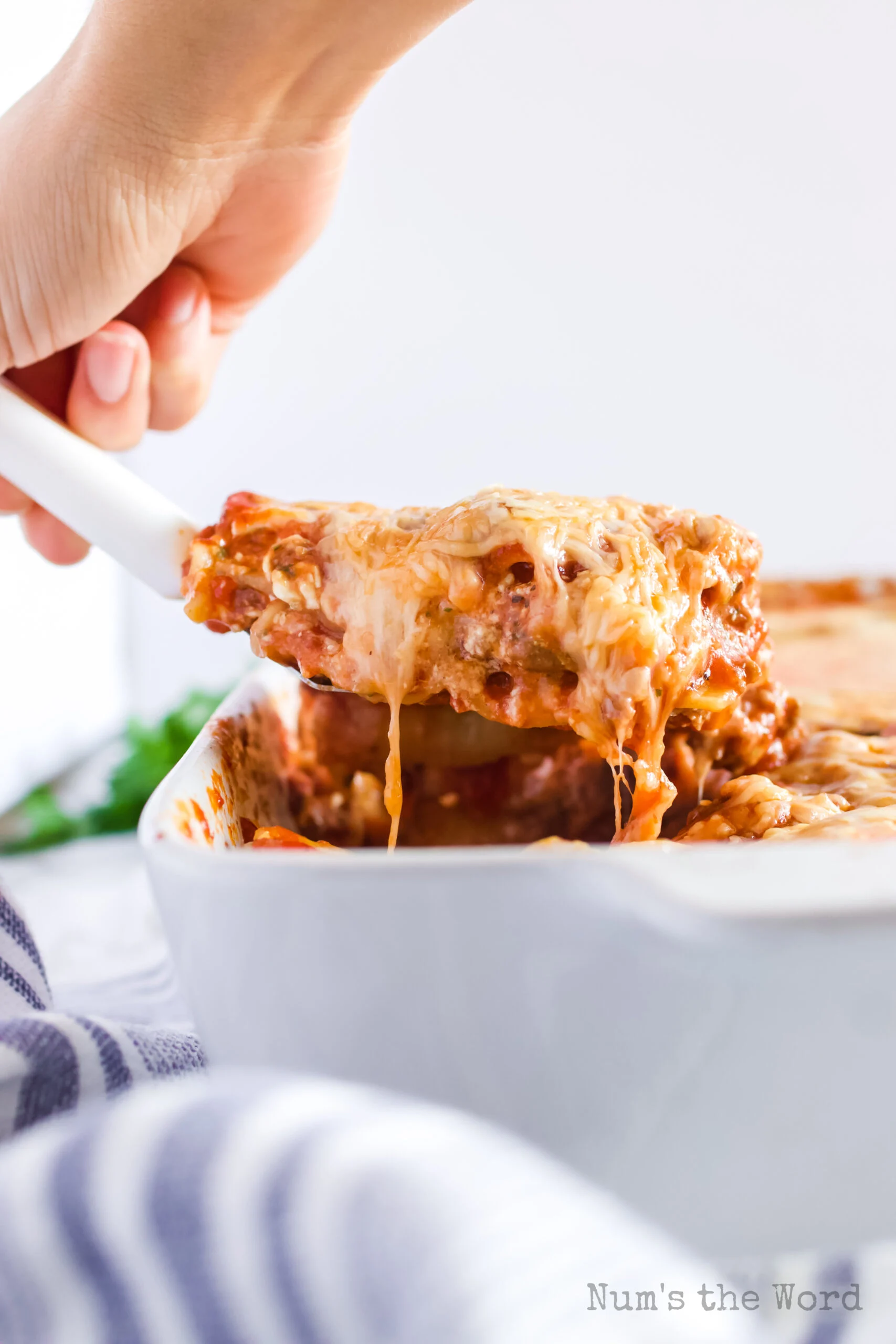 Is Lasagna Healthy?
That depends on who you're talking to!
A classic homemade lasagna recipe is an ultimate comfort food and often associated with being more calorie dense than not.
But there are some benefits to lasagna too: vitamins, minerals, iron, and other essential nutrients.
You can find many articles online spouting the benefits of eating or not eating lasagna and the truth is: do what feels good for your body!
While I wouldn't recommend eating lasagna for every meal, I wouldn't recommend eating the same salad for every meal either!
Eat all things in moderation and enjoy your life!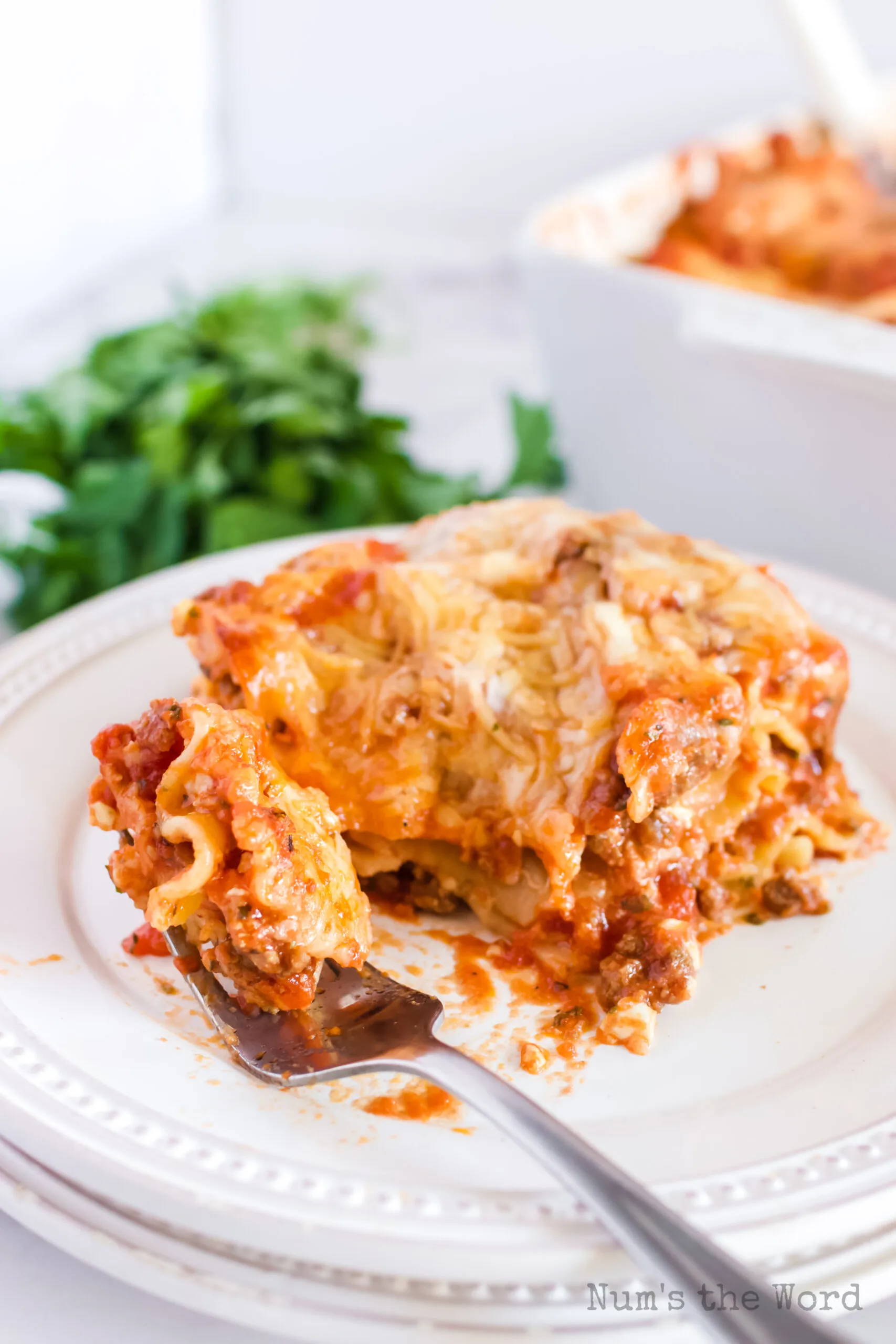 Is Lasagna a Casserole?
According to Webster's dictionary, a casserole is any food cooked and served in a casserole dish.
So yes! That would make lasagna a casserole!
Other parts of the world or country may call a casserole a: goulash, hash, meat pie, hotdish, hot pot, meat dish, etc.
But you'll find that in the case of lasagna they all mean one thing: Delicious food you must consume immediately!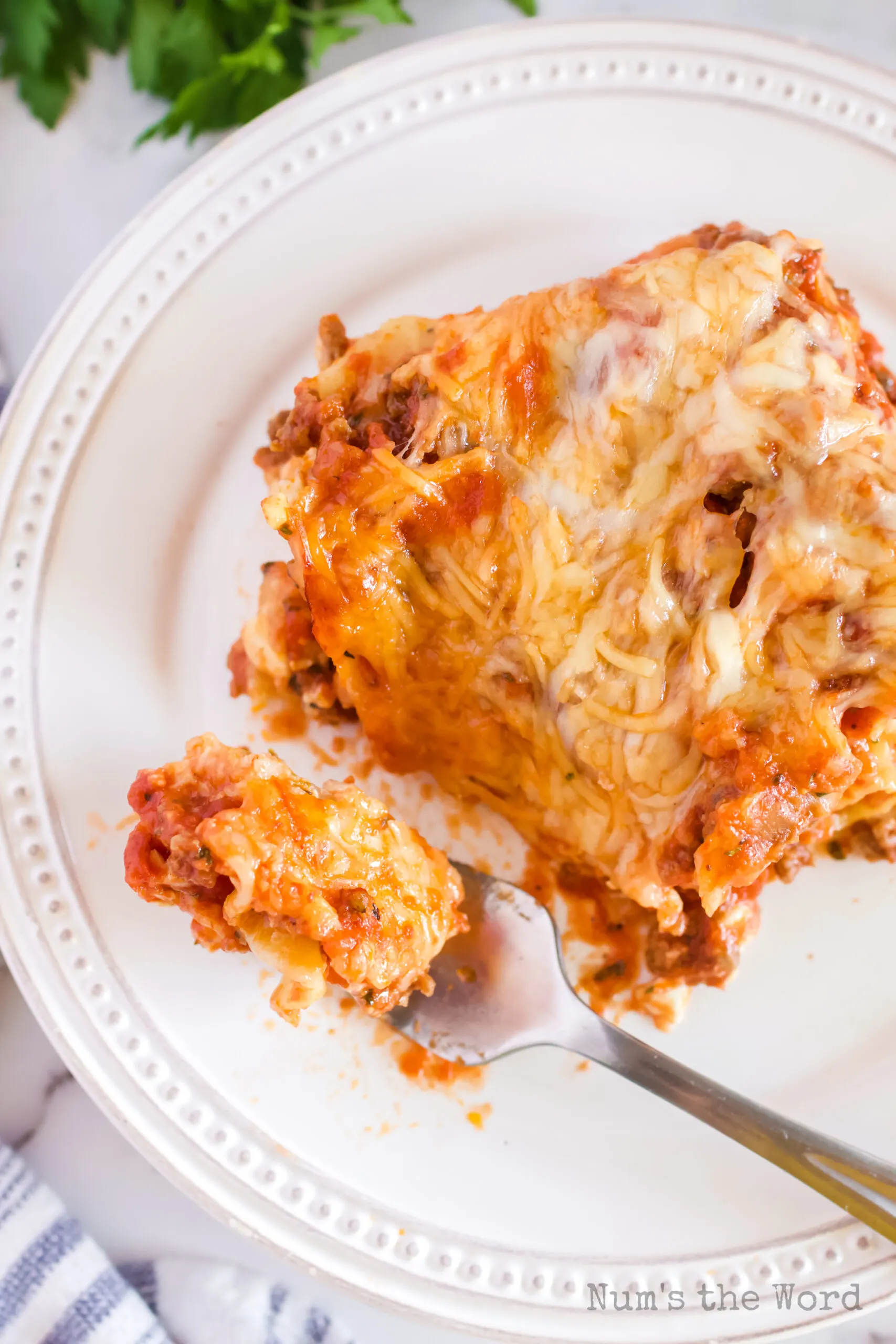 Homemade lasagna needs to become a part of your regular rotation if it's not already in there! It's a classic, filling meal that is a family favorite around the world!
More Pasta Recipes You'll Love…
Yield: 9 Servings
Classic Lasagna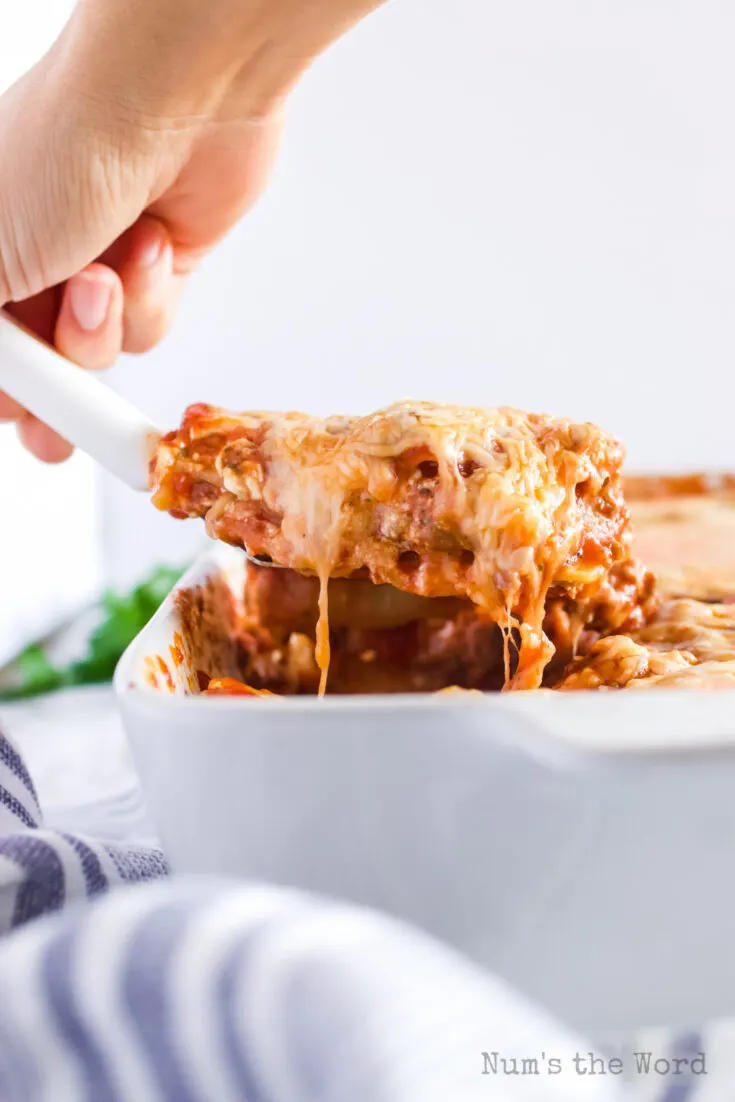 Classic Homemade Lasagna is a meal every good cook needs up their sleeve! It's filling, hearty, full of delicious meaty sauce and pasta everyone can love!
Cook Time
1 hour
50 minutes
Total Time
2 hours
20 minutes
Instructions
In a Dutch oven, over medium heat, cook ground beef, onion, and garlic until ground beef is cooked through and onions are translucent.
Stir in tomatoes, tomato paste, tomato sauce, and water. Mix well.
Add sugar, basil, Italian seasoning, 1 teaspoon salt, pepper, and 1 Tablespoons parsley. Cover and simmer for 1 hour, stirring regularly.
In a separate mixing bowl, combine cottage cheese with egg, parsley, and 1/2 teaspoon salt.
Preheat oven to 350*F.
In a 9 x 13 casserole place 1 cup of tomato sauce on the bottom of the pan.
Then layer lasagna noodle, cottage cheese mixture & tomato mixture.
Top with a comfortable amount of the Mozzarella & Parmesan cheese then repeat the layers again, ending with the cheese.
Cover with foil and bake for 25 minutes.
Remove foil and bake for additional 25 minutes.
Remove from oven and serve immediately!
Nutrition Information:
Yield:
12
Serving Size:
1
Amount Per Serving:
Calories:

395
Total Fat:

19g
Saturated Fat:

9g
Trans Fat:

0g
Unsaturated Fat:

7g
Cholesterol:

103mg
Sodium:

782mg
Carbohydrates:

23g
Fiber:

2g
Sugar:

3g
Protein:

32g
Originally Posted: May 3, 2016
Photos & Text Updated: December 5, 2022