Churro Marshmallow Treats have 3 ingredients and are ready in 15 minutes. Perfect for Cinco de Mayo or any day of the week!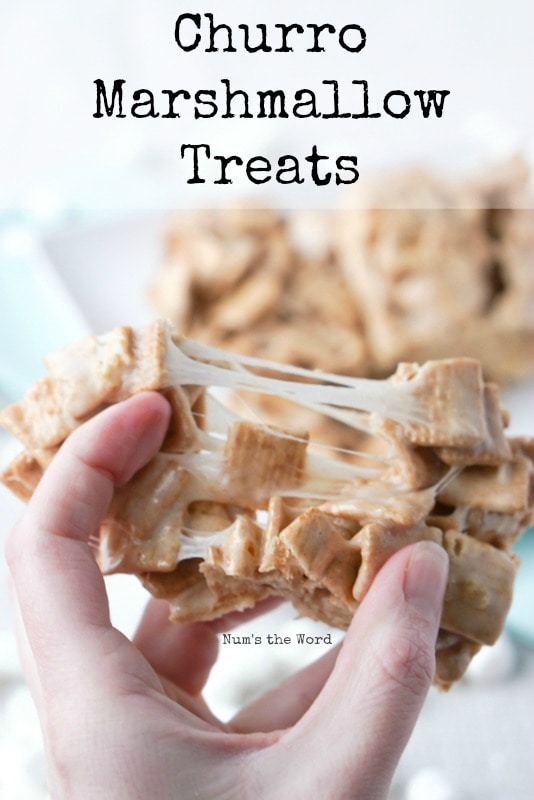 In our house we are always looking for new and tasty ways to recreate the classic Rice Krispie Treat. Which is why we love these Churro Marshmallow Treats.
My husband and I are at war with each other when I make them in terms of who can sneak the most without the other seeing.
We consider the classic Rice Krispie Treat our personal Kryptonite.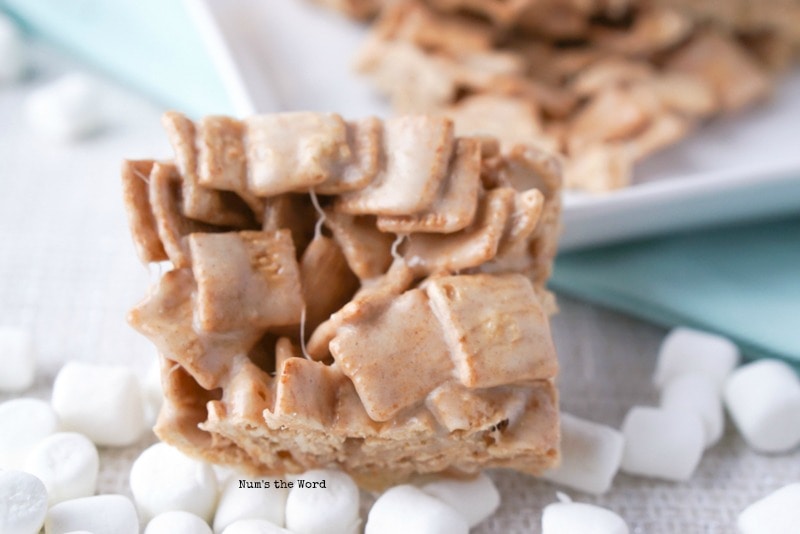 And if we are going to be honest, it doesn't take us long to down an entire pan.
Because we both work from home, we've gotten pretty good at eating an entire pan (well, all but 2 squares) before my daughter gets home from school.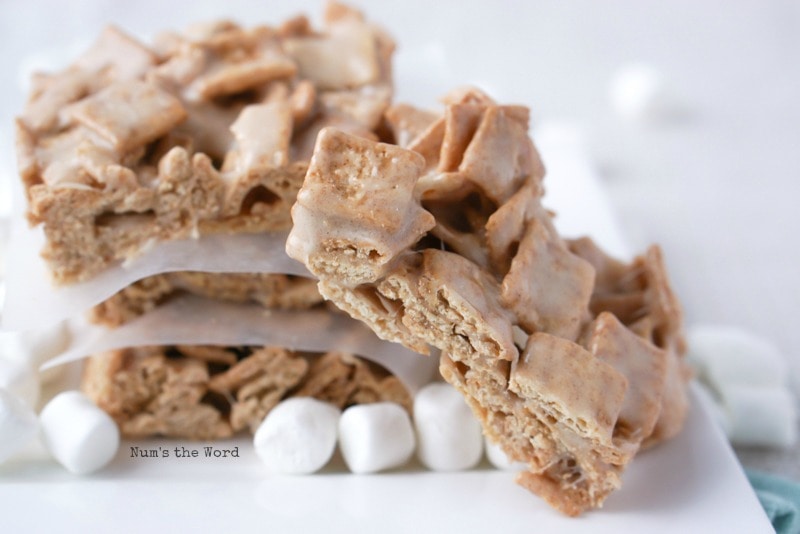 However one day as I was standing in the cereal isle, picking out cereal I got the idea to use Cinnamon Toast Crunch instead of Rice Krispies and make more of a Churro themed Marshmallow Treat.
Honestly we weren't sure how they'd turn out.
Too sweet? Too Messy? There were just a lot of variables on how these could turn out.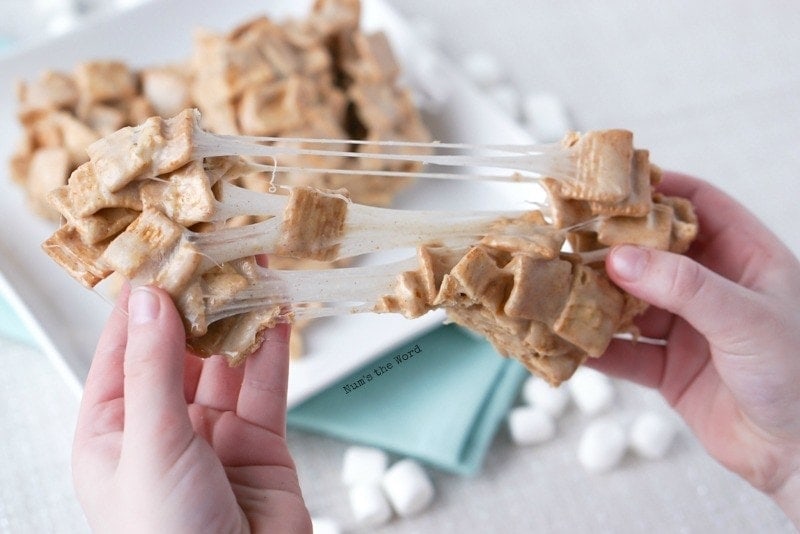 The sweet marshmallows covering an already sugary cereal could easily backfire.
However we love our Extra Gooey Lucky Charm Treats, which are pretty sweet, and so we went for it.
I think out of the entire family I loved these the most.
Which also means I ate the most.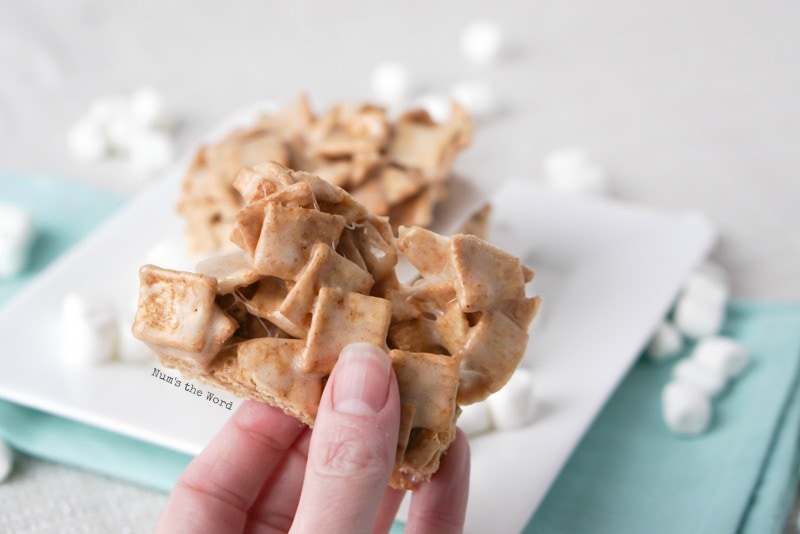 I really do have very little self control when it comes to Marshmallow treats in any form. It's a terrible quality in life to have. However someone has to endure this burden and it might as well be me.
If you are unfamiliar with a classic Churro, it's a fried sweet dough stick covered in cinnamon and sugar.
Looking at these, they obviously don't look anything like a classic Churro. They do however have the same cinnamon sugar flavor of a Churro and so I made a bit of a stretch in calling these Churro Marshmallow Treats.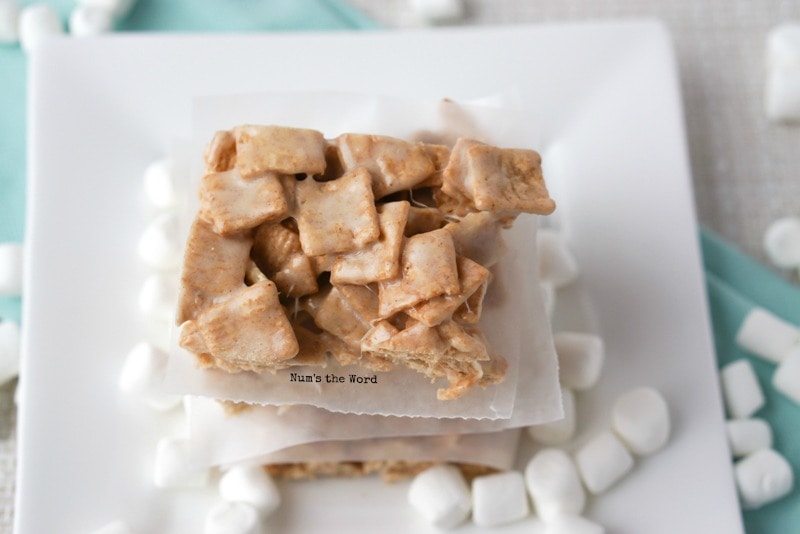 However, they really do remind me of a Churro, not to mention are much easier to make at home than a classic Churro.
These Churro Marshmallow Treats are easy to make, taste great and can be enjoyed all year round or especially for Cinco de Mayo as a fun and simple treat!
If you love Churro's, give these Churro Marshmallow Treats a try!
Yield: 15 Bars
Churro Marshmallow Treats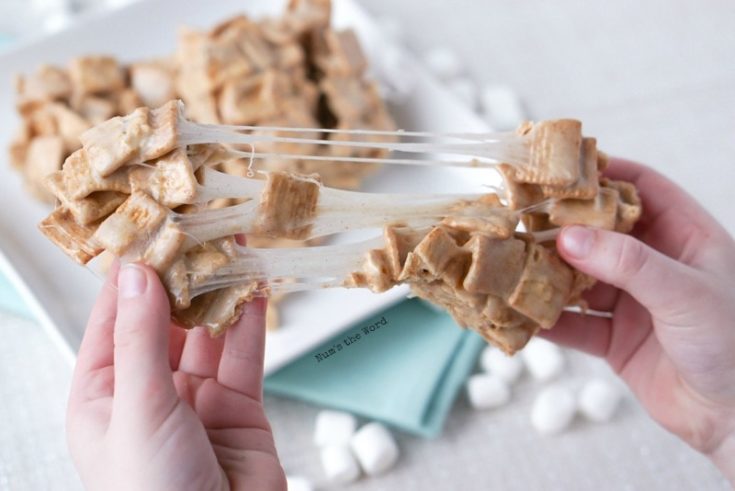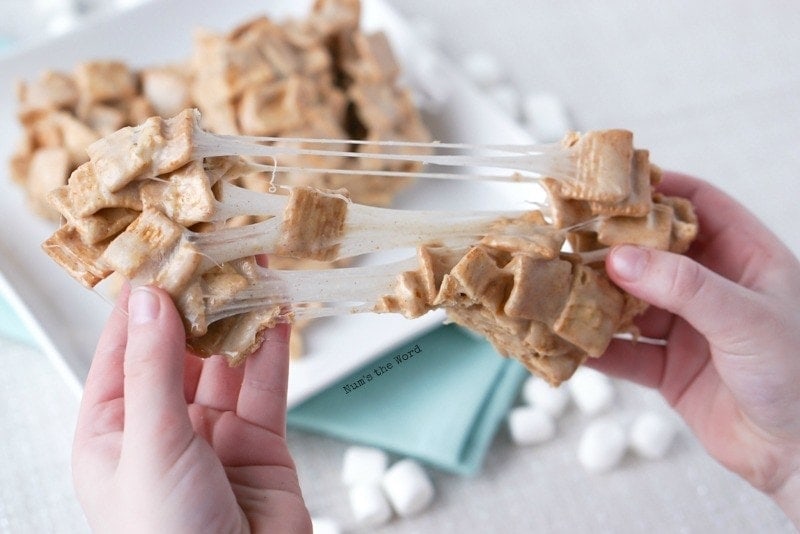 Ingredients
5 Cups Cinnamon Toast Crunch Cereal
3 Tablespoons Butter
4 cups Mini Marshmallows or 1 (10 ounce) package large marshmallows
Instructions
Spray a 9x13 casserole dish with cooking spray and set aside.
Measure out Cinnamon Toast Cereal into a large bowl and set aside.
Over medium heat melt butter and marshmallows until marshmallows are melted.
Blend well then pour over cereal and mix well.
Pour cereal and gently press into prepared pan and allow to cool.
Once cool, cut into squares and enjoy!
**Microwave Directions
Place Marshmallows and butter in a large microwave safe bowl.
Cook on high for 2 minutes, stir well and cook for 1 more minute.
Marshmallows should be melted and runny. Pour over cereal.