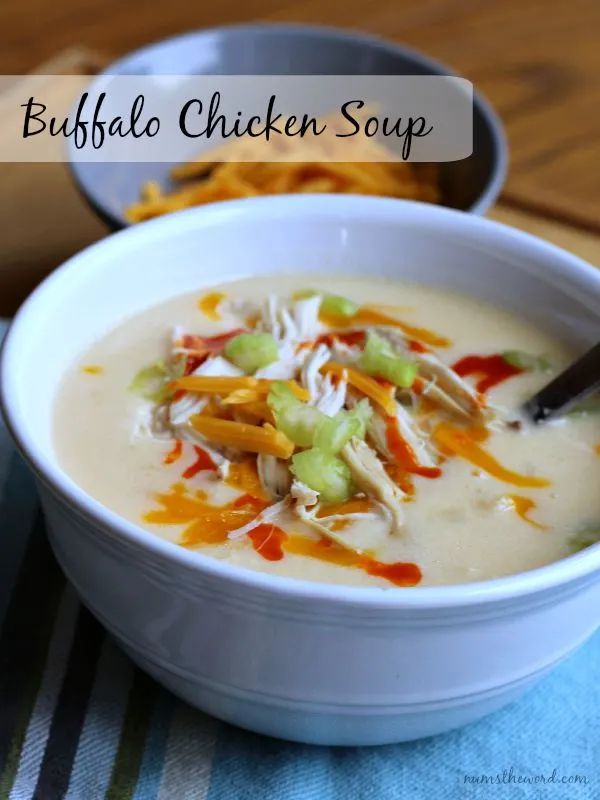 I don't even know what to say about this soup, except that you should definitely try it! I had seen it in a magazine a few years ago and wanted to try it especially since my husband loves all things buffalo chicken, but for some reason I never did. The only thing that made me sad when I did finally make this was that I only made half of the recipe. So we had to make it again.
The only change I made was in the type of cheese. Although we all like a buffalo flavor, none of us are big fans of blue cheese, so I switched it out for sharp cheddar and it turned out great! Seriously, this soup is amazing and you should try it today.
Update 9/15: I went to update the pictures for this soup and since they all disappeared during the death of our computer, I decided to get all new pictures. We hadn't made this Buffalo Chicken Soup in a while, and it was so wonderful. It is still one of our favorite soups and is perfect for a chilly fall or winter day. I've updated the recipe a little, mostly just clarifying the different steps. Enjoy!
Yield: 8-10 servings
Buffalo Chicken Soup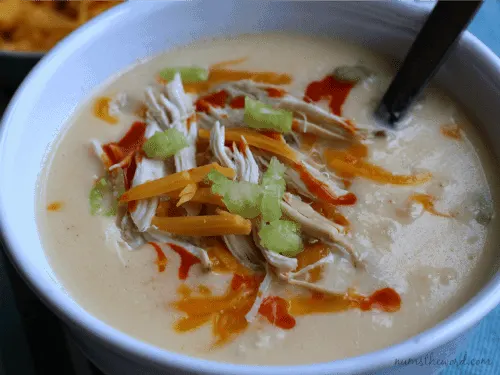 Ingredients
4 cups cooked, shredded chicken
2 Tablespoons butter
1/2 cup coarsely chopped celery
1/2 cup chopped onion
3-1/2 cups chicken broth (or 2-14 oz. cans)
1-1/2 cups milk
1 teaspoon buffalo hot sauce (we like Frank's Buffalo Flavor)
1-1/2 cups shredded mozzarella cheese
1-1/4 cups shredded sharp cheddar cheese
1/2 cup shredded parmesan cheese
1/3 cup all-purpose flour
more Buffalo hot sauce for topping
Instructions
In a large pot, melt butter over medium heat.
Add celery and onion; cook and stir until onion is tender, about 3-4 minutes.
Stir in broth, milk and teaspoon of hot sauce.
In a bowl toss together mozzarella, 1 cup of the cheddar, parmesan and flour.
Gradually add to soup, small amounts at a time, stirring after each addition until melted. The cheese has a tendency to clump if you add too much at a time, so slowly is the key
Stir in three cups of the shredded chicken and heat through.
Top with remaining chicken, cheese, hot sauce and chopped celery as desired.